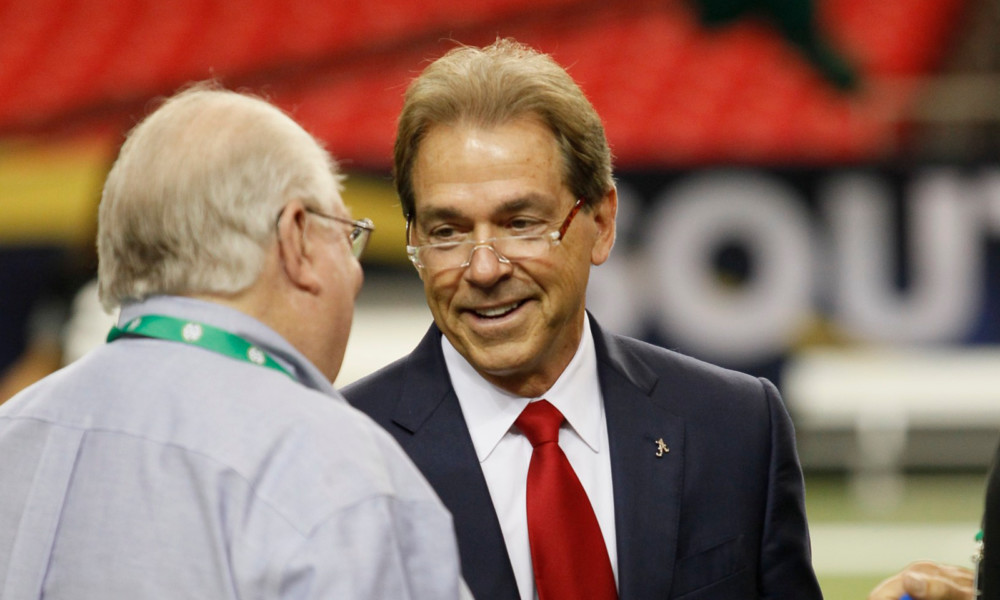 Time to hit the reset button for Alabama football.
As he does each year, coach Nick Saban addressed to both his team and media personnel that the postseason means one game at a time. While he was encouraged with the enthusiasm after Friday's practice, he took the podium to assure everyone that the focus needs be solely on Washington.
"This is the best team that we've play this year, hands down," Saban said on Washington.
"I hear a lot of people talking about Ohio State and Clemson. I don't want to hear anybody that's from our camp, our supporters or our fans talk about anything but this game. It's a one game season."
To build off his point, the Crimson Tide's coach went right into breaking down the heart and soul of the Huskies offense. When mentioning sophomore running back Myles Gaskin, Saban said he's a very good outside runner that can make you miss and has power in between the tackles.
Gaskin will enter the Chick-fil-A Peach Bowl with 1,339 rushing yards and 10 touchdowns.
His partner, Lavon Coleman, comes in with 836 yards and seven scores. Speed is prominent in the Pac-12, but Saban is aware of how balanced Chris Petersen has made Washington in his third season as head coach.
"They have a lot of RPOs and a lot of good skill guys," Saban said.
"Their quarterback does a good job of implementing the offense, and when they can run the ball on people and create balance, they have a really good system and scheme to defend. It's going to be very important for us to play well and tackle well. With this being a perimeter team, it's going to be very important on how well we play in space and how well we tackle on the perimeter."
The skill players that Saban refers to are: John Ross, Dante Pettis and Chico McClatcher. All three wide receivers excel at creating separation, getting first downs and high-pointing the ball.
Ross, in particular, is tied for second nationally in touchdown receptions with 17.
Sophomore quarterback Jake Browning anchors the nation's fourth-best scoring offense, which totals 44.5 points a game. He is third in the Pac-12 in passing (3,280 yards), while leading all FBS quarterback in touchdown passes with 42. Though his seven interceptions came from playing against quality defenses, Browning's accuracy and ball placement has been sound.
Defensively, the Huskies allow just 17.2 points per contest. Even with it not having veteran linebackers Joe Mathis and Azeem Victor, Washington has players that don't shy away from physicality.
"They've got some ball hawkers," Saban said.
"They play really good on defense. They take good care of the ball on offense, but this is a good defensive team. They are capable of making plays in the secondary and they create turnovers."
Overall, the Huskies have created 19 interceptions and 19 forced fumbles.
Regardless of being two weeks from its semifinal game, Saban wants this unit to embrace the challenge.
As for Petersen, he intends on earning a second victory against a Southeastern Conference school (Georgia, 2011) and a sixth signature win of his coaching career (2006- present).
Stephen M. Smith is a senior analyst and columnist for Touchdown Alabama Magazine. You can "like" him on Facebook or "follow" him on Twitter, via @Smsmith_TDALMag.