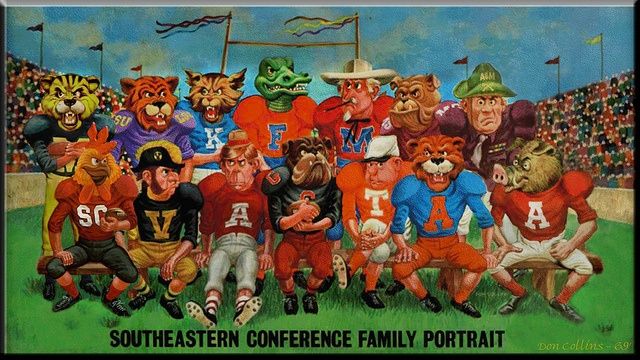 Well folks here are the bowl picks from the best of the best. See if they match up to your expectations and have a very Merry Christmas!
Larry's Losers in the SEC Bowl Edition 2016
By: Larry Burton
Well folks, this is a first. We make these predictions from the other side of the world and attempt to gain insight from the man who sees everything, a Buddhist priest who can see the future. We ran into him in Thailand and asked for a little additional insight and he said not even he foresaw some of the big upsets that happened this season, but he didn't spend a lot of time on those visions.
So with the help of Bacardi the Wonder Dog, Quang Chi Da and my own wit, we think we are going to have a great time visiting all the sites around SE Asia while prognosticating some perfect picks for your pleasure.
So let's get to picking:
Dec. 26th – Miami (Ohio) vs Mississippi State – St. Petersburg Bowl – St. Petersburg, Fl. – 11am.
Well folks, even though they were only a five win team, Dan's Dog show got invited to take a bow in bowl season because of their great graduation rate. But he intends on showing everyone that this ain't a charity show and that these Mississippi Mutts can maul any team outside the SEC.
But these Redhawks didn't fly South for the winter just to get some bowl trinkets and a free trip to Florida and they aim to show the world that they can stand toe to toe with any SEC also ran team.
But what will happen is these Redhawks get their toes stepped on, stomped on and held in place while a severe plucking takes place. This is gonna be all Bulldog all day long. Larry's loser – Miami
Dec. 26th – North CarolinaState vs Vanderbilt – Camping World Independence Bowl – Shreveport, La. – 5pm
Derrick Mason defied the odds and somehow sailed his ship of Commodores into bowl season and he wants to do more than just take this first step of getting there, but take the second step of actually winning one.
But this Wolf Pack isn't about to just howl at the moon in this Cajun country clash, they plan on sinking their teeth into this Captain Crunch Bunch and send them to the bottom for the last time this season.
This could be a very good game to watch and while I'm leaning to the Commodores, the pigskin pickin' pooch and old Quang are adamant that the ACC over SEC trend this season continues at least one more time. Larry's loser – Vanderbilt
Dec. 29th – Texas A&M vs Kansas State – Advocare V100 Texas Bowl – Houston, Tx. – 9pm
The season was so bright for most of the season for coach Kevin's band of Aggies. They were even in the ranking for a playoff slot, then the end of the SEC season blues hit this collie loving clan and their hopes sank faster than the Titanic.
Meanwhile out in the flatlands, these Kansas State Kitties have been fighting for respectability all season and they know they'll finally get it if they can knock off this troop from Texas.
But coach Kevin gets the last laugh in this chuckle fest and the Aggies end the season with their heads held high as they bury this bunch out in plains of Houston. Larry's loser – Kansas State
Dec. 29th – Birmingham Bowl – South Florida vs South Carolina – Birmingham, Al. 2pm
Though it's the worst bowl that any SEC team can land in, Coach Boom is glad to have earned the chance to check his Chickens into it and build on it for a happier henhouse in the future.
But these boys from South Florida feel like they can take on these Carolina Cluckers and give them a plucking that will show that they've come of age and ready to take on any team that's near the bottom of the SEC.
These Carolina Cluckers feel big peckers beat big talk any day and they think after these chickens fly the coop and start the pecking the Florida boys will be running to the busses to get some cover the heck out of dodge, but they're in for a surprise. Larry's loser – South Carolina
Dec. 29th – Belk Bowl – Arkansas vs Virginia Tech – Charlotte, N.C. – 5:30pm
Well folks, let's not mince words here, these Hogs had a terrible season. Yes they still made a bowl, but the Swine squad was a much better team than their record will attest to, so they're just itching to end things on a higher note and start from scratch next season.
But these Virginia Tech Hokies are a hoping that they put the Hokie Pokie on these Hogs and keep the ACC's run over the SEC going as they end the night with lots of Pork rib grease on their lips as they rub their bellies and smile.
Las Vegas thinks this is sure win for the ACC, but that ain't a holiday present that the Hogs are gonna hand out to these Hokies and instead, all these East Coasters will get is the business end of a tusk. Larry's loser – Va. Tech
Dec. 30th – AutoZone Liberty Bowl – Georgia vs TCU – Memphis, Tn. – 12pm
Coach Kirby didn't get the dogs as Smart as he wanted his first year as the ringmaster in this Dog show, but he knows that nothing helps the off season and recruiting better than a big bowl to make them remember December.
But these Horn Frogs from Texas figure they leap over these lazy old Dogs and hop themselves into the end zone so much that the Frog fans will be fanatical in their frenzy of the fantastic finish of the Froggy bottom boys.
But coach Kirby will show that you can teach an old Dog new tricks and he'll have them showing off the new moves and just leave the Froggies hopping mad by the outcome. Larry's loser – TCU
Dec. 30th – Franklin American Mortgage Music City Bowl – Nebraska vs Tennessee – Nashville, Tn. – 3:30 pm
Tennessee doesn't get much of a road trip this bowl season as they only travel west a few miles to take on the Corn Shuckers of Nebraska in the same city they lost to their cross state rivals just a few weeks ago.
On the other side of the field, these Big Ten Corny boys feel like they can add more misery to a Tennessee season that went from sensational to stinky and that they can benefit from a team that's still looking at would could have been.
Yes these Rocky Toppers turned into rocky floppers, but just yesterday we were in Viet Nam and a Vietnamese Buddhist priest agreed with Chang and Bacardi the Wonder Dog's visions of a big Tennessee win so sweet dreams are made of this, who am I to disagree? ♪ Larry's loser – Nebraska
Dec. 31st – Buffalo Wild Wings Citrus Bowl – LSU vs Louisville – Orlando, Fl. – 11am
LSU heads down to the land of Mickey Mouse to take on the Red Birds from blue grass country, but neither team is interested in riding Dumbo. They're interested in ruining the other's New Year dreams.
Coach O got the job as the full time boss of the Bengals, that's the good news. But the bad news is that now he's got to face one of the most explosive teams in football and find a way to keep these Cardinals from flying to the end zone every few minutes.
And that's the problem, because while it may be entertaining for a while, these birds just keep flying past the paws of these clawed Kittes and the points just keep adding up. Larry's loser – LSU
Dec. 31st – Taxslayer Bowl – Ga. Tech vs Kentucky – Jacksonville, Fl. – 11am
In the other 11am game, Kentucky heads down the coast to see if they can take the sting out of the Yellow Jackets and come home with a big trophy and a winning season under their belts.
Now this Ramblin' Wreck from Ga. Tech is a different kind of animal that these Kentucky Kitties haven't seen and the boys in Lost Wages see this as another ACC win over the SEC team.
But the brain trust I've been consulting sees the Cats getting this bunch of Peach State players to steer into one more wreck and the SEC gets a win over the ACC in this one. Larry's loser – Ga. Tech
Jan. 2nd – Outback Bowl – Florida vs Iowa – Tampa, Fl. – 1pm
The Gainesville Gators gather down in Tampa to take on the feathered footballers from the great Midwest and they're aiming to agonize these Iowans and make their New Year not so Happy.
But this is a fine bunch of Reptiles and they don't think these midwest boys are experienced in Gator wrestling and that when the fighting begins, they'll have the upper hand.
We're all split on this, but the Buddhist priests all claim that this is one fight that won't be won be won by chompers. In a close one, Larry's loser – Florida
Jan. 2nd – Sugar Bowl – Auburn vs. Oklahoma – New Orleans, La. – 8:30pm
Mark Stoops brings the Boomer Sooner down South to the Big Easy to try and skin a Cat in the Sugar Bowl and he thinks he's got all the boys to get that job done.
But coach Gus thinks he's finally got the old bus tuned and ready to repulse the attack of the Wagoneers and put his team back in respectability once again.
But this just ain't been the year that Auburn wanted and it doesn't look like the New Year will bring them one much better, so in this one, Larry's loser – Auburn
Well that's it for the bowl games this season for the SEC, but we still have the big College Football Playoff picks to predict, so stay tuned for that one.
Till then, have a very MERRY CHRISTMAS and a Happy New Year from all of us at Touchdown Alabama Magazine, the folks and dogs at the "Loser's Lair" in Florida and from me sailing off the Cambodian coast on a vactaion to end all vacations.
We'll see you back soon and thanks for another great year of support.
LARRY HAS BEEN PUBLISHED IN ALMOST EVERY MEDIA OUTLET FOR COLLEGE SPORTS AND NOW PRIMARILY WRITES HERE FOR TOUCHDOWN ALABAMA. HE WRITES IN A COLLOQUIAL AND IRREVERENT STYLE FOR THIS SERIES OF ARTICLES. LARRY'S VIEWS AND SENSE OF HUMOR MAY OFFEND, BUT HE AIMS TO OFFEND EVERYONE EQUALLY. IF HE HASN'T INSULTED YOUR FAVORITE TEAM WITH LARRY'S LOSERS, JUST WAIT. FOLLOW LARRY ON TWITTER FOR INSIDE THOUGHTS AND GAME TIME COMMENTS AT HTTPS://TWITTER.COM/LBSPORTSWRITER
THANKS FOR SHARING THE LINK TO THIS STORY ON YOUR FACEBOOK PAGE