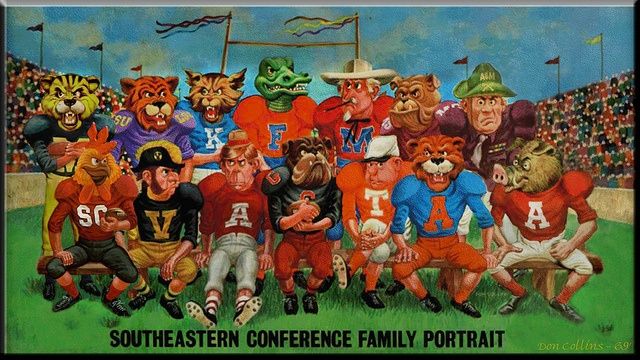 OK fans, the nitty meets the gritty here and the losers go home while the winners go toward history. Is this the outcome you see? Read and decide!
Larry's
Losers in the SEC – Semi-Final Championship Game – 2016
By: Larry Burton
Well sports fans, this is where the nitty meets the gritty, where everything every top team has done until now all comes down to hopefully two more games and yes the SEC is poised once again to be the team the other teams will have to go through to earn that coveted title.
This has been a fine season and with the very best yet to come you just get goose bumps thinking of the games to come and yes, while some feel I've abandoned my post by leaving the  Loser's Lair at this critical time of the year by going to South East Asia for an extended vacation, there's been a method to my madness.
First of all, I'm in constant contact with the pigskin pickin' pooch, Bacardi the Wonder Dog via Skype, and my consultations with some of the smartest Buddhist priests who claim to foresee the future has only strengthened our resolve in resilient revelations to you. So far, as of this posting, our bowl game predictions are perfect as a result. Keep up with those here.
Besides, the Mrs. has had this vacation planned for quite some time and it was pick football's post season from such places as Thailand, Vietnam, Cambodia, Singapore, Bali and Malaysia and more or wind up picking another wife. So for a month a half here at the end of the year, I'll be both sightseer and a season ending seer and I promise you that the quality of the picks won't suffer as I sip some Sang Som Thai rum and re-read all my input before writing this report.
With all that said, let's get on to the game.
Dec. 31st – Chik-fil-A Peach Bowl – Alabama vs Washington – Atlanta, Ga. – 3:00pm
The Snow Dog squad from Washington comes South for the winter and hope to sniff out a route to the next game in the playoffs by being able to avoid a trampling from these tusked ones.
But Nick Saban is a ring master with no equal and he intends to have this circus run just the way he wants by prancing his Pachyderms on the paws and jaws of this pack of pooches and leaving them just another team that was trounced by the Tide.
We'd like to think that Washington, this year's Cinderella squad would have a chance in this one, but it's one thing to get an invitation to the ball and another to have the ball shoved down your throat. In a dominating game, Larry's loser – Washington
Well folks, with hopefully only one more post for this post season, we'll have that final fling, that game for all the marbles, the saga where the fat lady sings and all that next week.
All of us associated with the Loser's Lair thank you for your support in yet another sensational season and we hope you all had a very Merry Christmas and a New Year that will be happy because you're looking forward to another season of listing the losers with your favorite pair of pigskin predictors.
LARRY HAS BEEN PUBLISHED IN ALMOST EVERY MEDIA OUTLET FOR COLLEGE SPORTS AND NOW PRIMARILY WRITES HERE FOR TOUCHDOWN ALABAMA. HE WRITES IN A COLLOQUIAL AND IRREVERENT STYLE FOR THIS SERIES OF ARTICLES. LARRY'S VIEWS AND SENSE OF HUMOR MAY OFFEND, BUT HE AIMS TO OFFEND EVERYONE EQUALLY. IF HE HASN'T INSULTED YOUR FAVORITE TEAM WITH LARRY'S LOSERS, JUST WAIT. FOLLOW LARRY ON TWITTER FOR INSIDE THOUGHTS AND GAME TIME COMMENTS AT HTTPS://TWITTER.COM/LBSPORTSWRITER
THANKS FOR SHARING THE LINK TO THIS STORY ON YOUR FACEBOOK PAGE