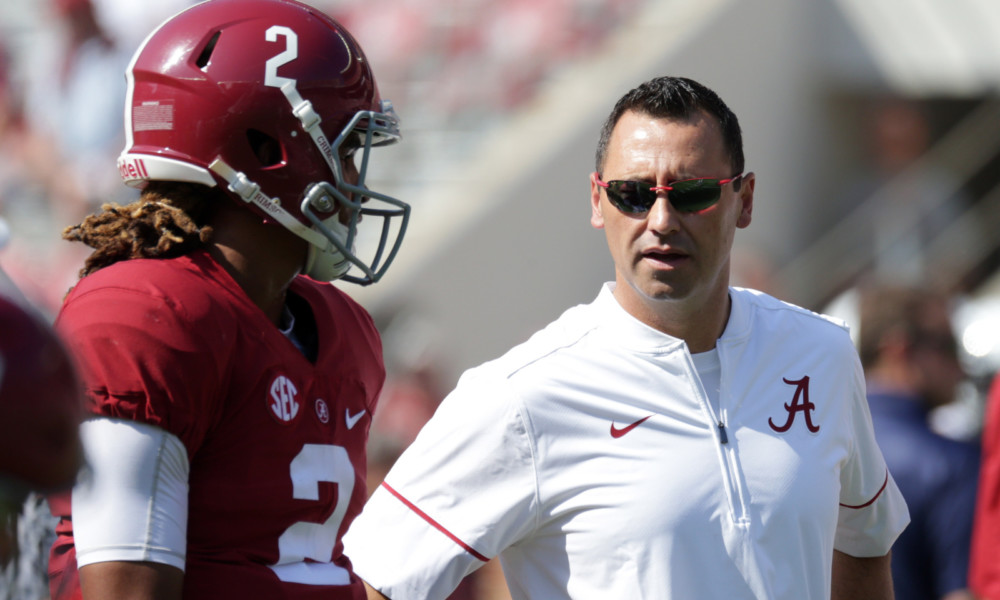 During an ESPN interview on Monday morning, Alabama head coach Nick Saban told Rece Davis that Steve Sarkisian will assume offensive coordinator duties immediately. That means that former offensive coordinator and new Florida Atlantic head coach Lane Kiffin has stepped down.
Sarkisian was named the new offensive coordinator on December 16th but Kiffin was expected to finish the season with the Crimson Tide. Coach Saban said that it was a mutual decision for Kiffin to leave the team and was adamant on this being the correct decision for the team.
"Sark has already been named offensive coordinator," Saban said. "He really knows the offense and the players really know him. So we're hopeful this will be a really smooth transition for us."
Kiffin spent three years with the Crimson Tide and had a new starting quarterback each season. His offenses still averaged 37 points per game and he helped lead Alabama to a national title in 2015.
"The players have an expectation of what you're going to call in every situation," Saban said when asked about the offensive gameplan changing. "I don't think we're going to change our offense or change our terminology, we're just going to have a different guy choosing what to dial up in those situations."
Alabama freshman quarterback Jalen Hurts has had two consecutive games with low offensive production but the Crimson Tide has used their rushing attack and defense to keep winning. With Deshaun Watson and the Clemson Tigers waiting in Tampa, Saban may be thinking that the offense needs to be focused without the distraction of Kiffin still being on the sideline.
UPDATE: Lane Kiffin was interview on SEC Network's Paul Finebaum Show on Monday afternoon. He confirmed that it was mutual decision but Kiffin said that he would continue to work with the team through the championship game on a smaller scale.
"Awesome, it's been an awesome run," Kiffin said when asked about his time in Tuscaloosa. He ended the interview with a "Roll Tide."
The full release from Alabama's office is below. We will have more news and analysis on this transition as the national championship game approaches.
Here's the release from the Alabama football office: pic.twitter.com/DMXCpcel1D

— Caleb Turrentine (@CalebTurrentine) January 2, 2017