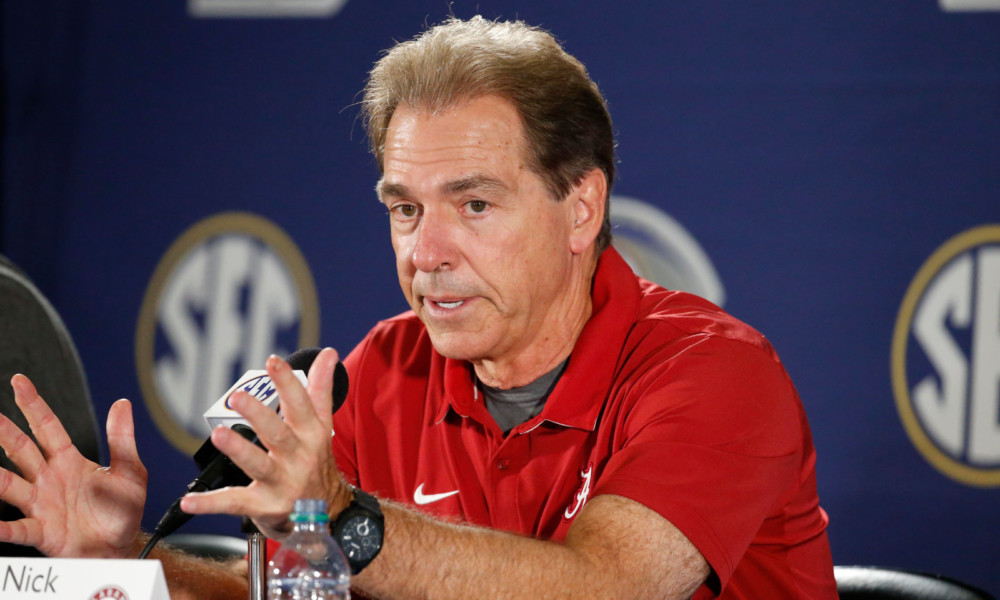 Alabama arrived in Tampa on Friday and will begin practice at the University of South Florida on Saturday afternoon but they had to face the media first. Coach Nick Saban led the day off but many coaches and players were available for the media day on Saturday morning.
After the team was paraded in to Amalie Arena in Tampa, Saban called the entrance "dramatic" but "kind of enjoyable."
"I think you enjoy the challenge when you're in this position," Saban said. "You want to do the best job that you can to try to put (the players) in the best position where they have a chance to be successful, and that's always challenging, but it's always a lot of fun."
New offensive coordinator Steve Sarkisian was made available to the media for the first time since taking over for Lane Kiffin and the former USC head coach probably drew the biggest crowd of the day.
"I'm embracing this more than anything," Sarkisian said about his new role. "I would be remiss if I didn't exhaust myself in the preparation standpoint to put our players in the best position to go do the best job they can do Monday night because they've earned this."
Freshman quarterback Jalen Hurts may be in the toughest situation when it comes to a new coordinator but Sarkisian has been impressed all year by Hurts.
"He's a gym rat," Sarkisian said of his quarterback. "He works at the game. Those are the kind of guys I like to be around. They make my job easier."
Hurts admitted that the change in coordinators will be different but he said they still feel good about the situation they're in.
"When he got the job for next year, I told him congratulations and I'm looking forward to working with him," Hurts said about Sarkisian taking over. "But it just turns out that that came about early. But whatever comes, we're gonna go full speed and hit it as hard as we can."
Some players addressed questions about being the favorite in the national title game but a few of the team leaders talked about having a different feeling.
"We do feel like we're underdogs right now," Alabama linebacker Ryan Anderson said. "It just feels that way."
Senior Tim Williams went as far to say that it makes him angry when he sees people picking the Tigers to win the title game.
"We know what we have to come out there and do at the end of the day — put the cleats on," Williams said. "We have a standard that we always play to, and we never worry about the end result."
Tight end O.J. Howard, who had the biggest game of his career against Clemson last year, was not surprised about the "underdog" talk surrounding Alabama. Howard suggested that the poor offensive performances and sudden change to the coaching staff has affected people but he does not see it as a reason to doubt the Tide.
"It's kind of a slap in the face when you do something well all year and then your parents give the gift to your little brother and he just got an F on his test," he said.
Many of the players were enjoying their mornings. Junior punter J.K. Scott even showed off some skills of his own.
Alabama punter J.K. Scott sets a PR in the Rubik's cube. Some truly impressive feats happening here pic.twitter.com/nAUF5kJ6qF

— Matt Porter (@mattyports) January 7, 2017
Caleb Turrentine is a columnist and contributor at Touchdown Alabama Magazine. He also does work for Alabama's team page at Bleacher Report. Follow him on Twitter, @CalebTurrentine.