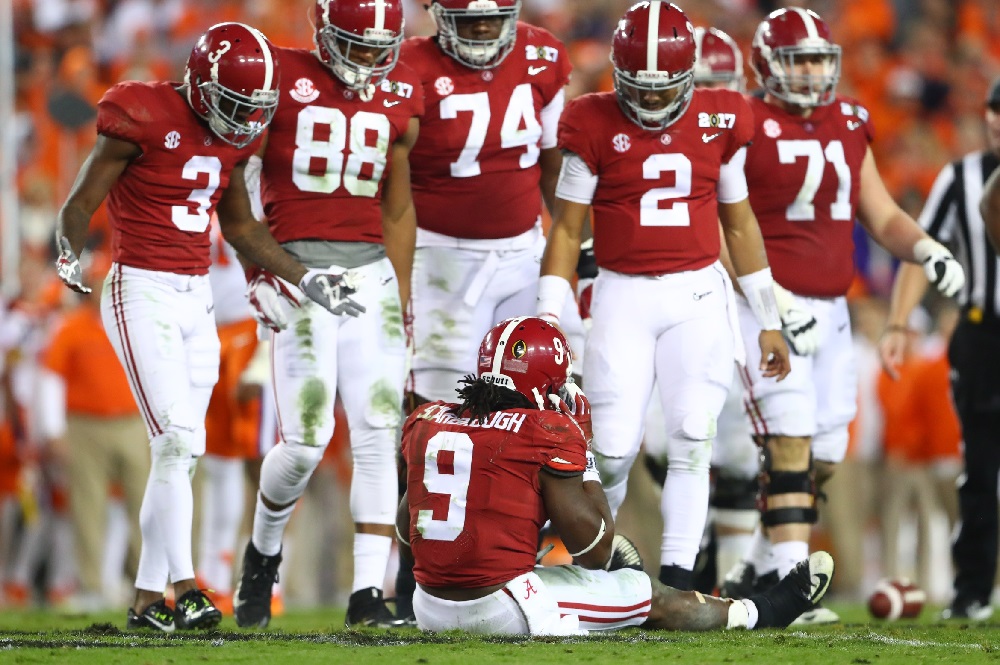 The College Football Playoff National Championship game between the Alabama Crimson Tide and the Clemson Tigers will undoubtedly go down as one of the best title games and a rematch of the ages. Having the contest go down to literally the last second is not only thrilling, but not even Hollywood could have written a better script. The game was decided on the field as it should have, yet questions and what ifs will loom for the Tide this entire offseason until they get their chance to redeem themselves for the 2017 season.
Out of the many takeaways of what went wrong in this game, one glaring issue was the Tide's reluctance to rely so heavily on Bo Scarbrough in favor of the other running back options the Tide has. Now, I am in no way suggesting Bo was used improperly, or way too much. In fact, the game plan to implement him early and often was brilliant — until he went down. Which brings the question: Where the heck was Damien Harris and Joshua Jacobs?
Scarbrough left the game with 2:28 remaining in the third quarter after fracturing a bone in his leg. The blow proved to be devastating to the Tide and their entire strategy as Scarbrough, who managed 93 yards on 16 carries with two touchdowns, was on his way to shouldering the load for the Tide in the fourth quarter and using his size and power to bruise the Clemson defense and keep Deshaun Watson off the field.
Of course, that didn't happen.
What did happen was a complete shift in strategy, or a plan B that should have been a plan Z if nothing else. That's right, new offensive coordinator Steve Sarkisian — who to his credit has proven to be an exceptional play-caller over the years — did not adjust well at all. After a Jalen Hurts pass to OJ Howard on the ensuing play for a touchdown, the subsequent two running backs remaining in Harris and Jacobs carried the ball a combined four times for 24 yards resulting in six yards per carry.
Yes, the same Harris who rushed for over 100 yards in a game four times this season. The same Harris who eclipsed 1,000 yards on less than 150 carries. The same Harris who averaged a stellar 7.2 YPC and was the Tide's go-to running back when Scarbrough struggled mightily to begin the season.
Wait, wait, there's more.
Jacobs, another true freshman contributor for the Tide, wowed fans the entire year with his shiftiness and elusive run-style prompting yours truly to dub him, Joshua "Juke-Button" Jacobs. Jacobs, who received a grand total of two carries (not a typo) in the entire College Football Playoff for 16 yards, carried the ball 86 times for 564 yards and four touchdowns in the regular season, and was no slouch at all — despite what his lack of utilization my suggest. His first carry in the game went for 13 yards, and then he went missing until…you guessed it, the fourth quarter after the Scarbrough injury.
Hurts to his credit did the best he could. He didn't ask the Alabama coaches to put the game on his 18-year-old shoulders to the tune of 31 pass attempts. It's not his fault after noticing he couldn't make the necessary throws to beat a thirst-driven Clemson defense — who seemingly knew where his passes were going, which resulted in 13 completions — there was no adjustment whatsoever. And no, he didn't call the 12 quarterback dropback plays in lieu of the four running plays after Scarbrough went down with an injury — one of those carries being a 7-yard fourth-and-one run by Harris.
This game's fate was decided long before it started. The Tide still had every opportunity to win this game, but to ask one man to carry (literally) the load and not have a backup plan is too much for many to overcome. While Harris and Jacobs may not admit it publicly that they felt like chopped liver and castaways — that's exactly how they were treated after doing everything possible to be more a part of the game plan.
A lot of soul searching will be done by Nick Saban and his staff after this loss, and for good reason. Riding Bo until his wheels fell off worked for 43 minutes and 12 seconds. Very little did afterwards — and that's a tough pill to swallow.
Brandon Williams is an Editor and Columnist for Touchdown Alabama. You can follow him on Twitter, @BWilliamsTDAL