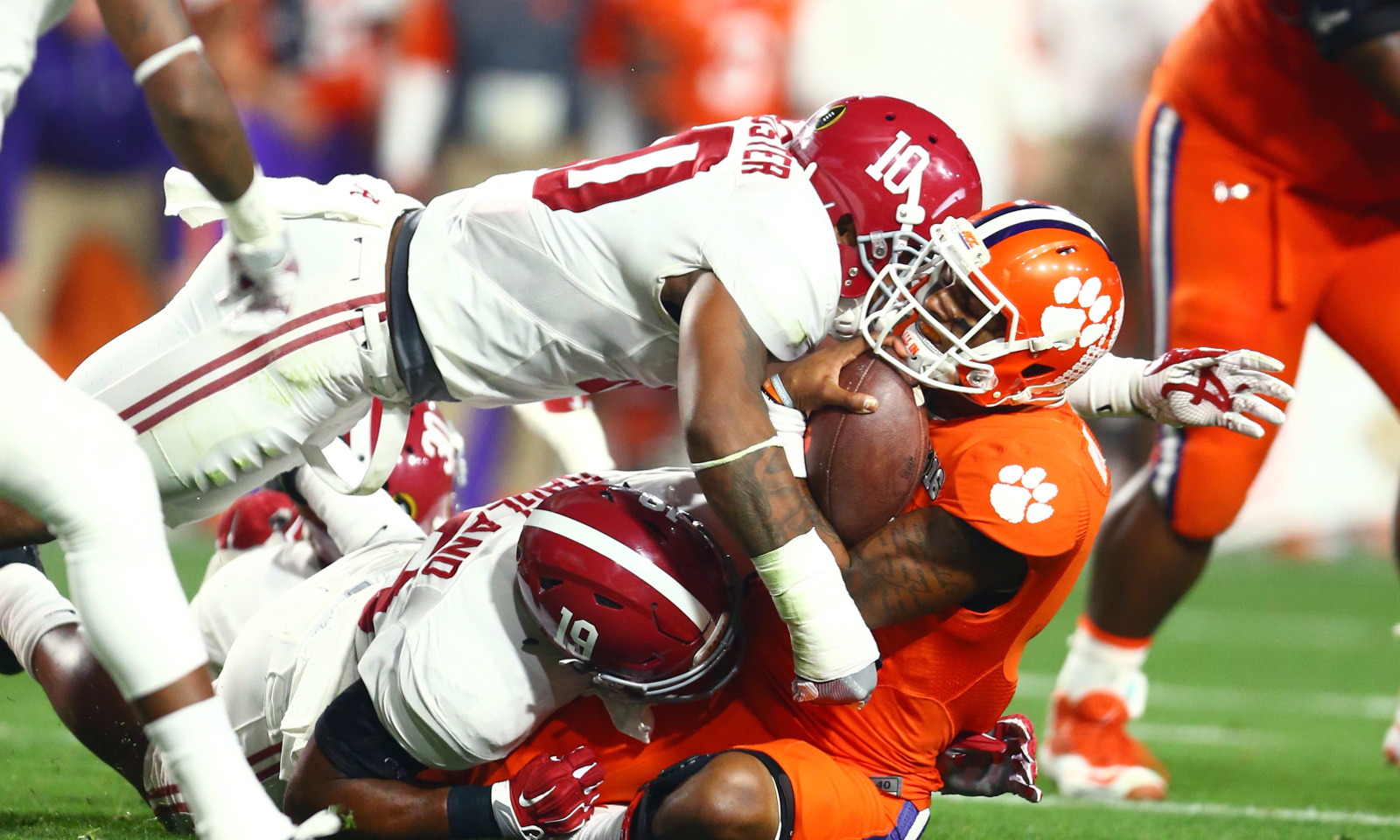 Monday night's national championship game will go down as one of the most historic of all-time. The Crimson Tide came up one second short of winning their fifth title in the last eight years, and it was an ending that will likely haunt Alabama players, coaches and fans alike for some time.
There has been a reoccurring question by fans wanting to know what went wrong. What happened in the second half that made the team fall apart? Well, there were a lot of reasons for the breakdown.
What Alabama Did to Themselves
The first thing that comes to mind is a combination of uncharacteristic mishaps made by the Crimson Tide, and how they weren't able to overcome the seemingly endless mistakes. Reuben Foster played an outstanding game, but there were times where he was the direct result of Clemson's success on offense. He missed two key tackles on one drive that resulted in a Deshaun Watson 8-yard touchdown run with 6:09 left in the second quarter, and there were also a few occasions where he struggled in coverage.
As costly as Foster's missed tackles ended up being, he wasn't alone in his struggles to bring down the ball-carrier. The defense, as a whole, had mental lapses on several occasions in regards to their usually sound tackling. Those uncharacteristic, untimely failures to bring down the ball-carrier were crucial in allowing Clemson to gain momentum over the course of the game.
Dropped passes were a costly issue that plagued the offense on several different occasions. With Hurts's struggles in recent weeks with the passing game, building his confidence early was an extremely important aspect of the game plan that never came to fruition. A lot of that fell on Hurts's shoulders, but he was not the only reason the passing game never got going. There were several times where Hurts would deliver a catchable — not perfect, but catchable — ball and his receivers did nothing to help him out.
The main example that comes to mind was on a third-down where Hurts alluded pressure, stepped up in the pocket and delivered a catchable pass to Gehrig Dieter. Dieter wasn't able to come up with the catch, and thus, the drive was stalled. This type of situation happened multiple times throughout the game, and it did nothing to help Hurts's confidence and rhythm. The third-down conversion rate for Alabama was abysmal — they finished only 2 of 15 on third down.
The last self-inflicted issue was inexcusable penalties. Alabama offensive tackle Cam Robinson has become notoriously known for his false start penalties that have killed key Alabama drives this season. Monday night's national championship game was no different.
There were two different occasions where he was called for a false start penalty in the game, and both came at the absolute worst time — following a Clemson turnover. In what should be an obvious statement, the percent chance of converting a 1st-and-15 compared to a 1st-and-10 decreases dramatically, and that proved to be true following both of Cam Robinson's false start penalties. The Crimson Tide had the ball in Clemson territory, and it is almost a certainty that the penalties prevented Alabama from building on their already established lead.
What Clemson Did to Exploit Alabama's Defense
Clemson's offensive game plan was fairly genius when you think about it. The mentality going into the game was that Clemson felt like their starters could hang with Alabama's. Depth was the issue that played into the Tide's favor — an obvious statement when you consider that Alabama has consistently landed the no.1 recruiting class since Saban arrived back in 2007 — and that was not something that Clemson was going to let beat them.
To combat this advantage for the Tide, Clemson decided to limit their substitutions — thus, limiting the amount that the Tide could substitute on defense. When you consider Alabama's usual game plan of using a rotation to wear down opposing teams, this clearly threw the Tide's defense out of their comfort zone. Fresh legs were not something that the Tide was able to consistently get along their defensive front throughout the game. When you combine that with the struggles for Alabama's offense to sustain long drives, it was a recipe for disaster.
Alabama's defense ended up being on the field for 99 plays — the most an Alabama defense has ever had to play in the history of the program. Of those 99 plays, Alabama's starters were forced to play a significantly higher percentage of snaps than they normally would. This clearly led to fatigue — even as early as the 3rd quarter — and that is when the Clemson offense really started to show signs of success.
Conclusion
The reasons listed above are only a portion of why Clemson was able to come out with a 35-31 victory on Monday night. This article wasn't to tell the entire story, but more of a way to show fans that there were a lot of factors in determining the outcome of the game.
The Crimson Tide played extremely hard, and it can be argued that they did enough to win the game. Clemson was just left with enough time on the clock for their two-time Heisman Trophy finalist to carry the offense down the field and score a last-second touchdown to get the win. Considering that the Tide was able to make another national championship appearance after losing seven players who were taken in the top three rounds of the 2016 NFL Draft — including Heisman Trophy winner Derrick Henry — and starting a true freshman quarterback, it becomes clear that the season was still special.
The team will continue to be set up for sustainable success, so don't be surprised to see them make several more playoff appearances over the course of the next few years.
Clint Lamb is a columnist for Touchdown Alabama Magazine. You can "follow" him  on Twitter @ClintRLamb.