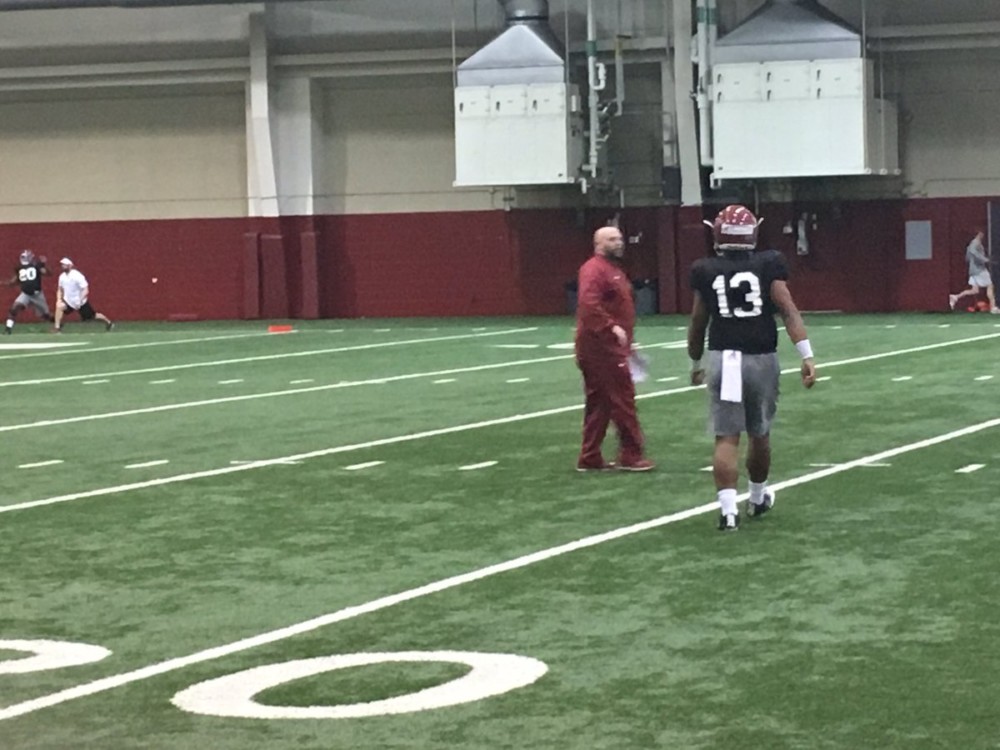 Fans don't like it, we sportswriters sure don't like it, but Saban keeps a closed lid on his practices and this article tells you why.
Why Saban Doesn't Release QB Stats From Practices
By: Larry Burton
Nick Saban is the most comfortable guy in the world in his own skin. With the success he's had, he knows he can do things his way and to hell with whether it's popular with the press, the fans or whoever. One such thing is his unwillingness to release stats on the quarterbacks or allow us in the press to observe more that just a few minutes of warm ups before practice starts.
He knows that we in the press would be all to eager to watch and record those stats in our head and be all to happy to release them to a fan base would read Mrs. Terry's receipt from the grocery store just to see what products they buy. If it's Alabama or Nick Saban related, a photo of the shoes he just bought would get 10,000 likes and a hundred thousand looks.
But it's not that he's a stickler for privacy. What he's too nice to say, at least most of the time, is that the press and fans who saw those stats would be too stupid to know how to interpret them, what kinds of throws he asked each to make, what receivers they were throwing to, good ones or rookies, who was covering those throws and on and on and on.
We'd just say, "Wow! Quarterback X who was supposed to be the third string quarterback just blistered the rest of the quarterbacks by going 13 of 18 while quarterbacks Y and Z only went 8 for 20 and 6 for 17!" But the folks reading this wouldn't know that quarterback X was throwing against the 4th string defenders and to the top flight receivers.  He was also practicing mostly short throws. While quarterbacks Y and Z were working with the young receivers against the first string D backs while the coaches were teaching them to run deep and intermediate routes.
But on bulletin boards across the nation you'd read that there's a quarterback competition at Alabama and that quarterback X is looking like he should be the starter.
That is what Saban calls "Clutter", at least in public. I'm sure he calls it much worse in private.
Perhaps that is why Saban came out this spring and deliberately said in words we could all understand that Jalen Hurts is the number one quarterback. He'll take the number one reps, lead the drills for that position and the job is his to lose. Will he lose it? That will be decided on the playing field, not the practice field.
So as spring practice goes on, you may hear that Diggs broke 3 tackles on a 80 yard screen pass or that new freshman running back Najee Harris had two long scoring bursts, you won't hear many quarterback stats and you won't know that Harris' scoring runs came against the other freshmen players. So that's why we in the press aren't allowed to stay and watch and why Saban won't give details on many practice results.
So whether you like that or not, it's Saban's world and we're only allowed to watch it and comment on it. He doesn't need our input and sure doesn't want it and because of that, he's built a winner that just keeps on chugging. In the end, that's what the fans want most and as sportswriters, we'll just grumble and deal with it.
Larry has been published in almost every media outlet for college sports and now primarily writes here for Touchdown Alabama. Follow Larry on Twitter for inside thoughts and game time comments at https://twitter.com/LBSportswriter
THANKS FOR SHARING THE LINK TO THIS STORY ON YOUR FACEBOOK PAGE OR A FACEBOOK GROUP YOU BELONG TO, FACEBOOK RESTRICTS HOW MANY PLACES WE CAN POST IT ON, SO PLEASE SHARE!