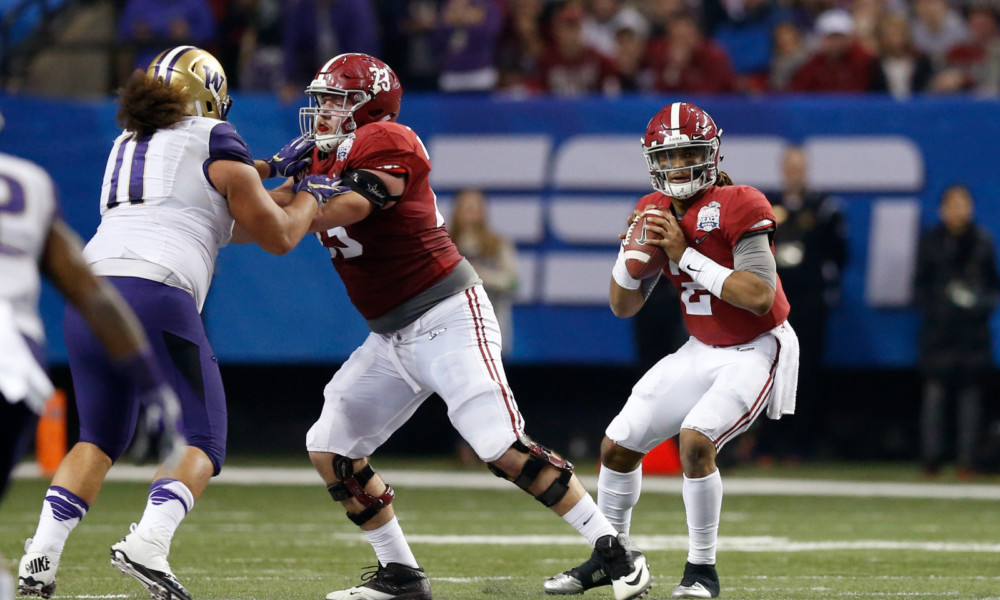 Alabama has a history of displaying some of the greatest players in the college game.
One position that doesn't receive the love it should is the offensive line. For those who have played the game of football in high school or collegiate level, you know how important it is to have a strong offensive line.
No offensive line means no success.
Does he enjoy recruiting running backs, quarterbacks and wide receivers? Of course. But at the end of the day, head coach Nick Saban understands that a physical line sets the tone offensively.
Since 2007, he's mentored some of the best road graders and pass protectors.
During Saban's coaching career in Tuscaloosa, he's produced four decorative left tackles. While Andre Smith (Cincinnati Bengals), Cyrus Kouandjio (Buffalo Bills) and Barrett Jones (Philadelphia Eagles) are in the National Football League, Cam Robinson will be hearing his name called later this month for the 2017 NFL Draft.
All four players helped the Crimson Tide win Southeastern Conference titles, national championships and for Jones and Robinson in particular, both set the edge for Heisman winners Mark Ingram and Derrick Henry.
Now that Cam Robinson is gone, its time for Saban to start evaluating who will be protecting his second year quarterback's blind side. Jonah Williams, Lester Cotton, Matt Womack, Scott Lashley and Chris Owens will be returning to battle out the starting position on the gridiron. Joining the five returning tackles will be incoming freshmen: Alex Leatherwood (five-star recruit), Elliot Baker, Jedrick Wills and Kendall Randolph.
After finishing 14-1 last season, Alabama seeks to make another run at the national title. Should this happen, it must consider flipping Williams to left tackle. Listed at 6-foot-5 and 301 pounds, the California native and five-star recruit guided Jalen Hurts to 2,780 passing yards, 954 rushing yards and 36 touchdowns at right tackle.
Williams earned player of the week honors numerous times from the Tide's coaching staff and was recognized multiple times by the SEC as its Offensive Player of the Week and Freshman of the Week.
Along with his quick feet, Williams takes pride in the weight room and film room. Through six of 15 spring practices, both he and redshirt sophomore Matt Womack have lined up at both offensive tackle positions.