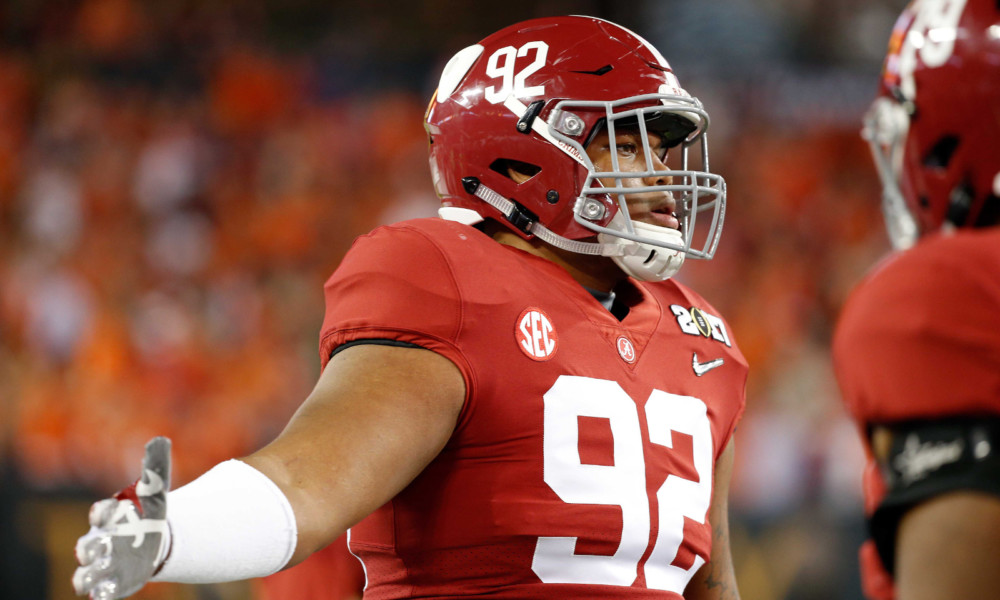 Alright, check this out: Close your eyes and imagine four pit bulls chained up outside in a neighbors backyard, due to their aggressive behavior. Not only that, if one decides to let them loose around people they have never seen, the pits will chase its target down until they have hold of it.
Scary, right?
Now, picture Alabama's defensive linemen waiting for the quarterback to snap the football. The Crimson Tide's front line has the mentality of a pit bull, and that's why Nick Saban reigns supreme when it comes to getting elite defensive talent to the next level .
The best defensive lineman in school history? Johnathan Allen. Hands down. A top-10 pick in this year's NFL Draft, Allen left Tuscaloosa being second in school history in sacks with 28.5. In the last two seasons, he had 30.5 tackles for a loss and 22.5 sacks. Allen is a three-time Southeastern Conference champion and a College Football Playoff national champion (2015). He won numerous awards following the 2016 year, including Ted Hendricks Trophy, Bronko Nagurski Trophy, Chuck Bednarik Award and SEC's Defensive Player of the Year.
Now that he's departed, it looks like Isaiah Buggs will have his chance to shine at the second spot.
The No. 2 overall junior college recruit out of Mississippi Gulf Coast Community College, Buggs possesses pure speed as an edge rusher with a great build at 6-5 and 280 pounds. He finished his JUCO career with 134 tackles, 7.5 sacks and 15 tackles for loss. With Johnathan Allen, Dalvin Tomlinson and Dakota Ball departing, the Tide will need for Buggs to emerge as an impact player. Despite the questions that fans may have concerning him, the main one is will Buggs develop the consistency needed for the program?
For all who know Nick Saban, he tells his players that nothing is given to you. If one desire to be great on Saturdays in the fall, than one must showcase fundamentals and intagibles at practice. He puts defensive linemen through the toughest part of the offseason program, to weed out the contenders from pretenders.
While Buggs is a key name, Quinnen Williams, Raekwon Davis and LaBryan Ray will all be fighting a for a chance to line up opposite Da'Shawn Hand for the 2017 season.