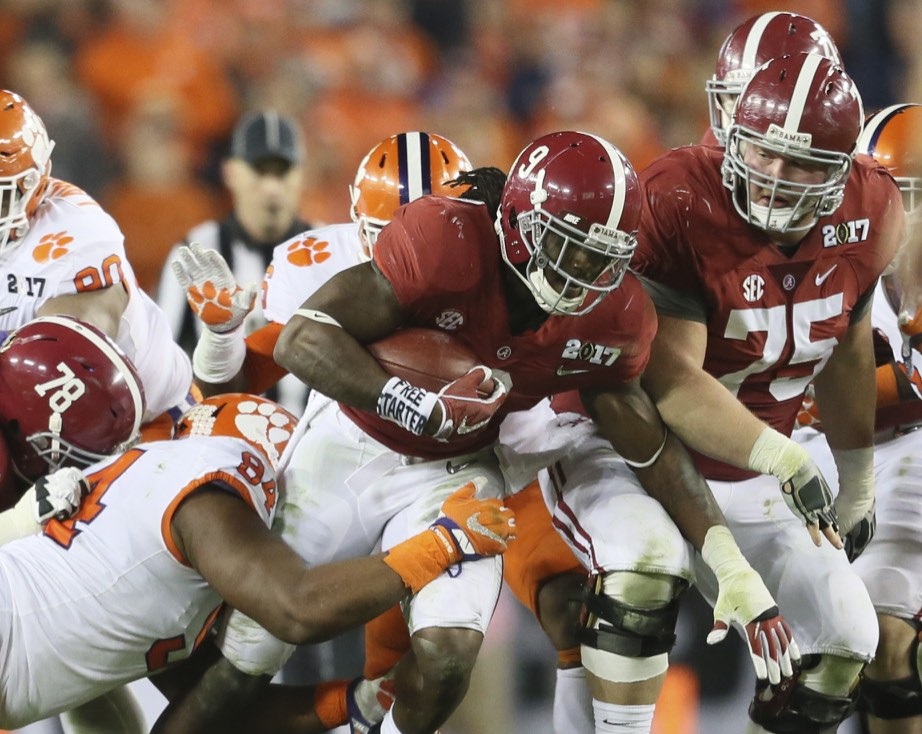 Bo Scarbrough was supposed to be the man to carry the Alabama running game, but is he? The stats don't say so up to now, but will that change? Read and see what this author thinks.
Bo Scarbrough the Man at Bama? Stats Say Not So Fast.
By: Larry Burton
Yes he's an imposing looking figure, yes he has great potential, but despite the overabundance of Scarbrough fever in the media, there are others who actually fared better than Bo and they will be back this year. It may not be Scarbrough's year this year either.
Seemingly forgotten by the press is  Damien Harris, the real workhorse for the Tide last season. Not only was he the only thousand yard rusher for Alabama, he also averaged a team high for running backs yard per carry average of 7.10 yards per carry. So if you're high on the Scarbrough bandwagon and wish to interject that he was hurt during parts of last season, let me burst your bubble and say that when he was good, he still couldn't meet not only Harris' 7.10 yard per carry average, he couldn't get to Josh Jacobs 6.67 yard per carry average either.
To be fair though, when he was at his very best, as he was in the pre-leg injury post season, he was very good. Against Washington in the semifinals, he rushed for 180 yards and a 9.5 yard per carry average.
Now that was toting the rock for sure. So when he's great he's on fire, but what about the injury bug that is always biting Scarbrough? He was injured coming in and took a redshirt year then in his redshirt freshman year had an ACL and knee problem and then this year started the year with nagging injuries before finishing the year on the bench once again with a leg problem.
Some in the NFL may wonder if the talented big man may have a "glass jaw", a term given to boxers who get hit and go down to easy or two often. Therefore a great year this year is crucial to Scarbrough showing he can make it through at lease one season without an injury. No NFL team wants to pay a half million dollars a game for someone to sit on the bench or be in rehab.
What could make it even tougher for Scarbrough this season is that both Harris and Jacobs return with a great deal of experience they didn't have last season and new freshman Najee Harris is going to get a chance to show what he can do and if he explodes on the scene as well or better than Jacobs did last season in his freshman campaign, that can only take attempts away from Scarbrough too.
Coming into this season, Scarbrough has never proven himself to be "the guy" at running back from Alabama. In his freshman year that was Derrick Henry, last season Alabama's workhorse was Damien Harris. This has to be Scarbrough's year or all that potential, while not wasted at Alabama, will certainly not propel him to be a sure first round pick as seemed to be the case when he got here.
The best case scenario for Scarbrough this season is to finally put himself on top of the rushing yardage list, be the leader in yards per carry average and be healthy all year long. It won't matter if he's not rushing for 1600 yards as other rushers might do. Those kinds of stats are usually put by a one trick pony kind of team. Alabama will have as many as six quality running backs and the trick is not to compete against the one trick pony schools, but prove that you're the best of the best in the top running back stable in America.
He has a chance to do that this season. He needs to do that this season, not just for his own future, but for the chances for Alabama to repeat as a college football playoff team again this coming season.
Larry has been published in almost every media outlet for college sports and now primarily writes here for Touchdown Alabama. Follow Larry on Twitter for inside thoughts and game time comments at https://twitter.com/LBSportswriter
THANKS FOR SHARING THE LINK TO THIS STORY ON YOUR FACEBOOK PAGE OR A FACEBOOK GROUP YOU BELONG TO, IT SUPPORTS OUR ENDEAVORS AND HELPS KEEP MOST OF THIS SITE FREE, SO PLEASE SHARE!