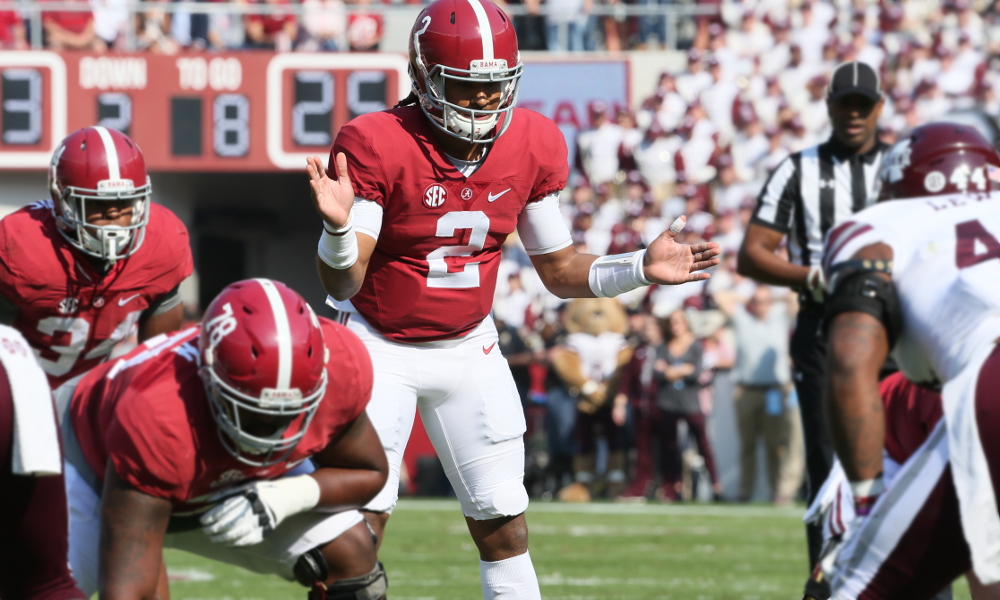 As a true freshman, quarterback Jalen Hurts completed over 62% of his throws for 2,780 yards, 23 touchdowns and nine interceptions. Most notably, he added 954 yards rushing and 13 touchdowns on the ground. He was awarded SEC Offensive Player of the Year as well as SEC Freshman of the Year.
With all of his success, what would his draft stock look like if he were eligible to be drafted in 2017?
The Other Guys: The other top QB prospects of this year's draft include the following (with last season's stats):
-Deshaun Watson (Clemson) – 67.0%, 4,593 yards, 41 TD, 17 INT//629 rushing yards, 9 rushing TD
-Mitch Trubisky (North Carolina) – 68.0%, 3,748 yards, 30 TD, 6 INT // 316 rushing yards, 5 rushing TD
-Patrick Mahomes II (Texas Tech) – 65.7%, 5,052 yards, 41 TD, 10 INT // 285 rushing yards, 12 rushing TD
-DeShone Kizer (Notre Dame) – 58.7%, 2,925 yards, 26 TD, 9 INT // 476 rushing yards, 8 rushing TD
-Joshua Dobbs (Tennessee) – 63.0%, 2,946 yards, 27 TD, 12 INT // 831 rushing yards, 12 rushing TD
-Davis Webb (Cal) – 61.6%, 4,295 yards, 37 TD, 12 INT // No Notable Rushing Yards
-Brad Kaaya (Miami U) –  62.0%, 3,532 yards, 27 TD, 7 INT // No Notable Rushing Yards
2016 NFL Draft's Top QBs: With their final college season's stats.
-Carson Wentz [1st Round: 2nd Overall] (North Dakota State: Junior Year) – 63.7%, 3111 yards, 25 TD, 10 INT // 642 rushing yards, 6 rushing TD
-Dak Prescott [4th Round: 135th Overall] (Mississippi State) – 66.2%, 3793 yards, 29 TD, 5 INT // 588 rushing yards, 10 TD
-Jared Goff [1st Round: 1st Overall] (Cal) – 64.5%, 4714 yards, 43 TD, 13 INT // No Notable Rushing Yards
In comparison to this year's QB prospects, Hurts' numbers resembles those of Dobbs and Kizer. In fact, both Dobbs' and Kizer's numbers are drastically less impressive than Hurts'– considering they have played three and four years a piece, respectively. However, he was not asked to read the defense on a consistent basis this season as most of the offensive production came on plays like pop passes, receiver screens, and jet sweeps (that count toward passing yards).
The first thing one notices when looking at Hurts' throwing mechanics is his tendency to hop-step before launching a deep pass. As if trying to pull the pull the energy from his legs to his arm, Hurts shuffles and hops prior to each long ball he throws throughout the season:
Jalen Hurts tosses a 39 yard TD to ArDarius Stewart. Bama leads 10-7. How it sounded on @ESPNRadio. pic.twitter.com/xTWyETrAch

— CFBonESPNRadio (@CFBonESPNRadio) September 4, 2016
Though this is a typical football move, Hurts' gathering is slightly exaggerated – causing a slower release time. He appears to consistently throw a pretty tight spiral, but lacks consistency when throwing deep balls. He had a tendency last season to over throw receivers, especially those running down the middle of the field.
He would lose a lot of early round interest based on these flaws alone.
One of the biggest issues with Hurts last season was surprisingly the play calling. Lane Kiffin – offensive master mind – did not seem to fully trust him to develop as a pocket passer. Blake Sims and Jake Coker were given a much longer leash than Hurts in their time, and it showed.
Additionally, because of the injuries to the Tide's running backs, he was typically the best option to pick up rushing yards. Despite his flaws, his upside is nearly ceiling-less. To put up the kind of numbers he did as a freshman against defenses in the Southeastern Conference reflects the type of player he can be, when given the chance.
His numbers easily rival those of the 2017 draft QBs and should only improve under OC Brian Daboll.
With Hurts starting as a true freshman, he would be drafted like an NBA one-and-done: based on upside instead of immediate impact. With two to three years in a backup role in the NFL, Hurt could blossom.
If he was eligible for the 2017 NFL Draft, Hurts would easily be a fourth or fifth round pick. Quarterbacks are as needed as ever in the pass-happy NFL, and with some of the greats only getting older (Brady – 39, Rodgers – 33, Palmer – 37, Rivers – 35), teams would jump on a chance to draft a young, high-upside backup that they could groom for a few years.
Jake Weaver is a contributor for TD Alabama Magazine and Bama Hoops Hype. You can contact him via email at [email protected] and follow him on Twitter for sports news/commentary @JAWeaver0.