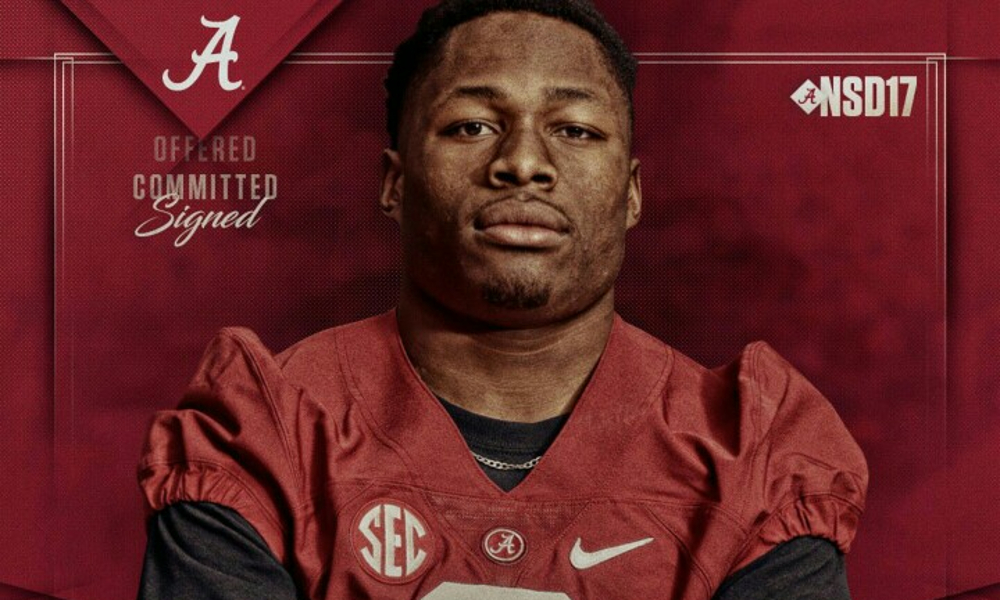 Despite being rated as just a three-or-four-star recruit by the various recruiting websites, cornerback Kyriq McDonald might be talented enough to see playing time as a true freshman.
By taking part in spring practices he gave himself the opportunity to get comfortable with the playbook, put in work with the conditioning staff, and familiarize himself with the rest of his teammates in the secondary. Additionally, he gained extra time to garner the attention of the coaching staff – an invaluable asset when surrounded by five-stars.
He turned a lot of heads during April's spring game, thousands of heads even, with a pick off of Mac Jones.
Love Kyriq McDonald on this smart play here to jump the route. pic.twitter.com/LDP69x6O4T

— Jake Weaver (@JWeaverAL) June 28, 2017
From his zone in the middle of the field, he keeps his eyes on the quarterback and the plight of the ball then jumps the route and basically steals the ball from the receiver's grasp.
Here's a slower replay of it:
Same play, but a little slower. He sees what's happening from his zone and flies in strong to snag it. pic.twitter.com/CgRL2VT3lu

— Jake Weaver (@JWeaverAL) June 28, 2017
The ball was a little under thrown, and as the announcer's mentioned, slow to come out, but his athleticism to get to the correct spot and snatch the ball from the intended receiver was on full display. He made four tackles on the day in addition to the interception, and was considered one of the bright spots of an otherwise disappointing defensive effort in the first half.
At 5-11, 194 pounds, McDonald strikes a good balance in both height and bulk. His physique is comparable to that of first round Draft pick, Marlon Humphrey, who stood at 6-0 and 196 pounds. While most defensive backs in the 5-10 to 6-0 range tend to weigh in around the 185-pound area, the added bulk gives McDonald an advantage in run support and other highly physical plays much like the interception above. What made Humphrey such an attractive selection for the Baltimore Ravens in the first round was that same highly-touted physicality.
Should McDonald find his way onto the field, it's more than likely to be in a Dime or Nickel role, covering slot receivers and supplying much-needed run support with the additional defensive backs on the field. The biggest challenge he faces is going to be his speed, something that has not been on display much yet against top-notch talent. He played most of the spring game like an additional Strong Safety, sitting in zone coverage and coming down to lay the wood on ballcarriers.
However, I do believe McDonald possesses the traits Nick Saban and Jeremy Pruitt desire in their defensive backs. He seems to have pretty high football IQ based on spring practice alone, and if that is anything to be taken seriously, it means he could be a coach's favorite. Coaches love few things more than technique-minded athletes with elite traits.
Especially Nick Saban.
Jake Weaver is a lead writer for TD Alabama Magazine and Bama Hoops Hype. You can contact him via phone at 205-612-5060, or on Twitter @JWeaver_TDALMag