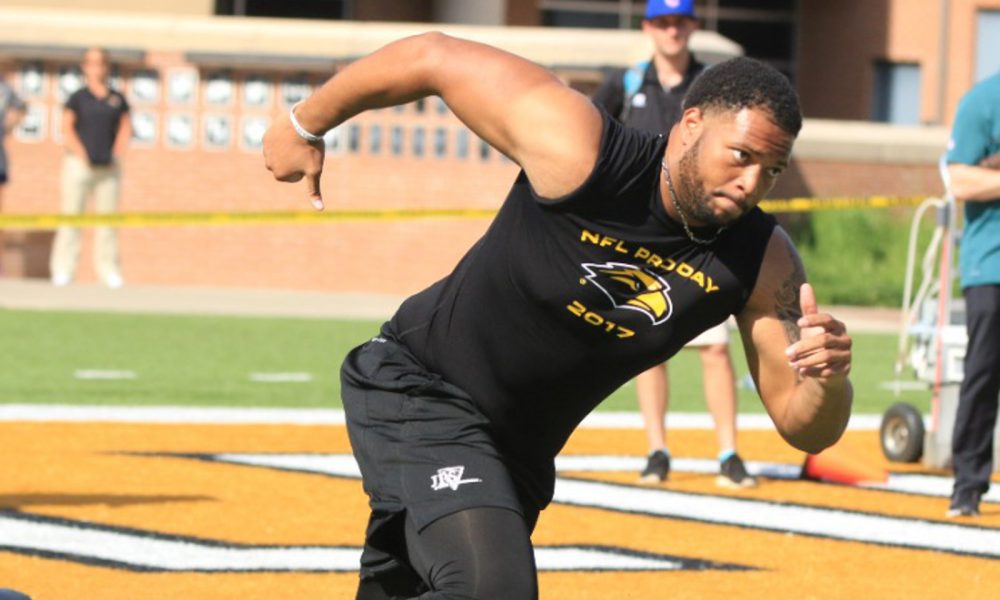 Jackson-Duffy Performance Institute is more than a safe haven for former and current Alabama football players; it's a place of tranquility and effort for all athletes that want success. After dealing with the sun on last week, I arrived at Ruby Tuesday to spend time with Johnny Jackson.
Caught in the atmosphere of a smokehouse burger, boneless barbecue wings and spinach dip, a conversation started between Jackson, ex-Crimson Tide running back Glenn Coffee, former Southern Mississippi offensive lineman Andrew Peterson and myself. While four men shared laughter and stories around food, the fifth member in question and subject of the story pulled up outside.
Like Peterson, Oliver Bates played collegiate ball at Southern Miss.
Donning a black and yellow pro day shirt, Bates was ready for another challenge inside the JDPI gym. A two-star offensive lineman, he bought into the process of having a determined mindset for the Golden Eagles.
Regardless of going to a small school, the 295-pounder endured both injuries and losing seasons to guide the team to success in his final two years of eligibility.
"I learned so much about leadership and perseverance at Southern Miss," Bates said to yours truly of Touchdown Alabama Magazine during Sunday's interview. "As an offensive lineman, you cannot be selfish. The object of the game is not to be self-bound, but to help the next man."
Contrary to what some might think, the Golden Eagles weren't a struggling institution upon Bates' arrival in 2012. During the previous season, it notched a 12-2 record and averaged 36.9 points per game. A new coach would emerge onto the scene in 2012, causing some adjustments and trying times. Southern Mississippi combined for a dismal 4-32 mark from 2012 to 2014, including a winless (0-12) 2012 campaign – which was Bates' redshirt season.
Tables began to turn for Southern Miss in 2015.
As a redshirt junior, Bates took on a leadership role and saw action in 14 games. After totaling just 18.3 points a contest in the last three seasons, he guided the Golden Eagles to an average of 39.9 points a matchup. Offensively, the yards started piling up as Bates witnessed his group turn in a school-record 7,133 total yards. He finished fourth in pancake blocks (39), while navigating the program to a 9-5 record and its first bowl appearance since the 2011 season.
"The coaches I played for at Southern Miss taught me about life," Bates said.
"When we were struggling on the field, they kept pushing hard work. We weren't a big school like those in the SEC, but we prided ourselves on having something to prove."
Alabama and Mississippi State victimized Southern Mississippi in 2014 and 2015; however, Bates and the Golden Eagles got the final laugh in his senior year. To open the 2016 campaign, Bates and company traveled to Kroger Field to face the Kentucky Wildcats of the Southeastern Conference. Despite trailing 35-17 at halftime, Southern Miss scored 27 unanswered points in the second half to pull a 44-35 victory – getting its first SEC win in four attempts with Bates.
"That summer going into the game versus Kentucky we were focused," Bates said. "Word around the locker room and the weight room was Kentucky considered us an easy target. No one thought we could beat the Wildcats and we felt overlooked. We came out with an edge to us, and despite being down a lot in that game, we overcame a lot and found a way to win."
Not only did the Eagles beat Kentucky, but it would also account for 30-plus points (32.8) a game for a second straight year. Behind Bates, Southern Mississippi's offensive line blocked for 6,146 total yards, including 3,877 through the air. It went back to a bowl game at 6-6, and unlike the previous year, the Eagles ended on a high note – defeating Louisiana-Lafayette, 28-21.
Following the conclusion of his college years, Bates has been constantly training with Johnny Jackson in order to have a chance of getting into the National Football League. Although he put in some good numbers at his pro day, Bates admitted that he could done a lot better.
"Having knee surgery slowed me down," he said.
"I want to run a 4.9 in the 40-yard dash, but one of the scouts clocked me at five seconds, flat. I went in with a mindset of getting 35 reps on the bench press, but I only did 27. The rehab I went through was tough, but I did my best."
Versatility is what Bates desires to achieve in the NFL.
He lined up at both offensive guard and center at Southern Miss, and while at JDPI, he's fine-tuning some things with Jackson – including his ability to explode off the ball.
"JDPI is a hard work atmosphere," Bates said. "For small school guys, you have to go at it and grind every day. Johnny puts his all into us and expects us to put our all into the work."
He's one of the reasons why Nick Saban's process is successful at Alabama, but Jackson will tell you himself that divine intervention is the reason he has a job. At the conclusion of helping the Crimson Tide win a BCS national championship in 2009, Jackson's internship was completed.
"I remember was that I was crying in my car," Jackson said. "I didn't have any money and I was out of a job. I literally prayed to God for a sign and for help and in 10 seconds of me finishing the prayer, I got a call from Glenn Coffee wanting me to come to Florida and train him."
JPI Sports was born on that day, and it's because of a faith-based moment the gym revolves around more than just athletics. Bates said Jackson implements the importance of God in every workout.
"It's almost like having a church in a way," he said. "There is a good vibe when you walk into see Johnny. The main thing is that he wants you to give you all and not have any self-doubt. I know I am going to better, because he challenges you to get your mind right and be ready to work."
Learning from Jackson has allowed Bates to receive a call from the Arizona Cardinals for a tryout. He plans on meeting head coach Bruce Arians in the coming weeks and wants to display his versatility on the offensive line.
"I want Arizona to know I'm a hard worker," he said. "I want them to see an aggressive player who never gives up and comes to work every day. I am going to give this my all."
Should Bates crack the 53-man roster, it will be another piece added to the success puzzle for Jackson and JDPI. He continues to help young athletes in today's football reach their dreams.
Stephen M. Smith is a managing editor and senior writer for Touchdown Alabama Magazine.  You can "like" him on Facebook or "follow" him on Twitter, via @Smsmith_TDALMag.