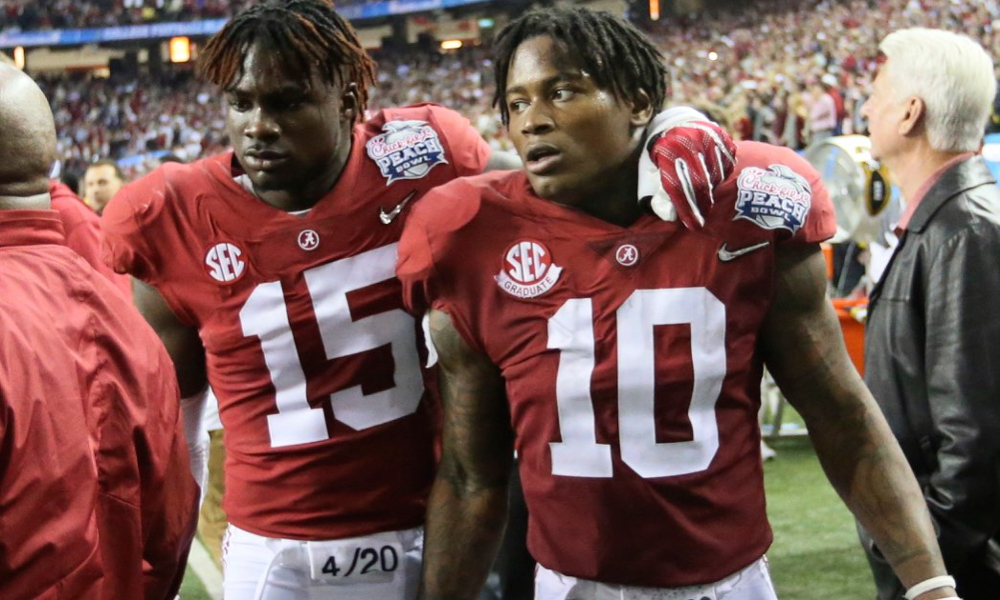 In what was one of the most bizarre series of events, Strong Safety Ronnie Harrison, did something last season that was not soon forgotten.
I'm not talking about his 85 total tackles, his special teams block, or even his pick-six against Tennessee. I'm talking about what happened on the sidelines of the USC game:
While not evident in the video above, fellow safety Eddie Jackson was the target to which his ire drew. Deionte Thompson (#14) and Reuben Foster (#10) attempted to keep his head cooled, but had little success. Harrison was clearly pissed, and having none of what they were selling.
To fans' delight, Ronnie posted this to his Twitter account after the game was over, which lead to Eddie Jackson responding in love and support:
We competitors, sometimes we wanna win so bad our heads clash. Still got love for my brother @EJackson_4 💯💯💯

— Ronnie Harrison II (@Rharr_15) September 4, 2016
It's unclear exactly what caused Harrison to pop off at the future Chicago Bears' safety, but there is one thing that rings true from this epidemic. Ronnie Harrison plays the game with a lot of heart, for better or for worse, and his fiery personality played a huge role in Tide's success in 2016. He was a major anchor for the Alabama secondary, and was by far one of the hardest hitting defensive backs in college football.
I would not be surprised to see him become the heart of the 2017 version of the Crimson Tide defense.
As mentioned earlier, he tallied 85 total tackles in 2016, along with two interceptions and two fumble recoveries – returning one of each for a score. In addition to his 56 solo stops, he deflected nine passes and blocked a punt. He also started in all 15 games, a feat he accomplished after having a standout true freshman season the year before.
With leaders like Johnathan Allen, Reuben Foster, and Eddie Jackson now on to the NFL, Nick Saban and Jeremy Pruitt will be looking for someone else to step up and take on that leadership role. Should Harrison work on keeping his composure, he has all the physical and mental tools of a true leader. He clearly has an abundance of confidence, needed to stand up to a veteran like Eddie Jackson, and that combined with his on-field production makes him a great candidate.
Should Minkah remain back at Free Safety, and Ronnie Harrison at Strong Safety, the two would undoubtedly make up the best safety tandem in college football. Minkah is already expected to be a first round draft pick in 2018, and Harrison's stock is sure to rise with another productive season. In fact, Harrison could find himself in a position at the end of the season to forego his senior year alongside Fitzpatrick.
At 6-3, 214 pounds, Harrison has an elite build to go along with his elite athleticism. He played multiple positions in high school – including quarterback – so it comes as no surprise to see his gifts come so naturally on the playing field.
Much like former Tide defensive back, Mark Barron,  Harrison has a knack for coming down and laying the wood on ball carriers. His vision against the run is one of the best I've ever seen from a college safety. He cleans up plays phenomenally, sometimes clearing 10-15 yards of turf to do so. He is still learning to master the practice of pass defense, but he is not far behind on that front either as he made several tremendous plays on the ball last season.
Should he remain injury-free, Harrison will be a rather vocal leader by the end of fall camp. His junior season is one that I believe will change his life forever. It can be difficult to stand out on the Tide's loaded defense, but Harrison has done that two years in a row. Now is his chance to 'grab the bull by the horns' and be a guy the others can rely on when times get tough.
Jake Weaver is a lead writer for TD Alabama Magazine and Bama Hoops Hype. You can contact him via phone at 205-612-5060, or on Twitter @JWeaver_TDALMag