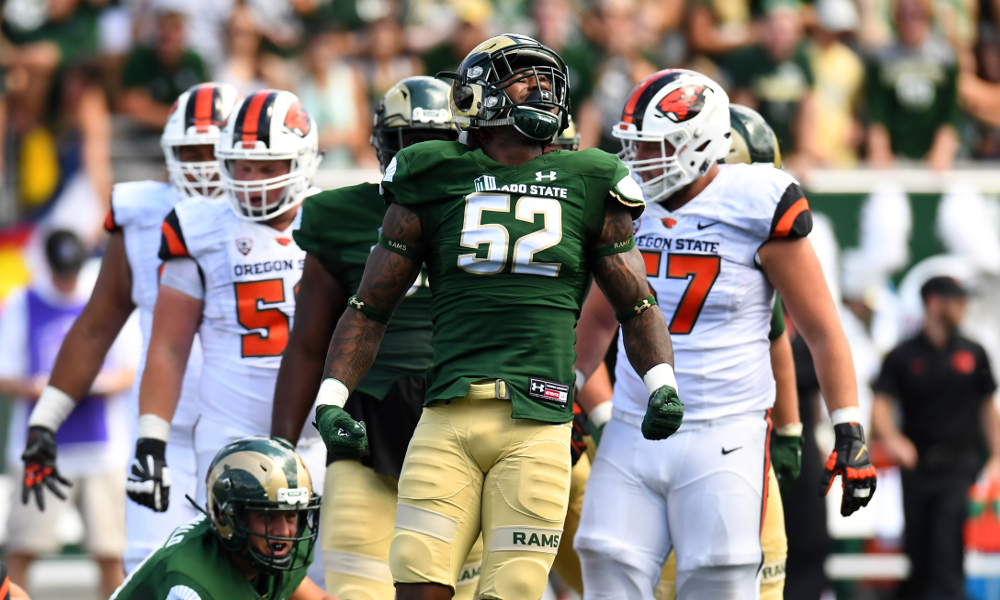 Come week three we will already have answers to many of the off-season's biggest questions. What will the running back rotation look like? Who will be the other starting cornerback? How will the offense look under Brain Daboll? Etc. However there is one thing that may not be asked, but should: should Alabama worry about its week three matchup with Colorado State?
If you asked Nick Saban, you'd likely get a tongue lashing as he feels every team needs to be given the same amount of respect and preparation. Realistically, though, young college football players tend to struggle in keeping their focus during 'down weeks' against 'cupcake' teams. Here is the issue with that: Colorado State does not look like a cupcake team.
In their opening-week game against the Oregon State Beavers of the PAC-12, the Rams looked sharp and dominated the second half. With a talented quarterback and former long time Georgia Bulldogs' quarterback-whisperer, Mike Bobo, at head coach, Colorado State is a team that needs to be taken seriously. Their senior quarterback, Nick Stevens, was red-hot Saturday afternoon. On 26-of-39 passing (66.7%) he accumulated 334 yards and three scores to just one pick. They were well balanced on the day as they also rushed for 191 yards on 43 carries as a team.
Defensively, their secondary harassed the opposing quarterback all day. They snagged three interceptions including one that was returned 44 yards for a score. In total, they forced five turnovers on the day against PAC-12 competition, and ultimately won by a ridicuous 31 point margin, 58-27.
In addition to excellent play on both sides of the ball, their special teams unit looked spectacular as well. Place kicker, Wyatt Bryan, was perfect on the day. He hit all seven extra points and converted all three field goal attempts with a long of 41 yards. Their speedy returner, Detrich Clark, also showed some explosiveness during an impressive 45-yard kick return.
Many will count the Rams out come week three, especially if the Crimson Tide come in unbeaten. Colorado State, though, showed they are not a team to be taken lightly by anyone on their schedule. Even the mighty Alabama. it won't be easy to keep the players focused a week prior to the SEC opener against Vanderbilt in Nashville, but things could get surprisingly ugly in Tuscaloosa if they don't.
Jake Weaver is a lead writer for TD Alabama Magazine and Bama Hoops Hype. You can contact him via phone at 205-612-5060, or on Twitter @JWeaverFootball