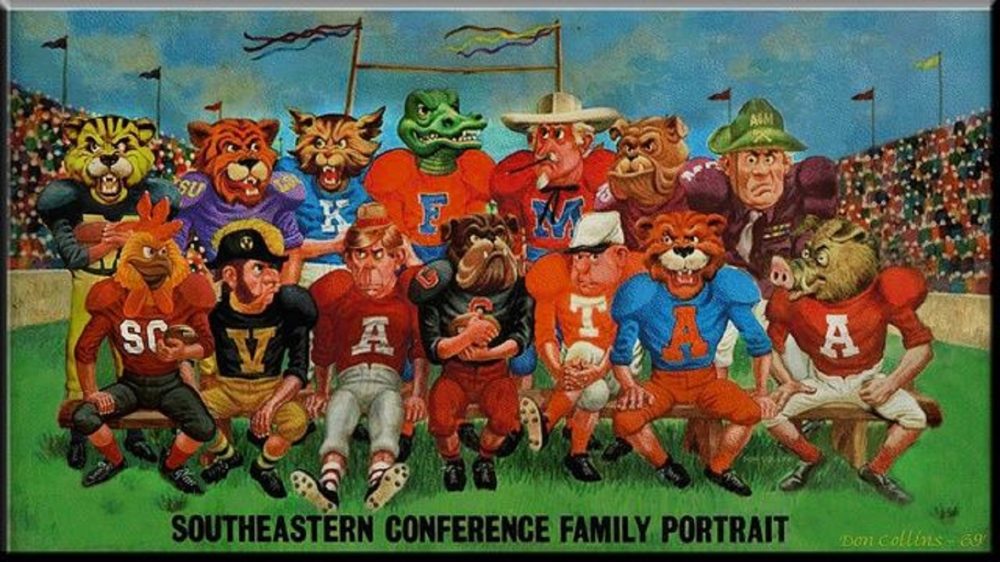 Yes folks, it's that time of year again, when Larry and his pigskin pickin' pooch list the losers of the SEC in a laughable way. Enjoy it each week.
Larry's Losers in the SEC Week 1 – 2017
By: Larry Burton
Well sports fans, it's time to knock the dust of the smart cookie oven and start cranking out another epic year of Larry's Losers in the SEC. The pigskin pickin' pooch and I have been holed up in the Loser's Lair for the past few weeks studying the schedules, picking apart the players and looking at the likelihood of losers that will land on the list each week and we go to press still scratching our heads wondering if we got a couple of them right.
This first week has a lot of cupcake contests, but a lot of nail biting ballgames to behold too and with every SEC team playing an outside the conference contender, this just means that this will be the longest list of losers we'll write all season long. It also gives us the most chances to be wrong and get the season off to a rocky start and also a big chance to puzzle you with our prognosticating prowess. So with our fingers now limbered up, let's get to listin' the losers.
Florida A&M at Arkansas – The Hogs kick off the season in Little Rock on a Thursday night and with all the nation's eyes on them, they ain't aiming to let these Rattlers sneak in and snake out a win in their other Hog pen.
Some say that the boss bovine, Brett Bielema has his hocks on the hot seat this year, so he's sure not going to take it easy on this snake squad from Seminole territory and his little Piggies will be screaming "Whee whee whee!" all the home in Fayetteville after the game.
This is one of those opening season cupcake games that people grumble about, but the folks in Fayetteville won't fake their fascination with this folly. They'll be happy and filled with hope with these Hogs, at least until the schedule turns tough. Larry's loser –  Florida A&M
Sometimes the snake gets eaten. The hogs say they taste like chicken.
Georgia Southern at Auburn – Since we're talking about coaches on the hot seat that need lots of wins and are playing cupcakes, the Georgia Southern Eagles fly into Jordan-Haire Stadium to take on the War Eagles of Auburn in the season's first battle of the bald Eagles.
I'd like to tell you that these other Eagles have a chance to knock of the bigger birds from the plains. I'd also like to tell you that I'm winning the lottery this weekend, but unfortunately the chances of either happening have about the same odds.
What will make this game interesting is seeing how the Tiger's new tosser does in this game and get a glimmer on how the rest of the season may go. If he really shines this could be a team to watch. If he struggles, Gus better start interviewing moving companies. Larry's loser – Georgia Southern
Charleston Southern at Mississippi State – While it's still a cupcake game, this coach hasn't got the warmth on his seat that others we've talked about, this team could be one of the bottom dwellers in the SEC West this season and Mullen's Mutts would sure like to make a bowl game and escape the bottom of the barrel and this would be a good start.
This year this pack of pooches think they have another sensational SEC slinger on their stage and if the rest of the pieces fall together, they could exceed their poor expectations.
So while this game won't tell us much about just how good these mutts can run with the big dogs, it will give us an idea if the quarterback is going to live up to the hype we've all been hearing and also show us where the defense stands too. Larry's loser – Charleston Southern
Missouri State at Missouri – Getting all the cake walk games out of the way continues with this contest between the Missouri State Bears and the cross state Tigers from the Show Me State.
Now if you aren't familiar with these little brother Bears, yes, they are all cupcake and no, this won't be an entertaining game. In fact, neither team may still not know very much about their team after this contest because it should be such a beat down.
But as they say at the SEC Coaches Meeting, a win is a win and Missouri will take this little brother beat down and beat their chests over it, the fans will be happy and life will be great in Columbia, at least for this week. Larry's loser – Missouri State
North Carolina State and South Carolina – An age old story, a Wolfpack comes to raid the chicken house and that's just what happens when North comes South and these Carolina Cluckers try to defend the coop.
Early money says the Wolves at the door leave with a chicken dinner and braggin' rights and when we first looked over what each team accomplished last season and where they might be headed this season we had to agree too.
But there's just a nagging feeling here that this could be the upset we miss and that coach Boom gets this program headed in the right direction with a big win here. But they say, when in doubt, go with your first instinct, so we'll just say in a close one, Larry's loser, South Carolina.
Michigan at Florida – This is gonna be a game! Two hungry teams are hankering to hammer the other and hang a hero's halo over their head and claim the contender's crown are going to kick it off in Jerry's World outside Dallas. Now most of the attention in week one will be focused on Atlanta with Alabama taking on Florida State, but this is the game that could be the best game of the week and one that may make or break a playoff contender more so than that one.
These football Ferrets from up North come down South to take on the restless Reptiles and the winner can claim the title of this season's up and comer award. The boys in blue coach Hardblower thinks that by watching a few episodes of "Swamp People" that he knows how to trap a Gator, but these Swamp ballers have learned to perfect their snap count and they plan to chomp on the baiter and not the bait in this one.
Bacardi the Wonder Dog and I don't see eye to eye on this one. He's not sure the Mud Puppies offense will show up and I'm thinking the Yankee yacker is all talk and no muscle so since I type and he can't with those paws of his, the final word is mine and in a close one, Larry's loser – Michigan
Michigan's coach Harbaugh wore crocs with his khakis today!
Kentucky at Southern Miss – These blue grass Bobtails travel South to take on the Feathered Footballers down in Delta Country and they're hoping to feather their bed with an opening day drubbing of this Conference USA clan from Mississippi.
Now while this flock ain't flown into glory since they were stupid enough to run off the best coach they've had in almost forever in Jeff Bower, they've sharpened their claws of late enough to maybe keep this out of the cupcake category and if these Wildcats aren't watching close enough, they could get some talons in their tushies in this tussle.
But the pigskin pickin' pooch is taking the points on these Tabbies and betting that they come out of the gate snarling and slashing and focused on football after another great round ball year. He thinks it's a blowout and I'm thinking he's a bit blowhard on this either way, we both see Larry's loser as Southern Miss.
Appalachian State at Georgia – On the tenth anniversary of the famous upset of the woeful Wolverines, these mauling Mountaineers meander down between the hedges to try and belittle the Bulldogs and regain the mantle of upset specialists once again.
Folks in Georgia might not realize that these Mountain Men have won more games in the last two seasons than any team in the SEC except that Saban squad and that they lost to Tennessee last season only because Butch Jones had a horseshoe up his hiney in a big overtime game. But hey, the Vols also beat these Bullies too, so that better tell this pack of Pooches to watch their backsides and bite hard in this battle.
If anybody had this in the cupcake category, then they don't know football as this is a bunch of brawlers and hard ballers coming down the mountain to take on these Mutts, but in the end, a Dog always defends his own backyard better than being on the road and that should sway this contest and make Larry's loser – Appalachian State
South Alabama at Ole Miss – Yes, maybe on the surface this looks like another cakewalk for an SEC team, but to quote coach Lee Corso, "Not so fast my friend!" When the Jaguars come a calling to the Rebel's roost, they better not take these tabbies for granted, but remember that this team toppled an SEC team in the first game last season when they out balled the Bulldogs from across the state.
That win from last season will give these Cats reason to to think they can add to these list of troubles that this Ole Miss team has gotten messed up in and if they do pull off the upset, then the new ring leader for the Rebels, Matt Luke, may be looking for another job before the season even ends.
While both Bacardi the Wonder Dog and I both see the Rebels coming out ahead in this one, it's not in the cupcake category, the Rebels have a new coach and these Cats have the capacity to kill this club and their whole season in one big game. But we do see the SEC faring better against this team this year than last and that makes Larry's loser –  South Alabama.
Vanderbilt at Middle Tennessee – The boys in blue try to be Raiders against the SEC once again this season as they beat one SEC team last season and are looking for more this year too when they defend the home dirt against these song city Sailors from across the state.
These Blue Raiders won eight games last season and were a legitimate bowl team last season, so if you're thinking this is a cupcake clash you need to elevate your intellectual IQ when it come to who to fear in football. Ask Missouri if this Middle Tennessee bunch can't maul you.
But Mason's men have seemed to turn a corner and are keeping the powder dry for this one and once the cannon fire commences, the Commodores will show who the cannon fodder is and who the real Raiders really are. Larry's loser – Middle Tennessee
Last year this game WAS for the Tennessee Championship and the Vols weren't in the discussion.
Florida State and Alabama in Atlanta – Fishers face painted footballers and the Tuscaloosa tusked ones amble up to Atlanta to what many believe is round one of this year's contenders contests and the whole country will be watching this nighttime nightmare for one of these teams.
The Seminoles have semi holes in the offensive line, but they think with a quick release and a darting running back they can create enough chaos to score some points before those pachyderms pound the fleeing Francois and that the war painted warrior on defense can keep an up and down quarterback in crimson more down than up for most of the game.
But Saban's three ring circus hasn't ever lost an opening day appearance and he ain't intending to let this bunch of Merle Norman painted Navajos be the first. In a statement game for both sides, one sure won't like what that statement was and unlike the close game that those betting boys see in Vegas, with a much bigger loss, Larry's loser is Florida State.
BYU at LSU – These two alphabet schools show up at the Bayou Bengal's bungalow to see if a Cougar can take on a Tiger and out scratch him for four quarters.
Now the Mormon men have been praying hard over this battle in the bayou and feel that they've got God on their side as they try and take this Tiger by the tail and divert him into disaster.
But God didn't sides in this one and though a cornered Cougar can be a cautionary cat, these swamp Kitties have been swatting squads tougher than these tabernacle Tabbies so when all the fur stops flying old Bacardi the Wonder Dog and I both see triumphant Tiger and that makes Larry's loser – BYU.
Upset over the Sunday morning intrusions, Ed let 'em have in on Saturday night….
Texas A&M at UCLA – Since the NFL ain't flinging footballs in a regular season contest, Coach Kevin aims to have his Aggies bully the Bruins of UCLA in their own Hollywood theater in what is a rare Sunday showdown in Shineytown.
Now this is a contest between two teams both picked to be middle of the pack men in their own conferences, so besides being about equal in the polls they match up well man to man. All preseason we've had this contest nailed as the upset special for the SEC, but as the game draws closer we get less and less sure.
We think the Aggies have enough firepower to go Bear hunting and put points on the board, but we don't know if they've they've got the defense to stop the counter attack when the Bear's have the ball. In what we think could be a nail biter, Larry's loser – UCLA
Tennessee vs Georgia Tech – The seats aren't even cold as fans flop their fannies into the seats that held the Alabama and Florida State fans just two days before in the Hotlanta stadium just a about a long par five from the Yellow Jackets hive up the road.
Coach Johnson brings his wishbone wonders a few blocks down the road to take on the Tennessee tribe of Volunteers and try and run that ball in and around almost a dozen defenders and hopes that he can catch those Knoxville boys kneeling in prayer for a clue to stop that quadruple attack running pack.
The boys in orange however, have faith in their new their new pigskin passer and rock totin' running back and figure their boys without the ball will come up with enough stops to keep their offense on the high side of the scoreboard. Folks, this is gonna be a dandy one to watch and this one was tough to pick, but in a close one, we see Larry's loser is gonna be Georgia Tech.
Well that's it for this week folks, pack in your snacks, gather your friends and let's get to watching football again. Yes, there's a lot of cupcakes in these contests, but there's a lot of nail biters too and as bad as the pigskin pickin' pooch and I are to get off to a good start, we started biting early…
Just for you who like to keep tabs on predictions… Pre-season prognosticating has always been our specialty and this year we think that it'll be another Florida / Bama match up in the SEC Championship Game with everyone else being the loser. Yes, we've heard that Tennessee is going to be great and so is Auburn, but few go from egg suckers to caviar slurpers in one season, so we'll go with the teams that know how to win.
Next week is gonna be another long week without a lot of SEC on SEC action so old Bacardi and I are gonna get on them after either a big celebration or some might big crying. So tune back in next week to this magazine's site to get another helping of the losingest list in literary and hopefully soon we'll have some serious SEC action to see and love, laugh and lose over.
LARRY HAS BEEN PUBLISHED IN ALMOST EVERY MEDIA OUTLET FOR COLLEGE SPORTS AND NOW PRIMARILY WRITES HERE FOR TOUCHDOWN ALABAMA. HE WRITES IN A COLLOQUIAL AND IRREVERENT STYLE FOR THIS SERIES OF ARTICLES. LARRY'S VIEWS AND SENSE OF HUMOR MAY OFFEND, BUT HE AIMS TO OFFEND EVERYONE EQUALLY. IF HE HASN'T INSULTED YOUR FAVORITE TEAM WITH LARRY'S LOSERS, JUST WAIT. FOLLOW LARRY ON TWITTER FOR INSIDE THOUGHTS AND GAME TIME COMMENTS AT HTTPS://TWITTER.COM/LBSPORTSWRITER
THANKS FOR SHARING THE LINK TO THIS STORY ON YOUR FACEBOOK PAGE