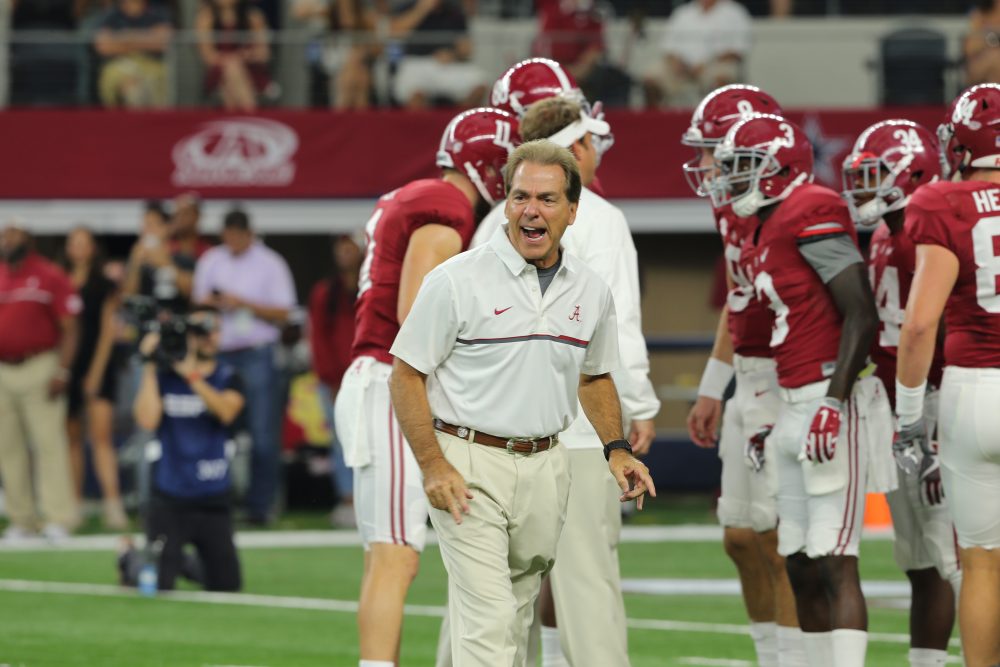 Does an old writer look for different things than most writers and see players and trends others may miss? Do you agree with the thoughts of this one?
The Old Guy's Take on the Ala/FSU Game
By: Larry Burton
You know, when I'm in the press box I notice I'm one of a few old guys, this is a young person's game now. Everyone's trying to carve out a career and get ahead. Me? I've already got a day job and I do this out of passion only. I love my boss at this magazine and want it to succeed, I've enjoyed watching young folks cut their teeth and become great writers and at 60 years old this fall, I'm sort of the grandfather of most of these writers. I say this not to bring in a gender gap, but I notice I see things differently than most young writers who are caught up in the highlight moments and miss the little things that are so important.
So here's the old guy's take on what I saw in the Alabama / FSU game this past Saturday.
Overall, the game went pretty much as previously written. I have been writing for weeks that Alabama would win by 17 and they did. Alabama's defense was as good as I had said it would be and the rush defense and overall play of the front seven were just about as I said they would be. As a team FSU only gained 40 yards rushing for a dismal 1.5 yards per try. Also as predicted, the secondary came up with picks as predicted. What the old guy missed however was that it was the defensive special teams that set up scoring more than expected.
While the offensive special teams were not great, two easily made field goals missed and one badly shanked punt from a usually reliable punter, the defensive special teams would turn in the game of a lifetime. Blocked punts, recovered fumbles, blocked field goals and not one yard of punt returns allowed. It was special team play that cemented the win. I expected more from the offense and they didn't deliver and didn't expect so much from special teams that over delivered.
I expected the offensive line to do a good job on running plays and for the most part they did, but they left much more to be desired in pass protection. While I did expect the FSU front seven to be imposing and put some pressure on Hurts, it was disappointing to see how little protection the Bama QB actually got all night long. That better be worked on quick or Alabama could be headed for an upset.
While the center and guards seemed to do a good job, both tackles were often whipped and outsmarted leaving Hurts to run for his life.  Rushes from the outside were often untouched on route to the quarterback. Pass protection was something that needs to be addressed and fixed quickly.
I noticed Keith Holcomb, a guy you might not know a lot about unless you study special teams like a junkie. That's where he's made his name on the team. He's a red shirt junior that shines on the special teams and keeps the starters from getting hurt during those plays. Last year he was super on special teams with 12 big stops. The coaches sure know him even if the fans may not. He's been the coach's special team player of the week more than once. Last night I noticed in a huge game, he got a lot of snaps at linebacker, a lot more than I thought he'd get. While his stats weren't glorious, one pass defended and one assisted tackle, he made a real impact with pressures, coverage and a "Johnny on the spot" kind of play that could have turned the game when his heads up play on special teams recovered a fumble on the kick off defending team. He's proven he can play in the big games with the starters on defense now, not just special teams and play with heart and heads up smarts. He was my unsung, unnoticed hero of the game on the defensive front seven.
The game went as I thought it would. I wrote previous articles in the weeks before the game saying that the game would be close in the first half before Alabama's superior depth would make a difference making the first and second halves two totally different games. I knew Damien Harris would continue his phenomenal yard per carry average against one of the nation's best defenses and he did. Last season he averaged 7.10 yards per carry and went for over eight yards a carry on FSU. He also had one pass thrown his way and it went for 11 yards, that was about six more yards than Hurts average for the night. So why did he only get nine carries the whole night, and why not throw to him again? That baffles this old guy. It's not like anyone was else was remotely close having the same kind of night he was. Scarbrough had a pitiful 2.7 yard per carry average and Najee was even worse with a 1.7 yard average.
But, and this is a huge but, while no one had dazzling numbers in total over the night, this old guy saw that overall the team not only rushed for 173 yards against one of the nation's best rush defenses, which is great by the way, but also got the tough yards when they needed them as in the third and even fourth and short situations. So while most thought the offensive rushing game didn't look so good, to this old guy they did very well including killing the clock late. The running game is just fine and yard per carry averages for Scarbrough and Harris will improve and soon Josh Jacobs will be back to add his magic.
Next up, all I've heard all spring is how much strides Jalen Hurts has made in his passing game. He finished the night with just 96 passing yards, 53 of them on one pass to a very wide open Calvin Ridley. If you take away that one almost gimme touchdown, that leaves Hurts with just 43 yards. His per yard catch was just 5.3 yards and his quarterback rating was just 29.5. And don't forget that one of his "completions" was to himself after he threw a ball into the arms of a Seminole and had it bounce back to him. Most QB's with stats like that don't wind up winners. If Hurts has made significant strides I sure didn't see them. He resembled the quarterback who couldn't throw a nickle in a wishing well in the second half of the national championship game more than he did a second year quarterback who has made strides in getting to be a better passer. Couldn't we have seen Tua for just one series to see how much was Hurts and how much was FSU's defense? Hurts has got to improve as a passer. His legs didn't bail out a poor arm performance as they have in the past to add insult to injury.
As an old guy, I read body language and Hurts seemed frustrated at times and not the cool cucumber everyone paints him to be. In fact, the only excitement demonstrated with any consistency all night was on the defensive side of the ball. They played with passion, were glad handing one another, smiling and obviously having fun. The offense seemed to be plodding through the motions as they went without any kind of spark. While there are good leaders on offense, there doesn't seem to be any spark plugs to get some excitement going.
Speaking of body language, you really have to know Saban to understand why he was both upset with the play much of the game and yet happy overall. He expected the win so just the victory wasn't reason for his happiness. If you know Saban, he was happy they won an "ugly" game so he would still have plenty of problems areas to point out and urge on his team to improve. There's plenty of "chewing out" to do and plenty of bad things to keep his team from getting comfortable after beating what may be the toughest opponent on their schedule. That is what made Saban happy.
But getting back to unsung heroes, let's take a minute to talk about another. Linebacker Terrell Lewis isn't a name that 90% would have even known was on our roster before kickoff of the first game. Last season he was a true freshman, getting some mop up time never doing anything that made a name for himself.
Yet in this first game, he got some significant snaps and made the most of them tying for third place in total tackles with one tackle for loss. The 6'5" 256 pound linebacker proved he can play with the starters and you won't notice a drop off in talent or production. He was impressive and didn't make any "young guy" mistakes. This is a guy you better keep your eyes on, he wears number 24 and he's going to be a good one. I like watching these young subs when they come in and I've just re-watched the game to see what I missed about Lewis the first time. What I learned was he has good ability to shed a block, to not get caught up in piles of bodies and has good footwork moving laterally down the line.
Also, unless you are a sub freak like me, you may not have noticed how many players Alabama platooned all night long. That was one of the big differences in the game. Alabama players still seemed fresh in the fourth quarter while FSU was clearly gassed. While the two team's starting 22 starting players matched up well, once you got past the first string, the differences between second, third and even fourth string players were clearly visible. Alabama was able to just keep leaning on FSU's starters and wear them down with great quality subs.
Lastly, despite winning what may be the toughest game on the their schedule and giving that relief to many fans, there is one stat that should scare the absolute hell out of them. In that all important first game with an offense that the media had said would be one of college football's best, the Crimson Tide was just three of sixteen on third down conversions or 18.75%. That sucks so bad, no team has ever made it to a playoff game with a third down conversion rate near that number or even close to that bad.
So while there is much to celebrate in that game's results, there is much to worry about as the Tide goes forward. So there's the old guy's look at this game, grumpy old man if you will, because I wasn't happy with a lot I saw. Now share this article on your Facebook page and stay off my lawn.
Larry has been published in almost every media outlet for college sports and now primarily writes here for Touchdown Alabama. Follow Larry on Twitter for inside thoughts and game time comments at https://twitter.com/LBSportswriter
THANKS FOR SHARING THE LINK TO THIS STORY ON YOUR FACEBOOK PAGE OR A FACEBOOK GROUP YOU BELONG TO, IT SUPPORTS OUR ENDEAVORS AND HELPS KEEP MOST OF THIS SITE FREE, SO PLEASE SHARE!