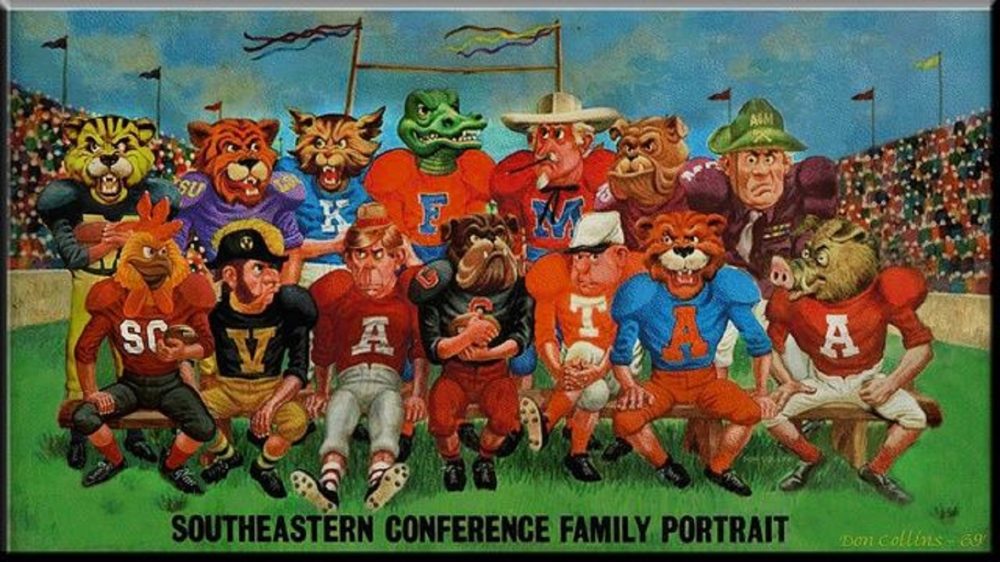 An old guy and his pigskin pickin' pooch gets folks talking every week during football season and here's your chance to match your picks with theirs. See if you can win.
Larry's Losers In The SEC – Week Five – 2017
By Larry Burton
Good Lord that a mighty exciting week in the SEC last week with so many comebacks and late second wins, neither of us have fingernails left as a result of watching all that wonderful warfare. We were close to perfection, only missing the Bulldog battle between the bushes and we're still wondering how a pack of pooches that took LSU to woodshed couldn't scratch a flea this week and get spanked with a rolled up newspaper this week themselves. But that's just life in the SEC, and we'll take our 7 of 8 record this week with pride since so many could've easily gone the other way.
That leaves us 34-10 for the year and still the hottest pickers on the planet, but still below our usual standards, so we're hoping this week that we finally get all the planets in alignment and come out with a week of perfect picks, but there's some games this week that have us worried.
But without any further ado, let's get picking the players who are gonna fall flatter than grandma's biscuits without self rising flour and see who's this week's loser of the hour.
Ole Miss at Alabama – The Rebel Bears are considering another mascot change to a Landshark and old Col. Reb is rolling over in his grave somewhere, but back to the battles at hand. This week the rag tag Rebs ramble into Tuscaloosa and hope to relive some moments of triumph against the Tusked ones in T-Town.
But by the time the ticks on the clock have stopped, they'll just be glad they have enough soldiers left standing to make the next contest next week. They say an elephant never forgets, so they're still remembering the two low losses from a while back and payback will still be a bear. And that makes Larry's loser – Ole Miss
Mississippi State at Auburn – Mullen's Mutts meander down to the plains of Auburn and aim to add these troubled Tabbies to their tally of tossed aside troops that they've tangled with.
But Auburn's offense has been looking like it may get off life support now and they're hoping this is the time and that defense stays stalwart enough to pull off a pretty win.
Yes, these Bulldogs were riding high, but right now they look like pretty low and they figure if they take down one Tiger they can take down another and while we think this could be a contest for the ages. But we both see Larry's loser as the one riding the current hot streak and that makes Larry's loser – Mississippi State
Troy at LSU – Last week LSU worked back from whooping that was laid on them earlier and this week they're at home again and hosting the men from Troy and believe me, they aren't going to put out the welcome mat for these warriors.
In the past, Troy has been a ball buster for the big boys, but it hasn't been this year, so we think that though they'll put on a brave face, they'll still die with their boots one, take their big check and travel back to Troy.  Larry's loser – Troy
Georgia at Tennessee – The red clay hounds travel up Tennessee to see who will still be a contender and who will just be another also ran in the SEC West. If Tennessee ain't losing, their just holding onto a win by their fingernails even against terrible teams so these red dirt Dogs figure they can travel into Tennessee and come out with an easy victory against the Vols.
At some point this season, Tennessee is gonna burst out and show why folks picked them to be trouble in the SEC East this season, but neither the pigskin pickin' pooch or I see this as the week it's going to happen and leaves lots of orange clad fans crying in the stands as the Dogs bite these boys one more time. Larry's loser – Tennessee
Vanderbilt at Florida – Who would have thought at the first of the year that this could be the contest to determine who might be the beast in the East this season. And that's just what's going to happen when the Song City Sailors set sail for the Swamp to rip on the Reptiles.
Florida is playing with not a chip on their shoulder, but a miracle and they're hoping that this rabbit foot they've been rubbing can hold up a few more games before the luck runs dry.
But these Nashville song bird Sailors haven't relied on luck so far and they're just hoping that that they can rely on that defense that took a vacation last week is rested and that offense to put up enough points to keep them in this contest. We can't wait to watch this one and it's sad that one has to fall and after a lot of soul searching and statistic study, we both barely see Larry's loser as Vanderbilt.
New Mexico State at Arkansas – The non SEC Aggies amble up to Arkansas but it won't be to wander to the Warm Springs for a soothing soak but up to get a face punching in Fayetteville.
I'd like to say that will be a contest, but I'd also like to say I know the winning lottery numbers.
These bargain basement Aggies will leave with a big check and that will help the bruises hurt a little less and with a check that size, there's no shame that Larry's loser is New Mexico State
Eastern Michigan at Kentucky – This flock of feathered footballers fly South, but not for the winter, but to take on the Tabbies in the Blue Grass state.
This is just another of the cupcake contests that the SEC seem to schedule and it won't be fun to watch unless you have a loved one on the Wildcat sideline. But after the heartbreaking loss last week, these Kentucky Kitties won't mind a cupcake win to help them forget.
These Eagles won't be entirely disappointed with the weekend though, at least not when they learn that the big check they got for this plucking cleared the bank and that makes Larry's loser – Eastern Michigan
South Carolina at Texas A&M – This might wind up being a contest to see who's the least in the East when the Carolina Cluckers travel down to Texas to take aim at the Aggies.
Both these teams have had highs and lows but the Aggies lows have been lower and their highs have been shorter, so they're hoping to finally get things turned around and bound from the bottom with a win in this one.
This one could go either way but you have to go with the hot hand and right now and since the hot hand is at home too, that makes Larry's loser – South Carolina
Well fans, there's eight contest we think we have picked correctly, we don't count our defeated Chickens before they're hatched, so we'll be watching theses contests with gnawed off nails and be watching to stay clear of getting chewed on by the upset bugs and the last second scenarios that have plagued us so far this season.
Stash in your snacks, take the phone off the hook and get ready for good old fashioned SEC football again this weekend and we'll be back next week to argue the autopsy of this week's picks, painful or proud. But keep this in mind, if picking the SEC was easy, it wouldn't be as fun to watch, so even if you're one whose team got trampled, say a prayer and thank God that you're living in football heaven and rejoice we get to enjoy this so much every fall.
LARRY HAS BEEN PUBLISHED IN ALMOST EVERY MEDIA OUTLET FOR COLLEGE SPORTS AND NOW PRIMARILY WRITES HERE FOR TOUCHDOWN ALABAMA. HE WRITES IN A COLLOQUIAL AND IRREVERENT STYLE FOR THIS SERIES OF ARTICLES. LARRY'S VIEWS AND SENSE OF HUMOR MAY OFFEND, BUT HE AIMS TO OFFEND EVERYONE EQUALLY. IF HE HASN'T INSULTED YOUR FAVORITE TEAM WITH LARRY'S LOSERS, JUST WAIT. FOLLOW LARRY ON TWITTER FOR INSIDE THOUGHTS AND GAME TIME COMMENTS AT HTTPS://TWITTER.COM/LBSPORTSWRITER
THANKS FOR SHARING THE LINK TO THIS STORY ON YOUR FACEBOOK PAGE