Stephen's Report
Numbers that state how Brian Daboll has surpassed Lane Kiffin in play calling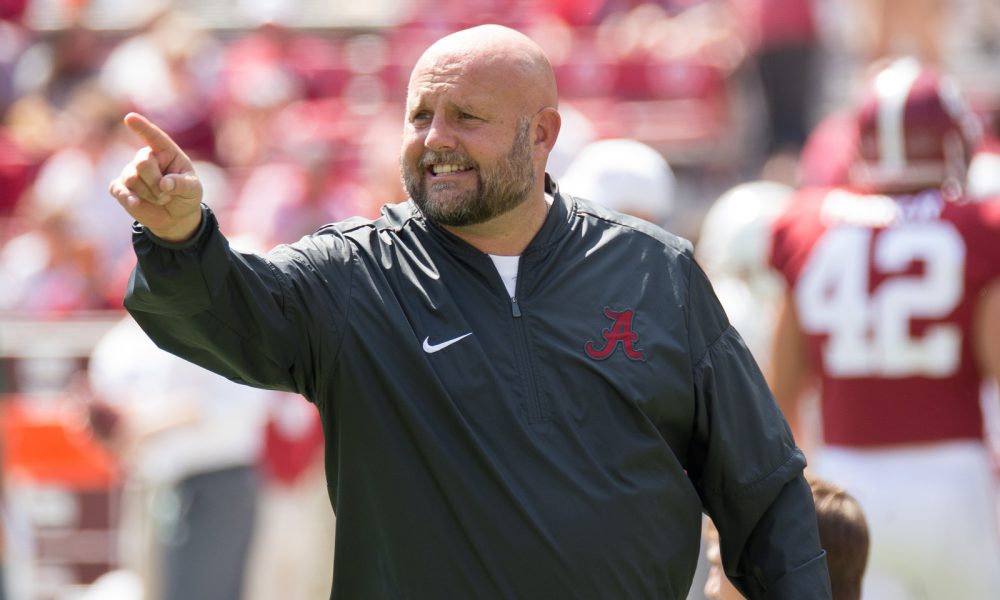 When he left the New England Patriots to become Alabama's latest offensive coordinator, questions as to whether the Crimson Tide had downgraded floated around the college football landscape where Brian Daboll is concerned.
Lane Kiffin was a flashy name during his three seasons in Tuscaloosa (2014-16), and despite his eccentric personality, the current Florida Atlantic head coach did the best he could to provide balance for Alabama on offense. 
After taking the unit through methods of pro-style schemes in the offseason, Tide fans are starting to see the program take off in what Daboll has been teaching.  
Fourteen points was the result on offense against Florida State in week one, but since then Alabama's averaged 45.5 points – touchdowns only — in its last four matchups.  
Daboll has this year's group leading the Southeastern Conference in scoring (45), yards (2,543), rushing yards (1,578), first downs (128) and third down offense (44.1 percent, 30 of 68).  
Alabama chimes in with an average of 7.2 yards per play and a red zone percentage of 92.6 percent; the highest mark under head coach Nick Saban. At the quarterback position, the former NFL assistant is getting sophomore Jalen Hurts to observe the field and make proper decision. 
He's been fortunate on a couple of questionable throws, but of his 169 consecutive passes without tossing an interception, 89 have occurred through five games under Daboll. 
Although he's done much of his damage in the first half of games, Hurts chimes in with completing 64% percent of his attempts (57/89) while totaling 1,208 yards with 10 touchdowns (six passing, four rushing).
Daboll's mentorship and hands-on teaching has allowed for freshman Tua Tagovailoa to get meaningful action in the second half of big games. 
With this tactic, the Hawaiian native has five touchdowns.  
Going back to Hurts, he stands first in the SEC and third in the nation in both raw and total quarterback rating — posting numbers of 84.8 (raw QBR, not adjusted) and 87.6 (total QBR, adjusted).
As good as Kiffin was, if one goes inside the numbers it will see how Daboll has actually surpassed the offensive mastermind in some areas.
Through three years, Kiffin navigated Alabama to 36.9 points, 455.6 yards (6.4 yards a play), 217.2 yards rushing, 85.8 percent red zone efficiency and 44.2 percent on third down. Passing yards per game is the lone statistic in which Kiffin holds an edge, guiding the team's quarterback play to 238.5 yards a contest. 
Maybe, just maybe Daboll didn't want to unleash things versus Florida State. 
He wanted to be certain that everything was in pocket, and after two dominant performances in which the Tide scored 59 and 66 points respectively, the offense is in full force for him. 
Stephen M. Smith is the managing editor and senior writer for Touchdown Alabama Magazine.  You can "like" him on Facebook or "follow" him on Twitter, via @Smsmith_TDALMag.