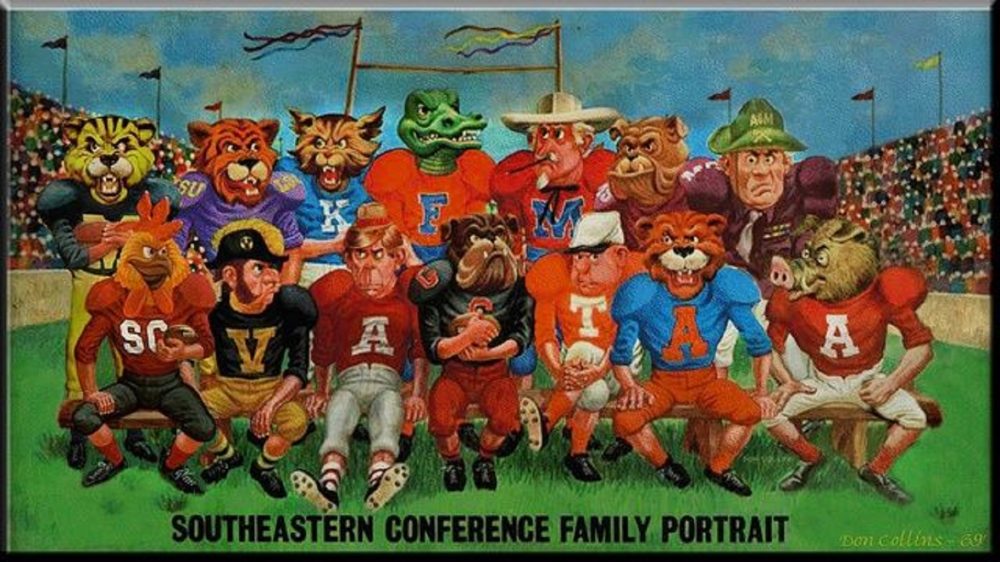 Can you out pick the pros that consist of a wise old sportswriter and his pigskin pickin' pooch? Odds are you won't, but try it out and see.
Larry's Losers in the SEC – Week Six – 2017
By: Larry Burton
Well sports fans, this week we're writing you from the MSC Divina sailing somewhere in the Caribbean, trying to find places that haven't been ransacked by recent hurricanes. Speaking of things that were blown away, we were 7-1 last week and simply blown away by the Men from Troy, a program from peanut country, taking down LSU and Ed Orgeron's future.
We don't feel too bad though since no one else, not even Troy's own hometown tribune, tagged the Trojan's to tackle the Tigers. So for the year that makes us 41-11 or for the math impaired, that gives us a solid C for the year so far and that doesn't make us happy or put us on the Dean's List, but it's still the best rating of any pair of pickers in this profession.
This week could find us bitten by another upset bug that we just didn't see coming, but since we were so blindsided by the bug last week, we're using extra strong repellent this week. Do you think you see a mistake in our meanderings? Read and see for yourself.
Alabama at Texas A&M – The tusked ones from Tuscaloosa travel to Texas to tangle with Aggies this week and speaking of weak, these cabbage patch caretakers from College Station haven't looked healthy all season, but Coach Kevin is hoping for divine intervention this week for a miracle that would surely save his job and quench the fire on his fanny.
But Saban's pack of three ring Pachyderms have a way of showing just what kind of team their opponents really are and the crowd in Cow Town may not like what they see.
The long snouts are gonna pillage this place, take what's left of their pride, their girlfriends and their hopes and take them all back to title town till they're tired of playing with them and let them drift back to Texas crumpled and worn. Larry's loser – Texas A&M
Georgia at Vanderbilt – Vandy started off hotter than a 4th of July firecracker only to become a dud, but they're hoping this week to get back to their winning ways when the the gang from Georgia comes to Song City for the football festivities.
Vandy is a bit better than they've shown of late and Mason's men are trying to get from the poop deck back to command bridge in the SEC East fight.
But Kirby's Canines aren't ready to let these sad sack Sailors swamp their hopes for a third straight appearance in Atlanta, so it's spare no Sailor and let the biting begin. Larry's loser – Vanderbilt
Ole Miss at Auburn – Auburn seems to have turned the corner of producing points and when they entertain the Troops from Oxford this weekend, it won't be a USO they'll be giving them.
So while ex-coach Hugh Freeze is still trying to explain to his wife that he thought the "Happy Hookers" were a fishing charter and not the Love Boat, the rest of the Rebels are left trying to explain to the fans how they forgot to win big football games.
This should help the Tigers roar a little this week and help flush the flames from the fanny of Coach Gus and make Larry's loser – Ole Miss
LSU at Florida – The Cajun Kitties caravan down to the sunshine state this weekend to swap blows in the Swamp with the Gainesville Gators.
Now nobody in this contest has looked as bad as these Bengals being bitten up by the Bulldogs earlier this season and then trampled by Troy, but then nobody has squeaked by so many squads are this gaggle of Gators all season long. They've had more luck than a leprechaun with a rabbit's foot in his hand and a horseshoe up his butt this season, so it's hard to tell which team is ready to step and slay the other.
Usually when in doubt we go with the home team but both of us have an inkling that the Gators have a little luck left and they win the squeaker, so that's gonna make Larry's loser – LSU
As Lee Corso would say, not so fast my friend, this won't happen this week.
Missouri at Kentucky – The Kentucky Kitties were doing oh so well until they let one get away at home two weeks ago that they shouldn't gave and now back at home for another one, they entertain their Kitty cousins from the Show Me State.
Now Missouri fooled us early in the season by blowing out a bow wow team and cost us some picks because we thought that was the team that would show up every week.
But my little furry pal won't let me forget that he warned me each time and he's growling at me now for even considering these miserable Missourians might prevail. So with that logic and a snarling pug, that'll make Larry's loser – Missouri
Arkansas at South Carolina – The can't get a break bunch meets the can't miss a break team this week when the Hogs try and hob nob over the Carolina Cluckers in the big hen house in the East.
South Carolina just seems to find a way to win some weeks when it sure don't look good and some are looking up on Ancestry.Com to see if the Pope and Coach Boom are somehow related.
Now Bielema's boys may be due for to catch a break in a close one someday, but the pitiful news for these little Piggies is that it ain't this week and that makes Larry's loser – Arkansas
Well that's it for this week folks. We're phoning in this one from the Caribbean aboard the MSC Divina and watching all the wars in their multi-TV sports bar while sampling the rows of rum they have lined up for me. Yes, it's a tough life, but somebody has to it and this week, despite the football festivities I'm supposed to be attending to, my wife told me I had to do it and if nothing else, I always know where by bread is buttered, so it was yes mam and all hands on deck, but to be honest, it really wasn't so bad.
After all, there were only six games this week so if you're going to play, this was the week to do it. At least we know we can't miss more than five!
So Bacardi and I may be a little hung over, but we'll be well rested to take on next weeks of likely losers and we only need you to come back and match your wits against this pair of pigskin pickin' pals. Till then enjoy your week pray we finally find perfection.
LARRY HAS BEEN PUBLISHED IN ALMOST EVERY MEDIA OUTLET FOR COLLEGE SPORTS AND NOW PRIMARILY WRITES HERE FOR TOUCHDOWN ALABAMA. HE WRITES IN A COLLOQUIAL AND IRREVERENT STYLE FOR THIS SERIES OF ARTICLES. LARRY'S VIEWS AND SENSE OF HUMOR MAY OFFEND, BUT HE AIMS TO OFFEND EVERYONE EQUALLY. IF HE HASN'T INSULTED YOUR FAVORITE TEAM WITH LARRY'S LOSERS, JUST WAIT. FOLLOW LARRY ON TWITTER FOR INSIDE THOUGHTS AND GAME TIME COMMENTS AT HTTPS://TWITTER.COM/LBSPORTSWRITER
THANKS FOR SHARING THE LINK TO THIS STORY ON YOUR FACEBOOK PAGE