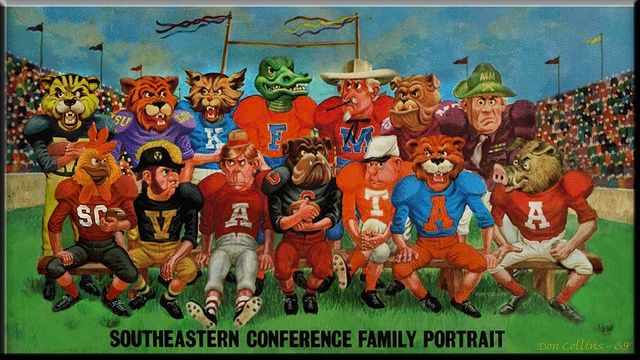 We were oh so close to being perfect last week, but missed one. Do you think you can outpick this near perfect pair of pigskin prognosticators? Read and put your wits against theirs.
Larry's Losers in the SEC – Week 12 – 2017
By: Larry Burton
OK sports fans, this is a week with a lot of thrilling contests to come and some cupcake contests to consider, and it's sad to see the home stretch coming down the road for the regular season. We may need more time to get our percentages back up where they belong after some misses earlier in the year.
Last week we went 7-1 and while we thought the Georgia – Auburn game would be a toughie to pick, we sure didn't see the Bulldogs running for the dog house at the first scratching from those Tigers, so for the year, that leaves us at 74-19, still tops in the prognostication game from the other media sites, but still not up to our own standards. So let's get on with this current list of losers and you can see if you agree with our picks.
UL Monroe at Auburn – The battle of the birds will take place on the plains this weekend when the Warhawks fly east to take on the War Eagles, pick up a big check and be the foll over and play dead opponent that Auburn is paying for.
Just like Alabama, these Tigers have scheduled a cupcake contest to rest up for the Iron Bowl and they won't need to break a sweat to assure this win.
So with this cupcake doing their part of the agreement, Larry's loser will be UL Monroe.
Kentucky at Georgia – The Kentucky Kitties from Commonwealth country comes into red clay country to try and conquer the Canines of the Georgia variety. They're hoping that the mighty contest they had last week from South Alabama will leave them still licking their claw marks from the last cat fight they got into.
And we think that if that if these flat faced Fidos don't take this game to seriously, this could be the game where the upset bug bites these Bulldogs in behind.
Kentucky's got some firepower to make the contest interesting, but Bacardi is banking on his brother Bulldogs to best these warring Wildcats. Larry's loser- Kentucky
Mississippi State at Arkansas – Mullen's Mutts muddle up to the big Hog pen in Arkansas this weekend and aim to add misery to the season that's been none to happy for these Hoggies.
A surprise win here could revive bowl game dreams for these future bacon boys and if this band of Bulldogs are still beleaguered from the beating last week, this could also be a spot for the upset bug to plant his teeth and have a bite.
But something tells me that this pack of pooches will prevail from pride and talented players and not get pummeled from participating in a pity party. Larry's loser – Arkansas
But it doesn't live long after Mullen gets after them.
Wofford at South Carolina – In yet another pastry party, the cross state canines come a calling on the Carolina Cluckers and these are typical Terriers and will be yapping all game long.
You see, these Carolina canines are a 9-1 team and if this Colonel Sander's squad gets too comfortable, these little furbags will try and make a game of it.
But though they'll try, they'll fail and that big check will make the loss a little less hard once they realize Larry's loser is Wofford.
UAB at Florida – The Blazers from down Birmingham way head South for the winter and gather in Gainesville to grapple with the Gators.
While this is a cupcake game for the Gators, they better not take this too lightly as the Blazers actually think they can play the role of David in this Biblical like battle against the giant Gators.
But even though the Blazers are bowl bound and the Gators may not be, these Lizards are still SEC strong and that'll make Larry's loser – UAB
Texas A&M at Ole Miss – The Aggies from Texas round up the ready and rumble on down to Oxford town to try and salvage both their bowl season and their coach's behind by listing these Landsharks as the losers on this list.
Now these Ole Miss men are hoping that that the November neglect  traditional with these dirt farmers keeps on happening for at least one more season and that this will be the day that gets these Land Loving Sharks back in the bowl hunt so the NCAA will have something to take away from them sanctions are announced.
Bacardi and I both are nervous about this one because we both feel that though the Aggies look like the better team, that their late season losing will catch up to them again this year. But we're going with our gut in this one saying that every streak deserves a break and maybe this is the time the Aggies do just that. Larry's loser – Ole Miss
Mercer at Alabama – The bumbling Bears from Mercer bus over to Tuscaloosa from Georgia to pick up a huge check to the by week for Alabama so it can rest up for the Auburn game.
After the last two weeks Bama looks like a team that could use the day off and playing this bunch of Bears is about the next best thing.
It's on TV only because it's Alabama and if you're that hard up for entertainment, it's on the SEC network. Larry's loser – Mercer
LSU at Tennessee – The bayou Bengal boys bus on up to Tennessee to take on the ever vanquished Vols and this week the boys from Hardknocksville will be hoping that new coach Hoke can lead the troops better than Butch did.
Meanwhile, LSU ain't about to let these mountain men's muskets get dry powder this week and they aim to get the clawing and gnawing on from the first whistle.
I'd like to say that this could be a good game, but changing coaches won't change the outcome in this one and that'll make Larry's loser – Tennessee
Missouri at Vanderbilt – The topsy turvy Tigers who were so bad and are now so hot head east to Song City but they don't plan on doing karaoke on this visit though.
Now Vandy has had some ups and down too this season and at 4-6 this is a must win for the Captain Crunch bunch to battle their way into a bowl.
But these midwest mauling Meowers have bowl plans of their own and a win in this one will punch their ticket and they ain't about to let these swabbies swamp those plans, so that'll make Larry's loser – Vanderbilt
Well sports fans, that wraps up another week for Larry's losers. The old pigskin picking pooch, Bacardi the Wonder Dog and I are really sad to the season slipping away. Just a few more games until conference championships and bowls and playoffs. Where does the time go?
But something tells me the best is yet to come, so stock in those savory snacks, clear your calendars and get ready for the sweet sounds of pads popping and fans cheering and enjoy what's left. We'll see you back here next week and till then remember, we may not get 'em all right, but we nobody lists the losers better than you'll get right here.
LARRY HAS BEEN PUBLISHED IN ALMOST EVERY MEDIA OUTLET FOR COLLEGE SPORTS AND NOW PRIMARILY WRITES HERE FOR TOUCHDOWN ALABAMA. HE WRITES IN A COLLOQUIAL AND IRREVERENT STYLE FOR THIS SERIES OF ARTICLES. LARRY'S VIEWS AND SENSE OF HUMOR MAY OFFEND, BUT HE AIMS TO OFFEND EVERYONE EQUALLY. IF HE HASN'T INSULTED YOUR FAVORITE TEAM WITH LARRY'S LOSERS, JUST WAIT. FOLLOW LARRY ON TWITTER FOR INSIDE THOUGHTS AND GAME TIME COMMENTS AT HTTPS://TWITTER.COM/LBSPORTSWRITER