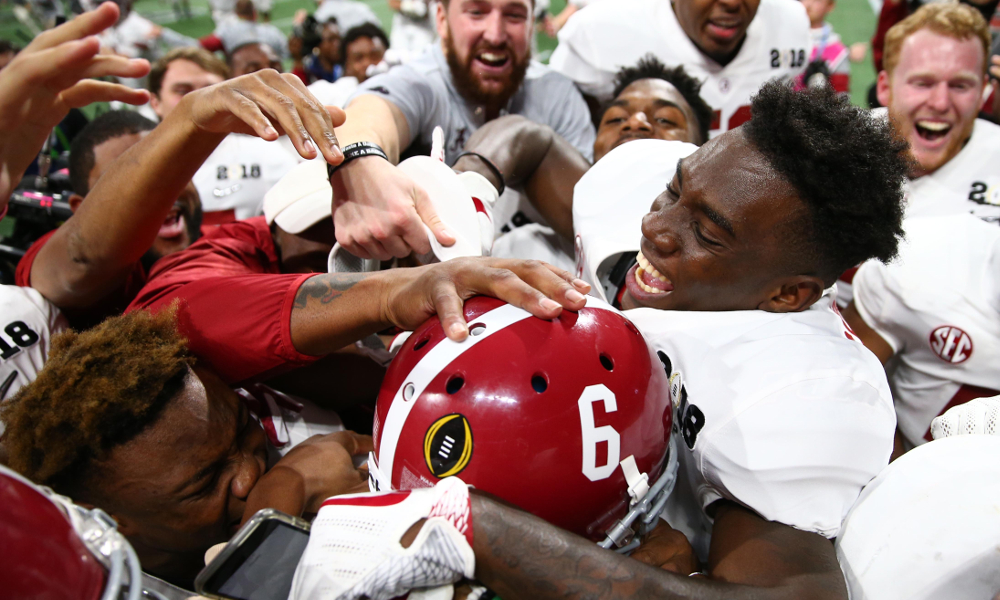 Nothing, and I mean truly nothing, is more nerve-wrecking than watching your favorite team end regulation with the score still tied. When this happens in big games (i.e. rivalry games, must-win games) it automatically puts you and the rest of the fan base on heart attack watch. In Monday night's College Football Playoff Championship Game clash between Georgia and Alabama both fan bases had to face this reality with all the marbles on the table. What then followed will help the game go down as possibly the greatest national championship game in CFB history and proved once again why college overtime rules are the best in football.
First and foremost, both teams get a chance. Last year's Super Bowl looked like a blowout until Bill Belichick's Patriots mounted a legendary comeback effort and sent the game to overtime. In the pros, the first team to receive the ball can win the game with a touchdown, but if held to a field goal the opposing team gets a chance to answer. In this case, though, both defenses had been on the field for so long that they were each gassed and it was a near certainty that the winner of the coin toss would walk away carrying a Lombardi Trophy.
With the pace of today's game, it is unfair to expect even the best defenses to keep up with the likes of Tom Brady and Julio Jones on the sporting world's biggest stage.
Sure enough, the Pats won the toss and subsequently drove down the field to cap off the comeback and add yet another trophy to their collection. While the game was not at all uninteresting, it felt as though all the chaos leading up to that walk-off moment had been decided by a coin toss. 
This is not to say that NFL team's should get equal chances starting each time from just outside the red zone. It would be perfectly reasonable to have the team's start from midfield even. The problem they face as it currently stands is that it feels stale despite all that is on the line in these moments because so often the defenses are too tried to put up a truly valiant effort.
When Georgia quarterback, Jake Fromm, took a big sack on third down last night the Bulldogs' light seemed to have finally gone out but their kicker was able to revitalize them with a massive 51-yard kick. On the very next play true-freshman, Tua Tagovailoa, took an equally bad sack losing the Tide 16 yards of field position. With their consistently poor kicking situation, all seemed doomed in Tuscaloosa.
And then, of the greatest endings in all of sports happened. In his first meaningful game, Tagovailoa read the coverage, made an NFL-like play to look off the safety, and threw an absolute dime to DeVonta Smith for a game-winning walk-off score. Of course, Georgia fans and players were immediately hit with a wall of utter and all-too-familiar defeat. Still, though, there was no sense of unfairness. There was a ton of suspense and no feeling that a coin flip decided the league's biggest game.
The NFL has modified their OT rules a few times over the last few years, but it is time for a complete overhaul. At the end of the day, sports are an entertainment business and last night proved just how much more entertaining the college rules are.