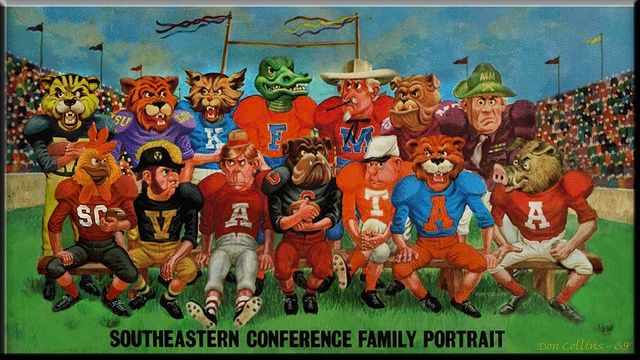 Are you ready to find out who will be the losers in the SEC this season? Well after a lot of thought and study, the pigskin pickin' pooch and I are ready to post our predictions.
Larry's Losers in the SEC – Way Too Early SEC Predictions
By: Larry Burton
Well sports fans, here we are back for our 15th season picking the losers in the SEC. Each year we've done well with our way too early projections, but this is a real nail biting year to try and figure out how things will wind up because of one big reason, coaching turnover.
In the East, Florida will have a new old coach. Coming back after several years at Mississippi State, Dan Mullen guides the Gators in the swamp and at Tennessee, Jeremy Pruitt takes over the task of tutoring the Tennessee tribe. It's hard to tell how they'll do at this point, but we already know that Dan Mullen can make a usually mediocre program look good, so what will he with the resources of Florida behind him? Likewise, Pruitt's pupils have some talent, but we don't know how he will do in the big chair there.
Now the West has a lot of new and semi new coaches. Matt Luke finally begins a season as a head honcho after losing the the interim title and Jimbo Fisher is going to aim the Aggies back to greatness. Chad Morris wears the Captain's hat in Hog land and Joe Moorehead heads up the Hounds at Mississippi State.
That's six of the 14 jobs in the SEC. When you remember that Jim McElwain won the East in his first two years and was out of a job before he could finish his third, you know that anything is possible in the SEC when you have a new man at the helm and that few jobs are are guaranteed and that success one year sure doesn't mean it will happen every year.
So with all that said, who are going to be losers in the SEC in each division this year? Well let's just jump on in are start separating the sensational from the slopppy.
SEC East – 
Georgia – The top Dog in the East should keep their spot as the rest of that division still has a little work to do. Kirby's Canines continue chomping away at the butts of the rest of this division and though the whole group grows up a lot this season and many teams become a bit better, they still won't dethrone the Dogs. Yes, they lost a ton of talent, but so does Bama each year and they too seem to keep a grip on the top spot too and this year, so will these Bullydogs.
South Carolina – I kind of want to put Florida in this position, but Bacardi the Wonder Dog claims that while I was roaming all over Europe last month, he was studying his tail off and he's sure the Gamecocks are ready to peck the pack in the East and are ready to ruffle the feathers of the other footballers they fight. That game between these big Peckers and the Gainesville Gators will tell us if we picked right here. I think it could go either way.
Florida – A new coach, maybe some actual offense and a nasty defense should be able to get these growling Gators near the top and in a position of fight for one of the top spots. I think that Dandy Don will finally get these mud puppies to move the chains and cross the goal line with a little more regularity. If they catch fire, they could even battle for the very top spot, but I don't see them getting that hot, after all Gators are cold blooded by nature.
Missouri – The middle of the country Missourians went from embarrassingly bad to white hot in 2017 and that momentum may continue in 2018. It didn't hurt their main signal caller didn't heed the calling of the NFL last year and came back for his senior season. Though picked in the middle of the pack, these middle of the county men could surprise and show just why the whole Eastern Conference has taken a big step forward.
Tennessee – They finally have a serious coach to take on the serious problems in Volunteer land. But while Jeremy Pruitt may help get this lost bunch of losers back on the right track, it won't happen overnight. While a better team overall, it may not show up in the record books real soon.
Kentucky – Yes, they made a step forward the past two seasons and looked like a Cat with claws, but this year they go back to being punchless Pussycats do to the loss of some of the players that brought them productivity and the lack of such replacements will be apparent.
Vanderbilt – Oh there has to be a lousy loser and thy name is usually Vanderbilt. The schedule, departing players and the rising talent of the other teams in this division leave the Song City Sailors sailing into last place in this division again this year. Derek Mason does about as well as he can with the talent at hand, but that's the problem, the lack of talent. Larry's Loser in the East – Vanderbilt
SEC West – 
Alabama – Alabama reloads as fast as a machine gun each season and this year is simply no different. In fact, it may be a better team top to bottom than the one that won the national championship last season. If anyone in the SEC can stop this pack of pachyderms from parading back to the party in Atlanta, I haven't seen the evidence yet.
Auburn – Auburn's past shows up and down years. Beating the cross state Crimson Tide made it an up year, losing four games made it a down year, so how you really rate last season? Well the pigskin picking pooch and I both think that four losses make it a down year and they're ready for a good year. Cutting that loss total from last year in half would make it a better year and that's where we see them coming in.
Mississippi State – Bacardi tells me that this could easily be the second best team in the West, but we just don't know if the new coach has enough Moorehead mojo to motivate these Mississippi Mutts. The pieces are there for these Dogs to dance past most of their competition, but we just don't know if it will or not with this new coach.
Texas A&M – Jimbo Fisher has proven he can turn around a team and this is a great chance to do it again. Most think this is the spot where the Bayou Bengals should be, but my furry little football forecasting friend and I both think that this spot just feels right for these Aggies. With the offense in better hands this year, maybe they can outscore the opponents they can't stop.
LSU – You know, maybe he doesn't get the respect he deserves, including us, because we're just waiting for Ed Orgeron to crap his pants like he always seems to do when he occupies the big chair in a big program. The talent level at LSU is so good he may not totally crap his pants, but we just don't see him taking the Tigers to a place that will make the multitudes happy in Baton Rouge.
Arkansas – Ever since Bobby Petrino parked his two tire Pigmobile in ditch, these Hogs have struggled to get back to relevance in the SEC and we don't see this new man Morris making a molehill of difference in this first difficult season. We aren't sure that isn't the team that could end up last, but for now, we'll be comfortable with these sniffing the bottom.
Ole Miss – What an Old Mess… Matt Luke goes from caretaker status to official head honcho and that would surely help in most cases, but there's quite a mess in Mississippi to mop up. Some may say we're not giving him enough credit for making to a 6-6 season last year with all the rumors flying around, but with their signal calling flying away and others having left as well, it's going to take a little more time than this season. Larry's Loser in the SEC West – Ole Miss
Well that's how we see the SEC shaping up this season and why and you can let us know in the comment section if you agree or not with any of our picks. In the meantime you can count on the pigskin picking pooch and me to continue studying the upcoming season to get those weekly picks perfect. Now that we're in just double digit days until kickoff, it's getting exciting just thinking about it.
LARRY HAS BEEN PUBLISHED IN ALMOST EVERY MEDIA OUTLET FOR COLLEGE SPORTS AND NOW PRIMARILY WRITES HERE FOR TOUCHDOWN ALABAMA. HE WRITES IN A COLLOQUIAL AND IRREVERENT STYLE FOR THIS SERIES OF ARTICLES. LARRY'S VIEWS AND SENSE OF HUMOR MAY OFFEND, BUT HE AIMS TO OFFEND EVERYONE EQUALLY. IF HE HASN'T INSULTED YOUR FAVORITE TEAM WITH LARRY'S LOSERS, JUST WAIT. FOLLOW LARRY ON TWITTER FOR INSIDE THOUGHTS AND GAME TIME COMMENTS AT HTTPS://TWITTER.COM/LBSPORTSWRITER
THANKS FOR SHARING THE LINK TO THIS STORY ON YOUR FACEBOOK PAGE