Stephen's Report
O.J. Howard unveils his thoughts on Alabama's QB competition for 2018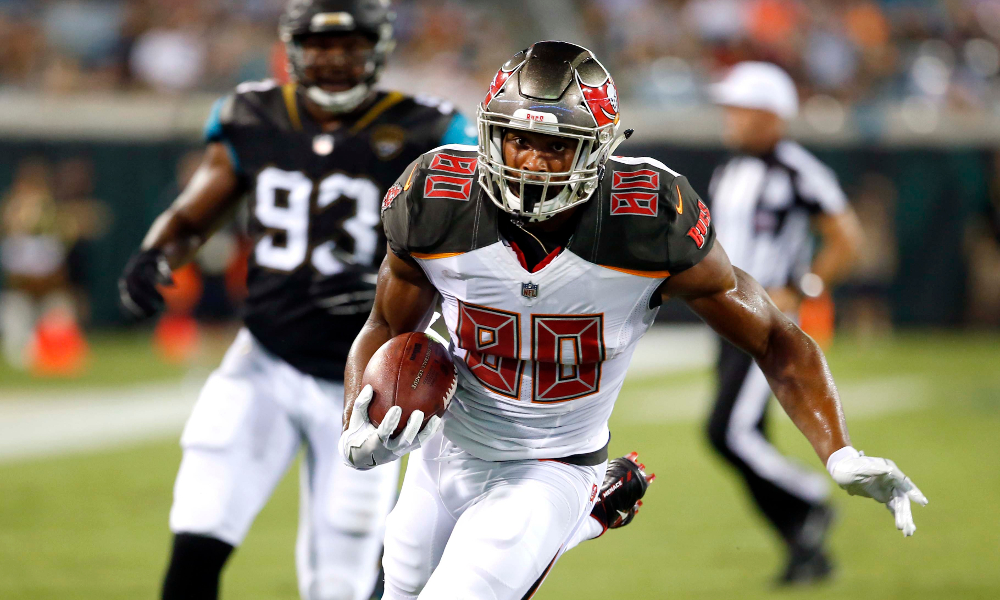 We have heard from fans, former Alabama quarterbacks and defensive backs that played under Nick Saban, however, we have yet to hear from a position that directly benefits from having an elite field general. 
Well, that was the case until Saturday. 
Before he takes on his second year in the National Football League with the Tampa Bay Buccaneers, tight end O.J. Howard was in his hometown of Prattville (Ala.) hosting a youth skills camp. He battled intense heat, but Howard and his team made the event exciting for boys ages 7-17 that wanted to enhance their craft and learn from the best. 
After taking multiple photos and signing footballs, the first-round pick of the 2017 NFL Draft took time to entertain the small area of credentialed media in attendance. As always, the first question fired off dealt with how will Saban handle the quarterback situation in the fall. 
Despite catching over 40 passes from Jalen Hurts in 2016 (most of his career), Howard sees the competition lasting into the regular season.  
"I think it's going to be a dual quarterback type of thing," he said. "They are going to split a little time, certain packages for each quarterback, and then go with the hot hand at the end of the game. That's at least for the first couple of games."  
Even with the success Alabama could have in playing two guys, Howard knows about the old saying "if you have two quarterbacks, you don't really have one." Understanding this and trying to grasp Saban's vague statement of winning the team, the 2015 College Football Playoff national champion shined light on both things when he discussed chemistry and leadership. 
Former Alabama TE O.J. Howard shares how this year's QB situation for the Tide will shape out. pic.twitter.com/Hw0BserT6R

— Stephen M. Smith (@CoachingMSmith) June 16, 2018
Howard on chemistry:
"You have to go with a true starter just for the feel of the receivers. "I feel like it is hard for you to keep interchanging quarterbacks because no one can get adjusted to the game." 
Howard on winning the team:
"It means a lot. It also means the guy is a vocal leader. He will do whatever it takes to succeed. He is not afraid to mess up. He's not playing timid. He's always throwing the ball downfield and not always checking it down. He's going to try to win the game. He is not being a game manager, but he's trying to win the game. And also, he's a guy that's not trying to do too much." 
A former five-star prospect in the Crimson Tide's 2013 class, Howard witnessed three quarterback battles during his tenure in Tuscaloosa. The toughest one came in 2014 between Blake Sims and graduate transfer Jacob Coker, who came in from Florida State University. 
"I think Blake won over the team going into camp in 2014," Howard said. "Blake had a scrimmage where he threw a couple of picks and they pulled him out, but he came back in and bounced back. He did not let that get him down and he continued to play hard. Just stuff like that lets you know that this guy has a chance. He doesn't get rattled. That won the team over." 
Coker did the same thing in 2015.  
Regardless of worries from the coaching on whether he was ready or not, the Mobile (Ala.) showed in a 43-37 loss to Ole Miss that he was the man for the job. A gutsy performance versus the Rebels coupled with great showings against Georgia and Texas A&M allowed Coker to galvanize the team, as it would go on to win its first CFP national title of the Saban regime. 
While he's expecting great things at Tampa Bay, Howard anticipates his former school being in the conversation for a national title once again.  
"Every year coming into it, the guys are going to be there in the end," he said. "They are going to compete for it every year. I am looking forward to seeing the offense. We have a lot of receivers to see where we can pick up from the championship game. I think the upside is the ceiling and we have two quarterbacks that can go in and make something happen. I am just very excited." 
Stephen M. Smith is the managing editor and senior writer for Touchdown Alabama Magazine.  You can "like" him on Facebook or "follow" him on Twitter, via @CoachingMSmith.