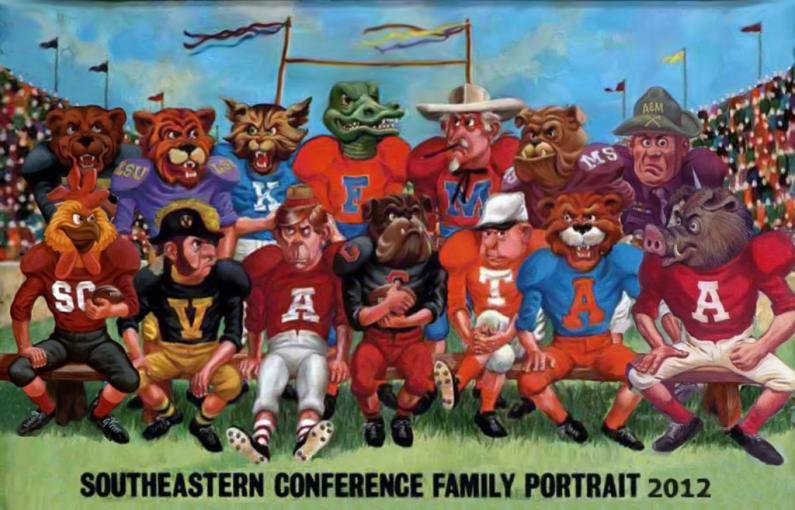 With more cupcake contests in this week's mix, it's still a sorry slate of series overall, but there's a few pigskin parties that worthy of worrying about if you're listing the losers.
Larry's Losers in the SEC – Week 2 – 2018
By: Larry Burton
With just a few good games last week, I hate to say that there are more cupcakes on the menu for this week too. But there are also some dandy games that could shape the SEC down the road. When you play a lot of cupcakes, you get a decent average and last week was no exception. We went almost perfect, just missing one game, not bad for an old guy. 13-1 makes us 93% correct. While we want LSU to come through and win, we didn't pick 'em. I just didn't believe that they come up with a potent offense after so many years of disappointment, but they looked pretty dang good smearing mud in our face, so we may have to take a ride on the Bayou band bus for a while as the defense is as salty as ever.
Yes, we were perfect until that last game and I maybe jinxed it all by saying it looks like I can do no wrong. So this week, I'll eat some humble pie and smart cookies and maybe things will turn out better.
So without further ado, let's jump right in and start laughing at the likely losers….
Mississippi State at Kansas State – When the Bulldogs bus over to Corn State, they aren't showing up for some grub on the cob but a big out of conference win over the plains Pussycats.
But these corn field Kitties aren't going to roll out the red carpet for this pack of pooches and they intend on rolling them good, whipping them with a rolled up newspaper and sending them back to Mississippi with their tails between their legs.
But every dog has his day and today's that day for these Mutts and that makes Larry's losers – Kansas State
The Bulldogs not only beat the Wildcats, but they eat their lunch too!
Nevada at Vanderbilt – The Wolfpack wanders across country to try and put the Song City Sailors in deep water and pull off a win against an SEC team.
Now these may be the weakest warriors in the SEC, but they don't figure these Wagertown Wolves don't have long enough fangs to cause a fatality to their plans to win this one.
Now these flea bitten biters are from the gambling state and they should know the smart money is not on them and that'll make Larry's loser – Nevada
Georgia at South Carolina – My oh my… When Kirby's Canines sashay over to South Carolina to take on these feathered footballers a lot of questions will be answered in the SEC East.
Today the Chickens learned not to wake up a sleeping Bulldog.
Arkansas State at Alabama – The Red Wolves are the second pack of Wolves to attack the SEC this week, but in this one this pack doesn't stand a chance of finishing this dance without some major misery.
Nick Saban may play the brass section of the Million Dollar Band in the fourth quarter of this one and protect his punishing projectiles for future punishment on better opponents down the road.
So even if your son is fourth string on Crimson clad team, get the recorder ready because Jr. will get to play in this one. Larry's loser – Arkansas State
Arkansas State's head Wolf isn't sure this was a good deal after all. 
East Tennessee State at Tennessee – The Buccaneers sail just over a few counties to take on the Tennesseans with the big temple, football temple that is, and new coach Pruitt is pleased as punch to be an inhospitable neighbor and give them 60 minutes of misery for a Midas like check.
So the fans will all be cheering and the scoreboard will be all lit up with constantly changing scores on the home side and the football faithful on the bank of the river of the same name will all think this coach has everything all figured out.
But then the SEC schedule will start and the chant will change to wait till next year one more time. But for now, it's all smiles and rainbows and Larry's loser is East Tennessee.
Southern Illinois at Ole Miss – Now don't even pretend to know that you know what the hell a Suluki is. You gotta look long and hard for a cremepuff I've never even heard of. But when these skinny Sulukis, an ugly Greyhound wanna be kinda mutt, come barking up the trees in the Grove, they'll quickly find out they're barking up the wrong tree.
And since you can't make fun of something unless you really know what it is, here's a picture of these worthless woofers. 
And believe you me, their tails will be between their legs in fright from kickoff to kicked out. Larry's loser – Southern Illinois
Clemson at Texas A&M – The Tigers from Clemson claw their way down to College Station town to tangle with the Texans in what might be an interesting game to gander.
While we don't think the Aggies can declaw these Kitties, it'll be interesting to see how big a hullabaloo they can handle huddle to huddle.
And something tells me that you'd better not bet this is a walk over for these Clemson Kitties, because we think this is gonna be tighter than most people think. In a close one, Larry's loser – Texas A&M
Wyoming at Missouri – The Cowpokes from middle country head East to try and manhandle the Missourians in their own pasture land and while it may look like like an easy win for these Tigers, these Cowboys won eight games last season and think that this more than a big time payday, but a chance to make a splash with a big win.
But it's one think to rope and tie and calf, but it's an entirely different mission to try and do that with a Tiger.
So while this one isn't a cupcake, the Tigers could make it look that way once the clawing commences. Larry's loser – Wyoming
This is what the Cowboys wanted to happen,,,,, But this is what did happen….
Southeastern Louisiana at LSU – Oh Boy… When directional college Southeastern Louisiana comes to offer themselves up as blocking dummies for that big paycheck, the whole country will collectively sigh and see what other game is one.
Now I'm not just saying that these laughable Lions will lose the Bayou Bengals, but these directional Cajun Kitties will have their title of King of the Jungle stripped and any player that has his girlfriend over to see the game will have to watch and cry as the Tigers also take their main squeeze home with them as well.
In about as emasculating loss as you can get, Larry's loser is Southeastern Louisiana.
Arkansas at Colorado State – When the Rams come down to Hot Springs country and beat their heads against the door to Razorback Stadium, they think they can pummel these Piggies and parade back to the mountains full of Pork.
But while this ain't exactly a cupcake game, somebody forgot to persuade these Piggies that it ain't and they're gonna spend four quarters shearing these sheep and stocking the freezer with lamb chops in this one.
Arkansas may not finish the season on top of many teams, but in this one, they'll look they could. Larry's losers – Colorado State
Alabama State at Auburn – Anytime Auburn can beat a team with the name Alabama anywhere in it, it's a good day for the Tigers and to make sure that they do it at least once this year, they take on the Hornets from Montgomery, not the Tusked Tuscaloosa boys.
This game will be a lot less exciting than the half time show, but if you're just a hard core Tiger lover, then tune in and enjoy the slaughter.
So if a night game watching a Tiger swat stingerless Hornets is your thing, this is your game, because Larry's loser is Alabama State.
Kentucky at Florida – The Kentucky Kitties claw their way into the Swamp to try and lay out the Lizards and this could actually be an entertaining game for maybe a half or so.
Dan Mullen has some things left to do get these Gators going the way he wants them to and if they don't watch it, these Kitties from Kentucky could claw them up and catch them wondering what got these Wildcats so motivated.
In a game that could be closer than most think, Larry's loser will still be Kentucky.
Over 60 years later and it's still the same old story…
Well that's all for this week sports fans. I'm on a little vacation for a while. Right now I'm in New York City and soon I'll board Celebrity Cruise Lines for a little two week cruise to Quebec and back to the Big Apple. But I have my laptop, satellite televisions and a whole staff of writers to keep me informed of anything I might miss, so you can expect the same great results while I'm wooing the Mrs. for our 31st anniversary.
Till next week, don't forget to squeeze the ones YOU love and let them know they're special, yes, even during football season. Otherwise, you may wind up on my next list of losers and that wouldn't be a nice thing to do.
LARRY HAS BEEN PUBLISHED IN ALMOST EVERY MEDIA OUTLET FOR COLLEGE SPORTS AND NOW PRIMARILY WRITES HERE FOR TOUCHDOWN ALABAMA. HE WRITES IN A COLLOQUIAL AND IRREVERENT STYLE FOR THIS SERIES OF ARTICLES. LARRY'S VIEWS AND SENSE OF HUMOR MAY OFFEND, BUT HE AIMS TO OFFEND EVERYONE EQUALLY. IF HE HASN'T INSULTED YOUR FAVORITE TEAM WITH LARRY'S LOSERS, JUST WAIT. FOLLOW LARRY ON TWITTER FOR INSIDE THOUGHTS AND GAME TIME COMMENTS AT HTTPS://TWITTER.COM/LBSPORTSWRITER