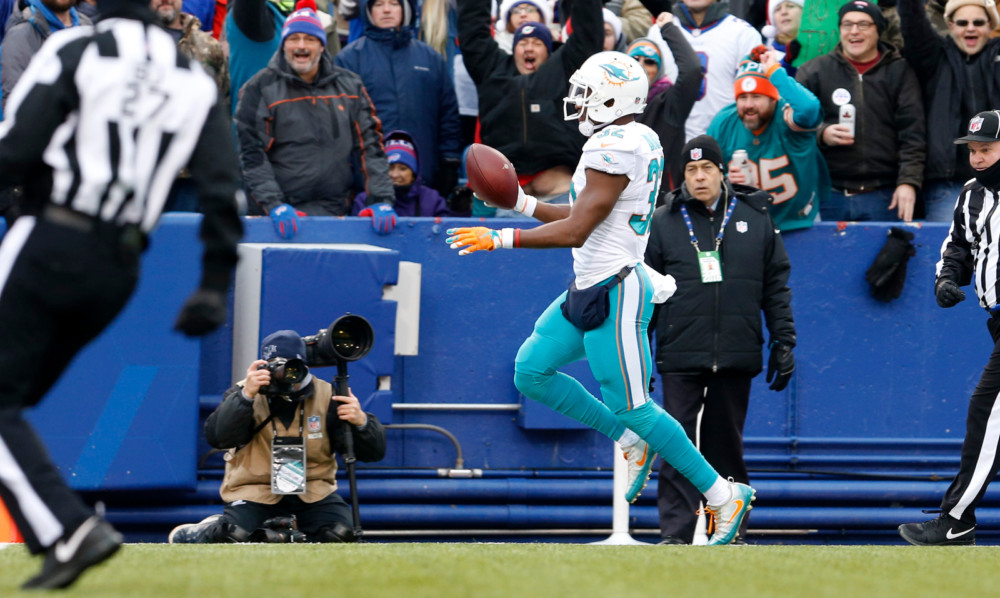 This NFL season I'll be doing weekly NFL fantasy updates on former Alabama players who qualify. I'll give match up breakdowns in each feature, providing data and information that should prove helpful in winning your league. Remember, when playing fantasy football, it's always important to start and bench players based on opposing match-ups and not personal fandom. For instance, if a player has a history of not producing against a team, it wouldn't wise to start them. However, if a player has a history of playing well against a team it would be in your best interest to have them on your roster for that week. Let's look at seven former Tide players who will be in fantasy action during week two.     
Start 
Julio Jones vs Carolina Panthers 
Jones made fantasy owners extremely happy in week 1, exploding for 23 points against Philadelphia. This week he faces the Carolina Panthers, a team who should have nightmares when they think of him. In the last four games against his division rival, Jones caught 23 passes for 558 yards and a touchdown, including an epic 300-yard game in 2016. The Panthers pass defense slowed down the Cowboys for 178 passing yards, but Dallas lacks a Julio Jones and a quarterback capable of pushing the ball downfield like Matt Ryan. Expect another huge day from Jones. 
O.J. Howard vs Philadelphia Eagles 
Howard had 2 receptions for 54 yards, which was good for a respectable 6.4 points. Sunday, Buccaneers quarterback Ryan Fitzpatrick showed that he has no issues pushing the ball down the field in search of big plays. Offensive coordinator Todd Monken is a creative play designer and should have no issues finding ways to get Howard involved. He is their most explosive option at tight end and week one was just the beginning to a breakout season.  
Kenyan Drake vs New York Jets 
Last week, Drake had 66 yards from scrimmage worth 8.1 fantasy points. It's clear, that head coach Adam Gase wants to heavily feature the third-year runner in this offense. He can run in between the tackles and provided steady play. This week he goes up against the Jets and they are stout against the run, which could mean plenty receptions out of the backfield for Kenyan Drake.
T.J. Yeldon vs New England Patriots 
Jaguars running back Leonard Fournette is dealing with a hamstring injury and is questionable to play. Yeldon could receive significant touches even if Fournette is active and the fourth-year runner has a skillset fantasy owners love. Last week, he rushed for 51 yards on 14 carries and 3 had receptions for 18 yards to go along with a touchdown. His 14.4 fantasy points shocked many NFL fantasy owners and he will be a hot option going forward in 2018. 
Sit 
Derrick Henry vs Houston Texans 
Henry was expected to be the featured runner in the Titans offense. In week 1, that didn't happen. Henry had a pedestrian, 10 carries for 26 yards and 1 catch for 5 yards, totaling 3.6 fantasy points. Henry faces the Houston Texans who have one of the best defensive fronts (J.J. Watt and Jadeveon Clowney) in the NFL. Henry will eventually find his groove, but it won't happen in week two. 
Amari Cooper vs Denver Broncos 
Cooper is still one of the best young receivers in the NFL, despite catching 1 pass for 9 yards on 3 targets in week one (2.3 fantasy points). He's not getting the ball, and that falls squarely on head coach Jon Gruden and quarterback Derek Carr. Against Denver he'll be matched up against pro bowl cornerback Chris Harris and it could be hard for Cooper to get open looks. Also, factor in Denver's strong pass rush (Von Miller and Bradley Chubb) and it's hard to imagine a strong passing day for the Oakland Raiders. 
Calvin Ridley vs Carolina Panthers 
At some point, Ridley is going to be a part of this offense, but it seems Atlanta is working him in slowly. I agree with fans, offensive coordinator Steve Sarkisian is a big part of the Falcons problems and there need to be an upgrade. However, until that times comes, I don't see Ridley see being a huge factor in an offensive unit that acts as if Julio Jones is their only capable receiver.