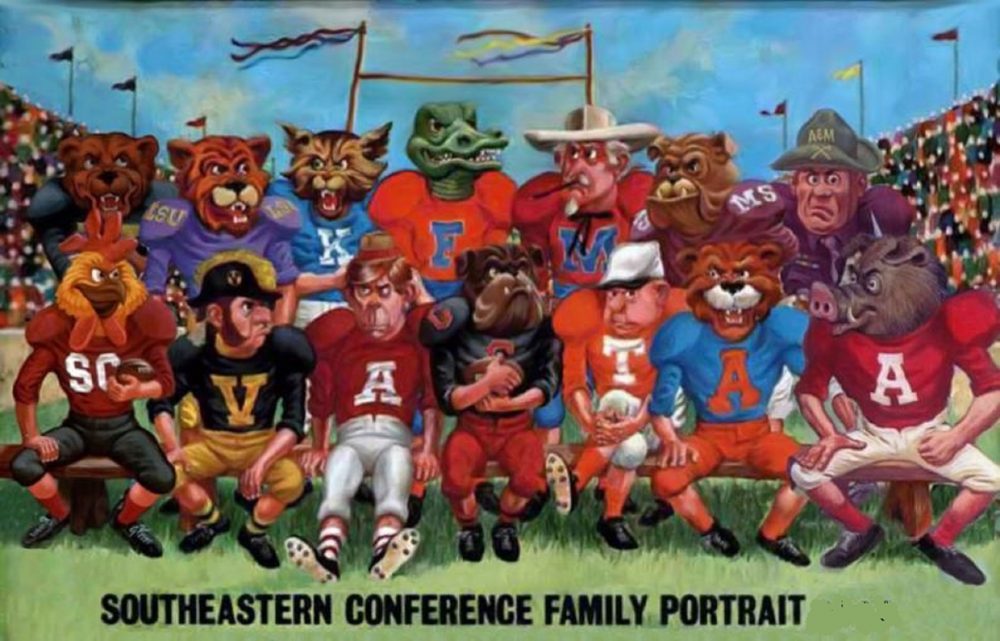 This week has more cupcake contests, but we shouldn't complain as it helps our average, but it'll sure be nice to get into the SEC schedule head to head.
Larry's Losers in the SEC – Week 3 – 2018
By: Larry Burton
Well sports fans, I'm enjoying my cruise on the Celebrity Summit and today as I post this, I'm in Bangor, Maine headed to Canada. Thanks to the internet and ESPN, I haven't missed much because I also have the resources of this great magazine to fall back on too.
Last week we missed two picks, real upsets and I'm thinking if my pigskin picking pal had been with me, I might not have made those mistakes, but with some better games this week, the picks may not be better, but the games sure will be.
So without any further ado, let's get to listing those losers and get to the dining room because it's lobster night since we're in Maine!
Murray State at Kentucky – When the Racers rush over to Blue Grass Country to tangle with the Tabbies, they're hoping that they can race in and race out before these Kentucky Kitties know what's hit 'em.
But these wily Wildcats aren't about to let these horse jockeys come in and ride off into the sunset with a win in their home stadium.
So while this is supposed to be a cupcake game, the Wildcats will stumble once or twice before making Larry's loser – Murray State
The Wildcats will be beating a dead Horse… This one….
UTEP at Tennessee – The Miners from UTEP are hoping to quickstep their way into Neyland Stadium and step out with something as exciting as a gold strike, a win over an SEC team.
But even though the Vols are still rebuilding, they've got enough going for them to keep these Miners from digging any such gold in their backyard.
So even though the pickaxes may swing, there's just not enough punch behind these puny Miners, so that makes Larry's loser – University of Texas El Paso
The Vols don't just steal the Miner's gold, they take their gold teeth too!
Vanderbilt at Notre Dame – The fighting Irish dip their toes back into SEC waters and hope for better results than the last time they did so and while the Commodores have a found a few good men, the question is have they found enough.
While we think the Commodores can make a contest out of it for a while, they just don't have the fire power onboard this year's ship to sink a team with as much manpower as the Irish are bringing to bear.
So when it's all over, the Commodores will be hitch hiking back to Nashville as the Leprechaun's cause too many leaks in the Song City Sailor's sailboat. Larry's loser – Vanderbilt
These Song City Sailors can pray about this game all they want, but God's already picked his winner.
LSU at Auburn – It's a Tiger tussle for sure when the bayou brand of Tigers takes on the wire grass Tigers from the plains. Now this could be a contest that could very well shape who winds up in the Sugar Bowl on New Year's day.
This one will be a fine one to watch as both teams sport a dastardly defense and the real question is going to be who can be the cool Cat to claw out the most points in 60 minutes.
But in the end, you have to go with the home team in a close one and that should put the team with the War Eagle on top in this one. Larry's loser – LSU
This is gonna be one fine Tiger fight!
Colorado State at Florida – For the second week in a row, these Rams from Colorado State take on an SEC school but this week though it's them boarding the plane and taking the trip and this plane is headed down to the Swamp in mid state Florida where they'll gather with Gators and see if they can get a win this week.
Trouble is, if this squad of mountain Sheep didn't like the results last week, they sure won't like this week either.
And without doubt, that'll make Larry's loser – Colorado State
Remember, there's only two zeros between Bobo and Booboo…
North Texas at Arkansas – The Mean Green from cowboy country come East to take on the Tusked Pigs from Arkansas, but they don't look that mean but they may look green after getting gored a time or two from these pummeling Pigs.
The Piggies may have been near the bottom of the SEC for a while, but they are still tougher than these boys from out in in the oil fields.
So that'll make it and easy pick and Larry's loser will be North Texas
Alabama at Ole Miss – The Landsharks swim on over to Tuscaloosa to take on the tusked ones and try and relive a little history and leave with a win once again.
But unfortunately for the Rebel Bear Landsharks, this ain't the same kind of squad they brought those years that they shocked the SEC.
So it's just another checkmark on the schedule for the Pachyderms on the way to more important games and that'll make Larry's loser – Ole Miss
You're this week's losers, that's who you are!
Middle Tennessee at Georgia – The Blue Raiders saddle up and amble on down to Athens for that big SEC Paycheck and a Bulldog chewing.
Though they're not such a terrible team, these Tennesseans will look like cupcake competition in this one as this pack of Pooches will devour these visitors.
So when the final whistle is blown, the more than likely loser will be Middle Tennessee
The Bulldogs beat the Raiders and take the horses they rode in on.
Louisiana Tech at Mississippi State – It's a full blown bulldog fight when the Bayou Bulldogs come over to meet the Mutts from the Magnolia State.
But if you think that new head coach Joe Moorehead is gonna give some brotherly love to his cross state fellow Bulldogs, you don't know Joe.
So when it's all tallied up, it's just another cupcake contest in the SEC and this loser is Louisiana Tech
Don't bring a puppy to a Bulldog fight…
Missouri at Perdue – When the Midwesterners from Missouri take their Tigers up to play with Perdue, the country will watch with interest how two middle of the road teams from big time conferences fare against one another.
Now I've the feeling that this one's going to be a dandy game as the Tigers are good and Perdue is going to surprise somebody this season and if the Tigers don't sharpen their claws this week, it could be them.
But I have a feeling they'll get by this week and make Larry's loser – Perdue
The Boilermakers blow another one.
Marshall at South Carolina – The Thundering Herd gallops over to the big Henhouse in the Carolinas to take on Gamecocks.
Now Muschamp's Chicken coop might look like an easy place for a fast Herd to run in and run and out with a win, but once you get past the gate, the boys with the big peckers show up and the pecking party begins.
So sorry Marshall, there's no winner, winner chicken dinner for you this week and that'll make Larry's loser – Marshall
University of  Louisiana Monroe at Texas A&M – The weary Warhawks from Cajun country carpool over to Texas to pick up a very big check and be administered a very big ass whipping.
Yes, it's another cupcake classic that won't be worth watching unless you also like movies about the Little Big Horn.
So without any further description, Larry's loser – University of Louisiana at Monroe
Here are the Warhawks practicing their fast exit from the stadium.
Well that's it for this week folks. Hope the snacks you had were better than most of these games, but we're getting ready to head into the heart of the SEC schedule and then things will be consistently more entertaining.
LARRY HAS BEEN PUBLISHED IN ALMOST EVERY MEDIA OUTLET FOR COLLEGE SPORTS AND NOW PRIMARILY WRITES HERE FOR TOUCHDOWN ALABAMA. HE WRITES IN A COLLOQUIAL AND IRREVERENT STYLE FOR THIS SERIES OF ARTICLES. LARRY'S VIEWS AND SENSE OF HUMOR MAY OFFEND, BUT HE AIMS TO OFFEND EVERYONE EQUALLY. IF HE HASN'T INSULTED YOUR FAVORITE TEAM WITH LARRY'S LOSERS, JUST WAIT. FOLLOW LARRY ON TWITTER FOR INSIDE THOUGHTS AND GAME TIME COMMENTS AT HTTPS://TWITTER.COM/LBSPORTSWRITER