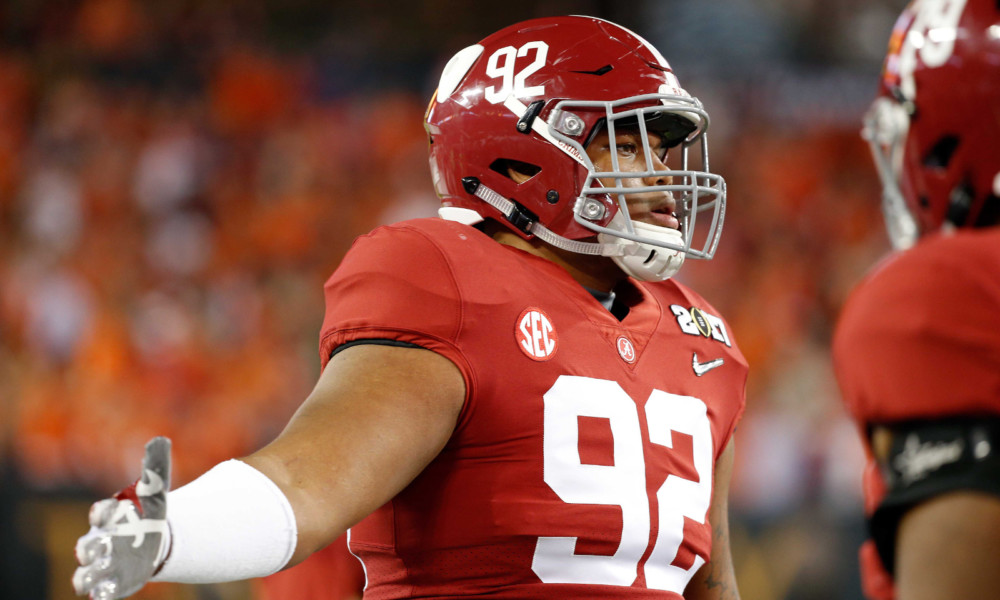 Alabama football defensive lineman Quinnen Williams should wreak havoc if TAMU starting center Erik McCoy isn't ready this Saturday.
After losing Daron Payne to the NFL Draft this past April, many wondered who would step up and man the middle of the defensive line for the Alabama football program. After a few strong performances to close out last year's season, Quinnen Williams has stepped up in a big way. If the Aggies don't have their starting center back for this Saturday's upcoming SEC Western Division clash,  Quinnen and the rest of the Bama defensive line may become a living nightmare for Aggie quarterback Kellen Mond.
Late in the game against Louisianna-Monroe, Erik McCoy's leg was rolled on and he exited the game. According to the latest update, there didn't appear to be any significant damage to his knee, and Jimbo Fisher is hoping Erik will be ready to go against Alabama this Saturday. McCoy will need to be healthy and ready to go if the TAMU offensive line is to slow down this machine that is the defensive line for Alabama football. If he isn't ready to play, Kellen Mond could spend much of his time next Saturday running for his life.
https://tdalabamamag.com/2018/09/16/quinnen-williams-becoming-most-dominant-player-on-uas-defensive-line/
Stay tuned to TDAlabamaMag.com for all your Alabama football and recruiting news and updates. Follow us on Twitter @TDAlabamaMag
Ricky Green is a writer for Touchdown Alabama Magazine. Follow him on Twitter @rickylamargreen