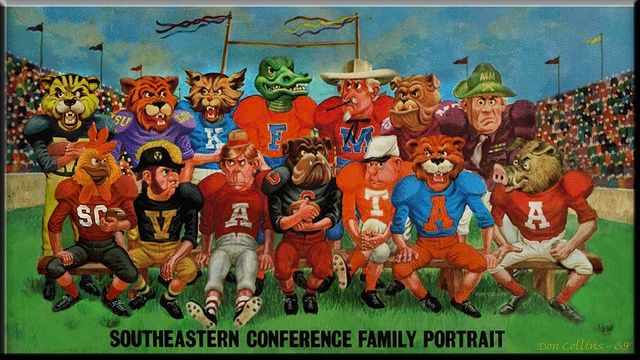 Think you know who's going lose this weekend? Well this article can either make your hunches feel better or rock your world. See if your picks agree with yours.
Larry's Losers in the SEC – Week 5 – 2018
By: Larry Burton
Well sports fans, we warned all of you last week that the series between Mississippi State and Kentucky was so close and anything could happen, but we didn't take our own advice and missed that one. So once again, we missed out on a perfect week.
This week we don't see a lot of opportunity for the upset bug to bite us, but then again, we felt good about them all last week too. So far we've been doing very well, but we're tired of missing one each week and I think I'm really missing the input from my dearly departed dog who always had some sage advice. At this point in the season, there's more questions than answers. Is Kentucky is good as it has looked so far? Did Mississippi State just stumble or where they just that overrated? Is the East really on the rise as a whole? (Well except for Tennessee which is an absolute train wreck.)
So let's see if we can clear up some questions this week and get closer to perfectly prognosticating our pigskin pursuits. Now, here we go this week….
Louisiana at Alabama – The not so Ragin' Cajuns come to Titletown for big check and a butt kicking and Bama gets nothing but scorn from this because if they have another regular season loss, this one will be remembered as a game that killed their strength of schedule.
Though it's not an off week it might as well be as the Tide prepares for the upcoming games in conference.
In a lopsided lollipop game whose final score will only be determined by Nick Saban's charity,  Larry's loser – Louisiana
Arkansas at Texas A&M – The Razorbacks from up Arkansas way wander down to College Town to take on the Aggies and try and root around and find a way to win in the SEC West.
This pack of Pigs isn't as bad as their record may be at the end of the year and Jimbo wants to jump on them before they all get settled into the Chad Morris chapter gets settled in.
And that's what will happen in this one, but the Aggies may know they've been in a fight if the Hogs get those tusks tearing into these Texans. Larry's loser – Arkansas
The Hogs got distracted on the way to the game…
Southern Mississippi at Auburn – The Golden Eagles fly down to the big coop in Auburn to take on the War Eagles in what they hope will be a real bird battle.
But this won't be much of a battle as it winds up being a cupcake contest in yet another embarrassing SEC takes on a directional college in a mismatch contest.
So while the feathers may fly in this fiasco, they'll all be one color and they will be Golden and not even Gus Malzahn can mess this one up and that makes Larry's loser – Southern Miss
Tennessee at Georgia – The constantly rebuilding tribe from Tennessee amble to Athens to show the world that this could finally be the year that they turn the corner and take their place in the top tier of the SEC.
But Kirby's canines can't give up their spot without a fight and while it may be interesting to see just how far the Vols have come it just makes sense to say that one team is always rebuilding and one is just reloading.
So while it will be a fun one to watch, this one should keep the Vols saying wait till next year one more time. Larry's loser – Tennessee
South Carolina at Kentucky – The Carolina Cluckers carpool over to Kentucky to tackle the Tabbies in front of the Cat fancy crowd at Kroger field.
Now these Kentucky Kitties have been quietly contending for bowl games and they know if they can pluck these pullets they'll have a shot for some real post season party of note and maybe runner up status in the East. But as my old buddy Lee Corso so often says, "Not so fast my friend!" South Carolina is a pretty solid squad of squawkers.
Yes, these cats are ranked, but it's one thing to get ranked, it's another to stay there. And while these Cats will have their day, it won't be today and that'll make Larry's loser – Kentucky
Ole Miss at LSU – There's never any love lost when these two tangle and when the Rebels try and roust these Bayou Bengals in their home crowd, you can bet that that it's gonna be a battle.
Now if these Tabbies trip and the Mississippi men get red hot, this one could go either way and I think this could be closer than most think. Using all my instincts, I just have a nagging feeling that this just won't happen this week.
So in the end, it'll be the same old Ole Mess from Ole Miss and today the Tabbies rule the day. Larry's loser – Ole Miss
Florida at Mississippi State – The big Mud Puppies come down I-10 to meet the Mutts of Mississippi State and stake their claim as a great group of Gators.
Now if anybody knows the talent level and weaknesses of these flat faced footballing Fidos, it would be Dan Mullen, who brought almost all of them to the pound himself.
But how much of an advantage that will be is the question that gets answered in this one, but for now our answer is, Larry's loser is Florida.
Tennessee State at Vanderbilt – The tussle for the title of Tennessee's real titan is on the line once again and since Vandy has won a big share lately, they think they can keep it up again.
Derek Mason knows what it takes to whip these little brothers and he knows that it'll take all his talent to tame these Tigers, but he knows how to get his Sailors whipped up into acting more like pirates than gentlemen officers.
So these Tennessee Tigers get to see what they can do against an SEC team and when it's over, they won't like what they've seen. Larry's losers – Tennessee State
Well that's it for this week folks. There isn't a lot of games this week that just dazzled us, but they will get better and a lot more competitive.
And just out of curiosity, how are you doing with your picks against us this season? Let us know in the comment section.
LARRY HAS BEEN PUBLISHED IN ALMOST EVERY MEDIA OUTLET FOR COLLEGE SPORTS AND NOW PRIMARILY WRITES HERE FOR TOUCHDOWN ALABAMA. HE WRITES IN A COLLOQUIAL AND IRREVERENT STYLE FOR THIS SERIES OF ARTICLES. LARRY'S VIEWS AND SENSE OF HUMOR MAY OFFEND, BUT HE AIMS TO OFFEND EVERYONE EQUALLY. IF HE HASN'T INSULTED YOUR FAVORITE TEAM WITH LARRY'S LOSERS, JUST WAIT. FOLLOW LARRY ON TWITTER FOR INSIDE THOUGHTS AND GAME TIME COMMENTS AT HTTPS://TWITTER.COM/LBSPORTSWRITER