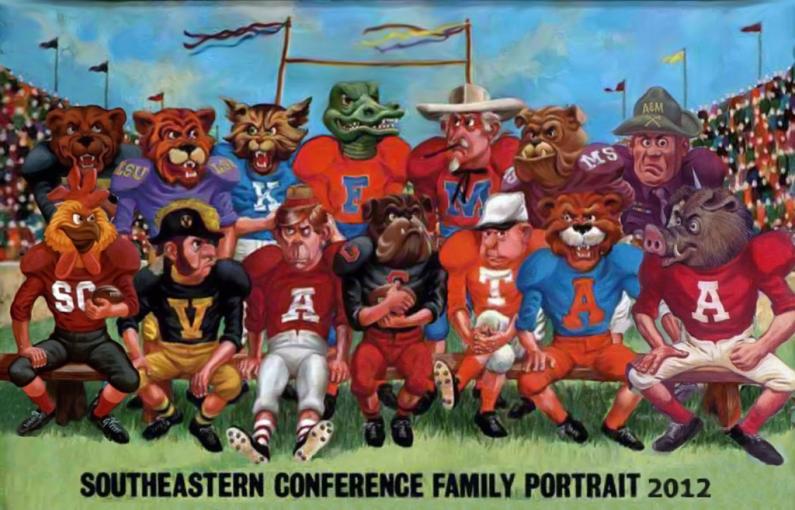 Well sports fans, a hurricane dealt us a bad blow here at the Loser's Lair, but we still don't feel don't feel as bad as last week's losers. Who'll cry this week?
Larry's Losers in the SEC – Week 8 – 2018
By: Larry Burton
Well sports fans, last week I had a hurricane hit my home and business in Panama City Beach, Florida, home of the loser's lair, I'm going to have thousands of dollars in repairs and months of reconstruction to get things going again as they were before the storm and still I feel better about things than Auburn fans do about their program.
Once again, Auburn is the one team the upset bug keeps biting that keeps my average down. Also the Dogs of Georgia variety also got swamped by LSU, so we better start rethinking just how beastly these bayou Bengals can be.
Also, for the fans who have stuck by me for well over a decade, I apologize for being so slack in my writing this week and maybe for a few in the future as we've had no electricity, internet and such following the hurricane. But I haven't missed a Larry's loser in over 14 years and I'm not about to start now, even if I have to pen this one from a spot in Destin that has all those things we don't right now like electricity and internet.
But don't cry for me Argentina, cry for these losers and here they are:
Tulsa at Arkansas –  If you think this is a cupcake game, you don't know toot about Tulsa. When these Golden Hurricanes swarm into sow country, they are a team that huff and puff and blow these little piggies away.
These Pigs looked good for a while last week, but folded in the fourth, but this week this bunch of bacon buddies may just get it all together.
And that's what we think will happen this week as the Pigs finally get their  act together and pull off a good win which will make Larry's loser, Tulsa
They still may not be pretty, but today, the Pigs finally fly…
Auburn at Ole Miss – This week the troubled Tigers travel over to Oxford to take on the Landsharks of Ole Miss in what now can be billed as an interesting game given the fact that Tigers and fading and the Rebels are roaring.
Now you have to wonder in this one, whose future will change and whose will continue?
Well that is the question and we just don't see Auburn's offense coming up with enough juice in this one either, leaving lots of folks wondering why that "Offensive Genius" can't find the cure for his team's ills. Larry's loser – Auburn
This is how Auburn fans are feeling right now.
Alabama at Tennessee – Nick Saban parades his Pachyderms up to their Northern stadium they've owned for over a dozen years now. In fact, my former partner and pigskin predicting pug, Bacardi the Wonder Dog was born and died without ever seeing the Vols vanquish the Tusked Ones from Tuscaloosa.
Now I'd like to tell you that since beating Auburn, the Vols are going to carry a fighting spirit into this game and make interesting.
I'd also like to tell you that I lost 50 pounds and didn't have a hurricane ruin my home and business, but since I can't, I'll just say that Larry's loser is of course, Tennessee.
When they play Alabama, the expectations just aren't high….
Memphis at Missouri – It's a Tiger on Tiger tussle when the Tennessee Tabbies take on the Midwestern Meowers in the Show Me State and both these teams have some pretty sharp claws.
Now the boys from Lost Wages, Nevada seem to think this is a done deal and that the smart money is on the Missourians, but if they let those Memphis Cats get going, they can hard to stop.
But we don't think that's going to happen and the SEC strength and stamina pull out the win against the pesky Pussycats from West Tennessee making Larry's losers – Memphis
Mississippi State at LSU – The Bulldogs from the Magnolia State mosey on down to Baton Rouge country to take  on the Bayou Bengals and try and re-establish themselves as a top team and not a pack of pooches that hide under the porch.
Now LSU is flying high and they could be due for a let down after some big wins and looking ahead to their tussle with the Tide and that's just what these flat faced fidos are looking for.
But old coach Ed ain't about to let his Tigers look past this pack of pooches and while the Dogs can bite, so can a Tiger with some sharp claw trump cards to boot. That'll be enough to make Larry's loser – Mississippi State
Vanderbilt at Kentucky – When the Song City Sailors boat over to Bluegrass Country to take on those Tabby Cats, they better get to bailing the boats out quickly as they'll start taking on water right after kickoff.
Now you have to admire how these Commodores come to fight and the heart and soul they give each week.
But all heart and all that soul won't help them rack up what they want the most and that's a win. So that makes Larry's loser – Vanderbilt
Taking others down with them… Shame on the Commodores…
Well that's it for this week folks. Boy have I got a lot of rebuilding and fixing to do to get life back to normal after this Hurricane Michael. I almost feel like an SEC coach rebuilding sad sack squad. It's gonna take a lotta time and talent to get me back to where I want to be.
So having a perfect pack of picks would certainly pump up my predicament, so I'm hoping that this is just what will happen. So tune in next week and see how we did. Till then, let's get the snacks ready and maybe a cold adult refreshing beverage or two and may we scratch the upset but right out of our list.
LARRY HAS BEEN PUBLISHED IN ALMOST EVERY MEDIA OUTLET FOR COLLEGE SPORTS AND NOW PRIMARILY WRITES HERE FOR TOUCHDOWN ALABAMA. HE WRITES IN A COLLOQUIAL AND IRREVERENT STYLE FOR THIS SERIES OF ARTICLES. LARRY'S VIEWS AND SENSE OF HUMOR MAY OFFEND, BUT HE AIMS TO OFFEND EVERYONE EQUALLY. IF HE HASN'T INSULTED YOUR FAVORITE TEAM WITH LARRY'S LOSERS, JUST WAIT. FOLLOW LARRY ON TWITTER FOR INSIDE THOUGHTS AND GAME TIME COMMENTS AT HTTPS://TWITTER.COM/LBSPORTSWRITER
DON'T FORGET TO SHARE THE ADDRESS OF THIS STORY ON YOUR FACEBOOK, TWITTER AND SNAPCHAT PAGES SO YOUR FRIENDS WILL KNOW YOU'RE COOL!