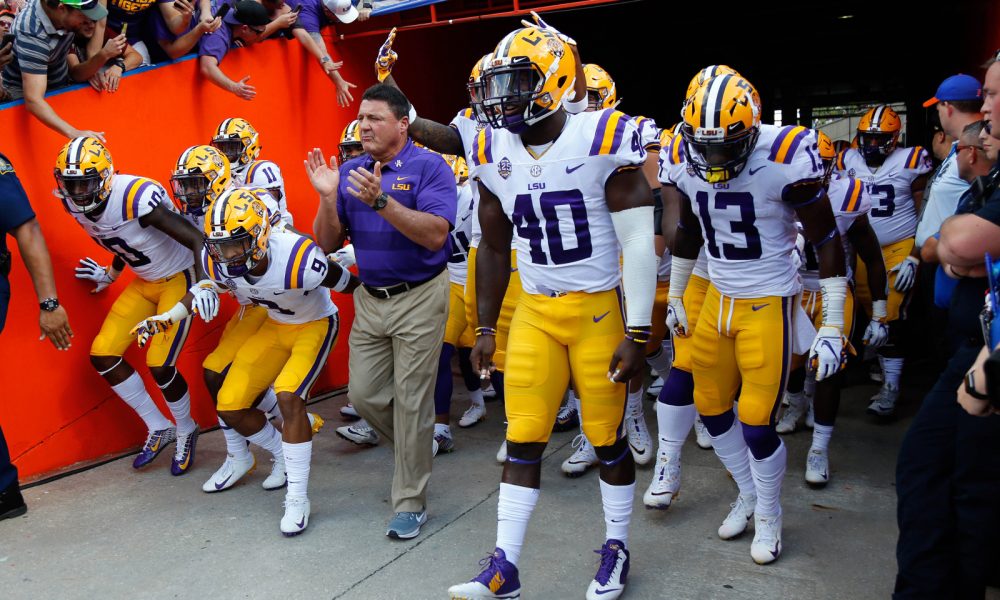 Whether it makes much of a difference or not, the Southeastern Conference needs to clear linebacker Devin White for next week's matchup between Louisiana State University and the Crimson Tide of the University of Alabama.
A lot of commotion has occurred throughout the week involving collusion and how LSU fans believe the conference has conspired with the Tide to keep White from not playing in the first half; however, the issue at hand was a targeting call against the senior leader in the Tigers' win over Mississippi State. 
For a rule that serious needs to be fixed or explained better, the ideal letter of the law for targeting is if a player leaves his feet and uses the crown of his helmet to connect with the opposing player's helmet in intention to do harm in making a tackle: it is called targeting. 
After watching the play, one can see that White did not leave his feet and the crown of his helmet got Nick Fitzgerald in the side of his headgear. The 6-foot-1, 240-pound enforcer was ejected from the matchup following the tackle and is expected to miss the first half versus the Tide.  
Fans and supporters around the program have started a GoFundMe account to draw attention from the SEC in lifting the suspension. Ed Orgeron's beloved fan base even went as far as to purchase billboards in Birmingham that read "#FreeDevinWhite" in white and purple print. 
In speaking of Tide fans, there is nothing they want more than to give LSU all the smoke it can handle with no excuses.
The last thing they want to see is national media propping up the Tigers for not having one player in the action. Not saying that White is not important; nevertheless, the main objective for the game is can Joe Burrow and the Bayou Bengals win in a shootout? 
LSU's offense is not built to score 50-plus points and with the way Tua Tagovailoa has been hanging numbers on teams, Burrow will have a hard time keeping up. Getting back to White, he leads the team in tackles (76) and is among the leaders in tackles for loss (seven), quarterback hurries (six) and pass breakups (four).
Hatred for Alabama football has reached an all-time high.  
Programs in the SEC cannot stand to see the dominance and some members of national media have looked at Tide's offensive dominance as "not entertaining" and being "bad for college football."
A few LSU fans have clamored for players to strike Tagovailoa's knee and end UA's season on that note.
With all the buildup on social media, Nov. 3 cannot get here soon enough.
Stephen M. Smith is the managing editor and senior writer for Touchdown Alabama Magazine.  You can "like" him on Facebook or "follow" him on Twitter, via @CoachingMSmith.