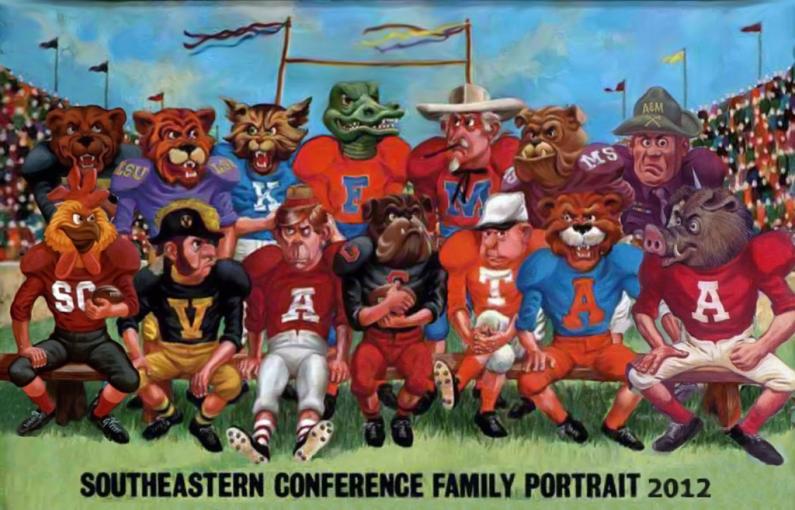 Well folks those up and down Auburn folks cost me a perfect pack of picks last week and we're scared the upset bug is gonna bite us once again this week. See if you think we've got it right.
Larry's Losers in the SEC – Week Nine – 2018
By: Larry Burton
Well sports fans, today is my birthday and I'm proof that the first 61 years of childhood is the hardest! So for my birthday present today, I'd just like to know that this week's picks are perfect. I've been a little negligent in my writing, but in my defense, I had no internet and was busy trying to repair all the damage from Hurricane Michael. It poked us in the nose pretty hard down here in Panama City Beach and all the areas East of here. Wednesday was the first day they got the internet on the beach working for us and it will be months to get fixed in town.
Anyway back to losers, in winning Auburn made us losers. It seems Auburn is the bane to our existence as when we pick them not to lose they do and vice versa. They kept us from being perfect last week and this bunch of yo-yo's with an up and down season is killing us, but if you think I feel bad about this, and I do, I don't feel near as bad as them Tiggers from chigger country.
This week's list is short as a lot of teams are taking the week off from the fear of landing on this loser list, but there's still some quality games to watch that have us nervous so with all the butterflies aside, here we go.
Vanderbilt at Arkansas – When the Song City Sailors set sail for Arkansas, they know that the worst team in the SEC raspberry award could be on the line because the loser of this game has little hope of winning another SEC contest.
Now just because these Commodores and Razorbacks have a sucky season going doesn't mean this is an easy game to pick. Either could win it but I remember what my old pigskin picking pug used to tell me, when in doubt, either go with the hot team or the home team and if both are hot and home, go with it.
So since the Pigs did fly last week and they are at home, we're going to swing that way with this pick and pray the Commodores don't catch much fair wind in their sails… Larry's loser – Arkansas
Florida vs Georgia – When the Gators and Bulldogs open their flasks and toast to the biggest cocktail party in Jacksonville, the Gators are thinking that their season is turning around and they're ready to make a play for the big time again in the SEC East.
But these Bulldogs don't plan to let another SEC team leave with their bone again, so they're coming with sharp teeth and an attitude and figure that while they might not have as many teeth as those rascally reptiles, they'll make up for that with quick bites in all the right places.
And while we never see very many outcomes in the SEC as set in stone, we just really have a strong hunch that every Dog has his day and this one is Georgia's and that'll make Larry's loser – Florida
After the tailgating at this big cocktail party, at least the loser will have the comfort of intoxication.
Kentucky at Missouri – Folks, I'm telling you now that when the Wildcats take on the bigger Tabbies from Missouri that there's going to be some serious biting and scratching from both teams and this is another one that we're worried the upset bug could bite us in the butt with a wrong pick.
Now most folks feel that this is a layup for the boys from Bluegrass Country, but Missouri thinks if they can get a little help from the boys without the ball that they can shut everybody up and start talking good bowl game and that's sure what would happen.
But these Kentucky Cats have truly gone from mild cats to real Wildcats this season and they aren't about to let these Missourians mar their season anymore with a loss here, so look for Larry's loser to be Missouri.
Everybody loves a good cat fight….
Texas A&M at Mississippi State – The Aggies are gonna mosey over to the Magnolia State and pop a pack of Pooches and send they scurrying for safety because they just don't think that this squad can squabble over a win with these squires of agriculture.
Now the last football conversation I had with my old forecasting fur ball friend was that I should not take these Dogs too lightly this season, that they were going to upset somebody they weren't supposed to this season and I believe my little buddy was telling the truth.
However, I just don't think it is going to be this week and I don't think it's going to be this game. So that'll make Larry's loser – Mississippi State
Tennessee at South Carolina – Last week the Vols got pummeled by the Pachyderms, but even after that big loss, they still feel they have what it takes to take on and beat those second tier teams in the SEC like those troubled Tigers from the plains and these Carolina Cluckers.
But these pluckin' Pullets ain't pussyfooting around this season and they'll have their spurs sharp and their peckers pounding from the get go and by the fourth quarter these Vols will really and truly wish they were back in old Rocky Top instead of trying to raid this hen house for another win.
That's 'cause these Chickens don't think the sky is falling, they just see the Vols falling all over themselves to escape the flogging this flock of footballers are going to put on them and that'll make Larry's loser – Tennessee
You want a chicken dinner? Come get your dinner…. I dare you!
Well, that's all I got for this week. I'm going out on publishing date of this article to celebrate my birthday and maybe do something festive in these sad days since the storm. I know so many who lost their homes, lost the place they worked at and even lost some loved ones. It makes you realize how really insignificant football really is when you see this kind of loss in this kind of volume.
But I'm proud to say that nobody is a loser in this part of the country. We're all struggling, but we're all rebuilding back the things we can and the sense of community and brotherly love I've seen shared makes me proud to be a small part of these people who don't complain and just share the love. Today was the first day in over a week that we finally got our cable and internet back, but we are lucky as I know many who still have no power, phone, cable, internet or even running water and they're living that way in their damaged homes or with friends or relatives.
Folks, in the 14 years I've been listing the losers for you I haven't gotten to mushy or got on a pulpit to preach, but pray for the folks down this way in Florida, they still need it.
LARRY HAS BEEN PUBLISHED IN ALMOST EVERY MEDIA OUTLET FOR COLLEGE SPORTS AND NOW PRIMARILY WRITES HERE FOR TOUCHDOWN ALABAMA. HE WRITES IN A COLLOQUIAL AND IRREVERENT STYLE FOR THIS SERIES OF ARTICLES. LARRY'S VIEWS AND SENSE OF HUMOR MAY OFFEND, BUT HE AIMS TO OFFEND EVERYONE EQUALLY. IF HE HASN'T INSULTED YOUR FAVORITE TEAM WITH LARRY'S LOSERS, JUST WAIT. FOLLOW LARRY ON TWITTER FOR INSIDE THOUGHTS AND GAME TIME COMMENTS AT HTTPS://TWITTER.COM/LBSPORTSWRITER
DON'T FORGET TO SHARE THE ADDRESS OF THIS STORY ON YOUR FACEBOOK, TWITTER AND SNAPCHAT PAGES SO YOUR FRIENDS WILL KNOW YOU'RE COOL!