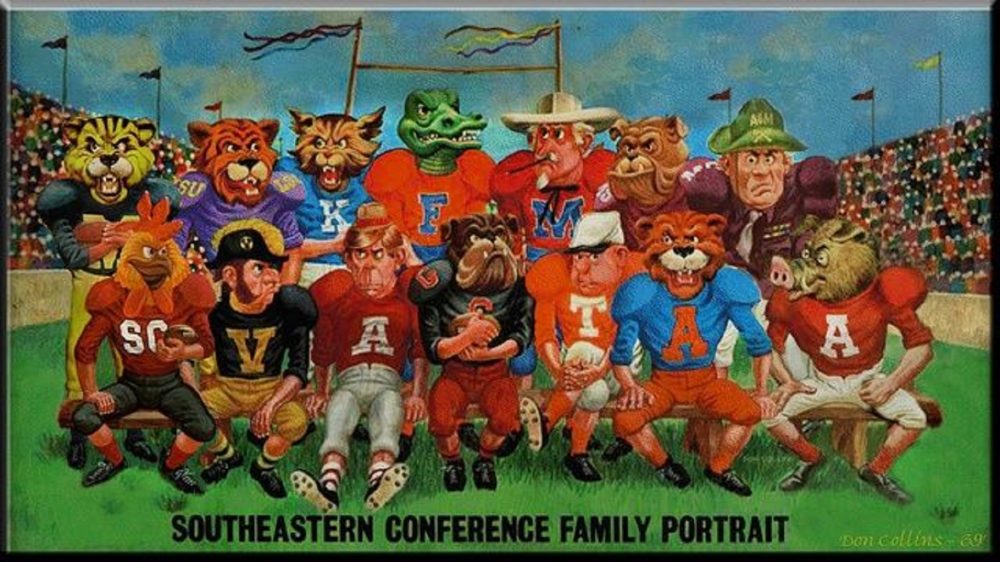 So you think you know who's hot and who's not? Compare your picks to this list of likely losers and see how you did.
Larry's Losers in the SEC – Week 10 – 2018
By: Larry Burton
Well sports fans, last week was the fewest games on the schedule this year and the two games I missed made it an awful week statistically. I knew the Arkansas / Vandy pick was going to be tricky and we picked the wrong one there. And Texas A&M simply fell flat against the mighty defense of Mississippi State and I failed to heed the final words of pigskin pickin' pal who warned me not to sleep on those Mississippi Mutts.
This week is chock full of games that can panic a picker but we've been burning the midnight oil and studying the scenarios and feel like we've got a handle on who the upset bug is going to bite and yes, it's going to bite some teams this week, so let's to listing those likely losers.
Texas A&M at Auburn – When the Aggies amble down to their fellow agricultural college classmates, they're hoping to rebound from a disastrous day last week and reclaim their status as a top team and shed the troubled image.
Meanwhile, Auburn's Tiger tamer Gus Malzahn is fighting for his job and as weird as it sounds, the team who was once a top 10 team will have to use a win against tiny Liberty to be bowl eligible if they lose this one.
After covering games from Auburn's stadium, I know how loud and proud those Tiggers can be on their home turf and though the boys in Lost Wages, Nevada have these Tigers as a favorite, the upset bug bites here first and Larry's loser is Auburn.
South Carolina at Ole Miss – Those Carolina Cluckers take the big metal bird down to Oxford to take on the Rebels and try and cement their bowl plans with a win here and a cupcake down the road. So these are fowl on a mission and they know that a loss here means a real tough road to make six wins this season.
But on the flip side of that coin, those rascally Rebs are already at five wins and they know a loss here could hurt their chances of dancing in the post season parties, so they'll set up an ambush and try and keep those pullets from using their painfully big peckers on their noggins and run them back to the hen house with a loss.
Now we're seeing this as about an even Stephen battle and neither team winning would really be an upset even though Ole Miss is favored by the slightest of margins, but we see these Gamecocks as more gamey and a little less yo yo so we'll go with Larry's loser being Ole Miss.
And when I'm done with these Rebels, those Chik-Fil-A cows and I are going to have a little talk….
Georgia at Kentucky – Who would've thunk at the first of the season that these Kentucky Kitties and Kirby's Canines would be fighting it out this weekend for the SEC East Championship? Well when the Dogs drag themselves up to Commonwealth Stadium to try and skin a cat, that's the marbles they're fighting for.
Now these Kitty Cats have proven their rise to this occasion is no fluke and they feel that they match up with these barking ballers and come away with a win. Their defense rates out better and their running back may not be the real Benny and the Jets, but their Benny sure has some jets when he gets an opening with the ball.
But in the end, one team is used to these big time, big game experiences and one team isn't, so we're going to go with the team that has been there and done that and that makes Larry's loser – Kentucky
This was our year they said… We can handle Georgia they said… I hate them!
Missouri at Florida – Last week the Missouri Meowers lost a real heart breaker by a single point and this week they're hoping to rebound against a team that was also toppled, but in a much worse way.
There's something about the Tigers in the SEC, Auburn, LSU and Missouri all seem to have yo yo games and it's always hard to tell if they're going to be up or down. The same could be said about those Gainesville Gators, but they've just got a little more talent in the player pool.
So this week we hope that the big water Lizards drown those Tigers in that pool and that would make Larry's loser – Missouri
I thought you were supposed to catch a Tiger by the tail, but hey, whatever works for the Gators…….
Charlotte at Tennessee – Tennessee needs another win really bad as bowl season is beginning to look like a long shot, so scheduling the 49'ers from Charlotte is just what the doctor ordered for a sure win.
For the cupcake classic, this pitiful program will have their players playing in a 100,000+ seat stadium but only about 75,000 will show up to see this slaughter. Still the check will be the same no matter how many folks show up.
So if you have a relative on Tennessee's 4th string, tune in, you'll get to see him play in this one and that certainly means Larry's loser is Charlotte.
Louisiana Tech at Mississippi State – It's a Bulldog battle when the puppies from Louisiana travel up to battle big brother Bully in the Mississippi Mutt's own backyard.
This is one of those take a rest games that so many SEC teams take before taking on a big rival, so the baby Bulldogs take a beating and leave with a big check and the big boy Bullies get a W and a week off.
If you were hoping for an entertaining game in this one you tuned in to the wrong game because this is one game where the upset bug won't even nibble. Larry's loser – La. Tech
These baby Bulldogs outside the SEC just aren't up to standards to expect to compete.
Alabama at LSU – The Pummeling Pachyderms parade down to Cajun country to what has been their Louisiana home for the past several seasons and they expect to take control of the lease of Tiger Stadium for another season and tackle those Tigers once again.
But these Bayou Bengals feel like they're a team of destiny and they believe that they can conjure up some of that moonlight magic that happens from time to time in Tiger Stadium and stun those Sabanites on national TV and play for an SEC Championship and have a shot at a national title too.
But I believe I'll have another rum and coke and be glad the upset bug won't bite here. You see beliefs are one thing and talent is another and in the end, that'll make Larry's loser – LSU
Ed: Tua, would you take $50,000 to fake a knee problem Saturday and sit out? You know that's a lot of wampum there Chief.
Tua: I'm sorry, I'm a good Christian and I just can't do what I want to do.
Ed: Well if you want to take the money, just do it.
Tua: No, not take the bribe, I can't tell you how stupid you are. I'm Hawaiian, not Indian.
Well that's it for this week folks. We're slowly crawly out from all the damage from the big wind we had down this way, but there are trash piles in everybody's front yard waiting for debris removal, just like pretty soon, this loser's list is going to start carrying away teams from their post season plans. Our part of Florida will rebuild quicker than Tennessee's program, be a top destination again faster than Auburn will and and have a lot more fun that Arkansas will anytime soon.
So as the weeks get shorter, the stakes get higher, so be sure and be back next week when we finally start getting a clearer picture of who's going bowling and who's going home. Till then, have a great week and clean the TV screen, there's plenty of watching to be done.
LARRY HAS BEEN PUBLISHED IN ALMOST EVERY MEDIA OUTLET FOR COLLEGE SPORTS AND NOW PRIMARILY WRITES HERE FOR TOUCHDOWN ALABAMA. HE WRITES IN A COLLOQUIAL AND IRREVERENT STYLE FOR THIS SERIES OF ARTICLES. LARRY'S VIEWS AND SENSE OF HUMOR MAY OFFEND, BUT HE AIMS TO OFFEND EVERYONE EQUALLY. IF HE HASN'T INSULTED YOUR FAVORITE TEAM WITH LARRY'S LOSERS, JUST WAIT. FOLLOW LARRY ON TWITTER FOR INSIDE THOUGHTS AND GAME TIME COMMENTS AT HTTPS://TWITTER.COM/LBSPORTSWRITER
DON'T FORGET TO SHARE THE ADDRESS OF THIS STORY ON YOUR FACEBOOK, TWITTER AND SNAPCHAT PAGES SO YOUR FRIENDS WILL KNOW YOU'RE COOL!