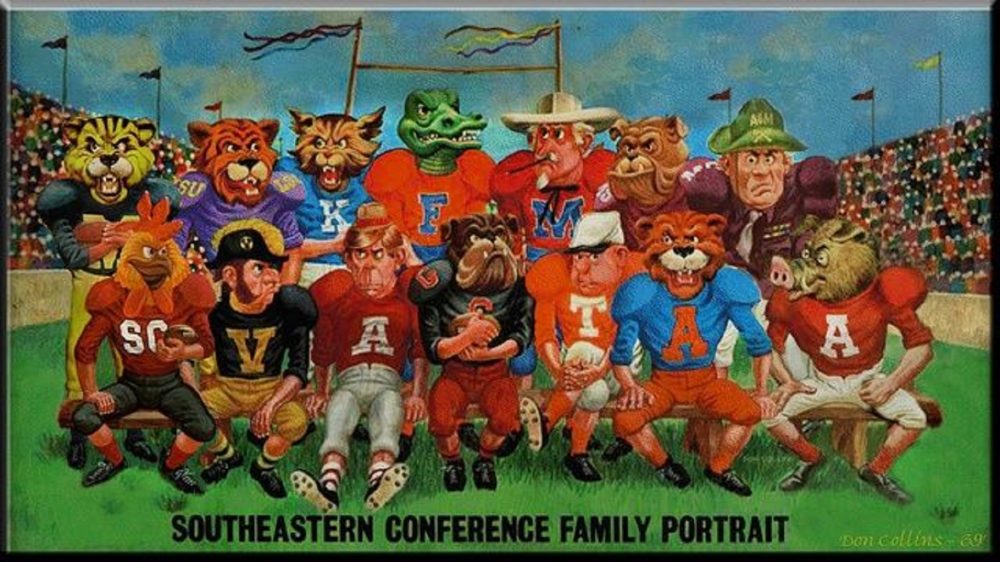 So you think you can pick football games like a pro? Well compare your picks to these and let's see who comes out on top.
Larry's Losers in the SEC – Week 12 – 2018
By: Larry Burton
Well folks, did anybody see Tennessee beating Kentucky? Well I'll admit to never see that upset bug flying our way! Are the Kentucky Kitties in collapse condition after losing to Georgia and seeing their chance at an SEC East title slip away?
And as for the other miss, we knew the South Carolina / Florida game would be a toss up and we tossed the wrong way in that one. So much for going with the hot team.
So going into this week, we're reading tea leaves, breaking out the Ouija board, asking the magic 8 ball and calling the Psychic Hot Line and taking all kinds of nonsensical aids to go with our strong knowledge of football and by combing both these methods, maybe we'll just stumble up and have our first perfect season of the year. Lord knows we need one.
So let's just jump in start listing those losers and before you start poo pooing my picks, see how your own stack up at the end of the week and let me know who won. Ok, well here we go…
The Citadel at Alabama – In the biggest cupcake classic of the season, the baby Bulldogs meander down from the military school down to T-Town to pick up a big check and give the Tide a day off.
In the most embarrassing game of the week before rivalry week, you'd have to look pretty hard to find someone softer for the Tide to take on.
Now the only questions will be, will Nick play the brass section of the band and how long will they let Tua play? Larry's loser – The Citadel
"I don't know why you don't believe me. The Citadel is a well coached team with good players and they're coming ready to compete. This is a real game!"
 If they play Tua this week before Auburn, he'll wear this uniform…
Middle Tennessee at Kentucky – The Blue Raiders will ramble over to Kentucky to pick up a big check and help the Kentucky Kitties get back on the win side of the sports pages.
Now last week, these Bluegrass Boys slept walked through the game with Tennessee and they will now have to live with that nightmare for the rest of the season, so they don't aim let that happen again this week and get beat by a less talented team.
So that'll put a sure winner on the loser's list and that loser will be Middle Tennessee
"We may not have beaten the Tennessee Vols, but we can beat Middle Tennessee!"
Idaho at Florida – Those Vandals from Potato Country come a calling down in the Sunshine State and while they know they won't win, they'll still get a chance to Vandalize some things in Gainesville and still go home with a big check.
Though I've always wondered why some school administrator would think that calling your school's team the Vandals would be a good idea, I've also wondered at times why they wanted to play football.
This cupcake has extra icing, so it goes without saying that Larry's loser is Idaho.
"Yes, we are pleased with the win, but we thought Vandals was just a team name, not what they do."
Arkansas vs Mississippi State – Pity the poor Piggies. This week they have to go to Starkvegas where they're pretty sure they won't win, they're willing to roll the dice and see what happens.
Now after last week's disappointing performance against the Pachyderms, these Dogs are aiming to show the rest of the SEC that they truly are one of the better teams in the league, so coach Joe has ordered take no prisoners and order some extra bbq sauce.
And that how we see it happening too and I hope they save me at least one pulled pork sandwich from the feast to follow the game. Larry's loser – Arkansas
 "And this week we'll be preparing pulled pork sandwiches…."
The Piggies season in a nutshell…
Missouri at Tennessee – Now last week Tennessee just shocked to heck out of us and looked like a mighty fine team beating another mighty fine team and now we're wondering if they can pull off two in a row?
Now Missouri also pulled off a so so win last week against a downtrodden Vandy team, so now they've got us wondering if they're falling by the wayside late in the season.
But we think that the Midwestern Meowers just had a case of overlooking another SEC team that's down on their luck and that this week, the world will make sense again and Missouri will look good and Tennessee won't. That'll make Larry's loser – Tennessee
"Well you didn't play like bums last week!"
U Mass at Georgia – The look good for a Minute Men from U Mass come on down to Dog Town to take on the Bulldogs, pick up a cupcake check that'll pay them better than any other four games they'll make this season.
Now these dogs plan on teaching this hot mess from U Mass a nice Dog trick during this contest. But the Minute Men won't be pleased to find out that this new trick is how to roll over and play dead.
Why this Georgia team feels they need a cupcake game before battling their little brothers from Georgia Tech is beyond me, but hey, if everybody else is doing it, why not do it to? Larry's loser – U Mass
"Wake me when this BS game is over, I ain't watching this crap!"
Liberty at Auburn – With their big win two weeks ago when their opponent from Texas crapped in their chaps, Auburn secured the Birmingham Bowl and this week they're hoping that a big win over a little team will put them in a little higher bound bowl.
Now I know that Auburn is one of the SEC's biggest yo yo teams, sometimes up, sometimes down, but even when they're down they should be able to take on these fireless flames.
So unless the whole team comes down with the flu, this won't be a contest and that'll make Larry's losers – Liberty
"Y'all just keep that Birmingham Bowl bid for someone else, with this huge win over Liberty, we're moving on up!"
UAB at Texas A&M – When Texas A&M scheduled this game, they thought were booking a cupcake, but things happen and these Birmingham Blazers are red hot and aim to try and shock the world by tiptoeing into Texas and sneaking out with a surprise win.
Now these Aggies should be able to slay this Dragon, but folks I'm telling you that they'll breathe a little fire before going down and personally, this is a game that the Loser's Lair will be watching closely.
So if the upset bug doesn't take it's biggest bite of the year here, that'll make Larry's loser – UAB
"It feels so good to finally beat someone with University of Alabama in their name!"
Rice at LSU – The unfried Rice comes to the Bayou Bengal's bungalow this weekend that just proved that not all Owls are all that wise, because these Tigers plan to tear apart these feathered footballers.
Now this is a cupcake royal with sprinkles as no betting pool gives this team more than 1% chance of winning, so unless your nephew plays fourth string for LSU and you want to see him play, there's no reason to watch this embarrassment.
So with zero percent of uncertainty, Larry's loser – Rice
"We're playing Rice? I thought you said we were playing nice!"
Ole Miss at Vanderbilt – In a real head scratcher to pick, Ole Miss drives North to take on the Song City Sailors in the Country Music Capital and hope that after the game somebody will write a tear jerking song about how the Rebels just did the poor old Commodores wrong.
This is almost a pick 'em game and we have had more than one night chewing our fingernails and looking at all the trends, stats and so forth to try and get a little clarity on this contest.
But in the end, we're not going with the home team, but going with the team that looks like it can put point up on the board, so when the smoke clears, in a close one, Larry's loser will be Vanderbilt.
Need I say more about how these two teams finish out the season?
Chattanooga at South Carolina – When the boys with the team named after footwear show up at the Gamecock's chicken coop for their big paycheck and obligatory butt whipping, they'll get just what they're looking for in both cases. These Mocs are indeed a mockery.
In the last of the cupcake contests, this one won't be much better than any of the others, so maybe by this time of the day, you've seen enough SEC football and might be ready to watch a more competitive contest from another conference.
So thank God this is the last week of conquerors vs cupcakes and from here on out and through the bowl season, they'll be no more useless game. Larry's loser – Chatanooga
Though they fought everyone they could, the prized Pullets are only going to pull out seven wins this season.
Well that's it for this week folks. There were a few nice games in this bakery week of patsy pastries and we hope that wherever the upset bug bites that we perfectly predicted the people that would get punctured.
So till next week, where it's rivalry week for the most part, we'll just enjoy seeing us slide back up the winning column with these one sided wonders and then start fretting over the picks that are sure to be painful to predict.
It's hard to believe that the regular season ends next week. Yes, time does fly. I hate to dedicate this season of picks to my dearly departed dog who became an internet sensation by becoming the pigskin pickin' pooch and debated picks with me for 12 years. I would have liked to dedicate it to him with a pack of perfect picks, but I guess in a way, it does him well to show that it was much easier to do it with him than without him. Bacardi the Wonder Dog, this season was yours. I know you're smiling at my pain in doing this without you from heaven.
LARRY HAS BEEN PUBLISHED IN ALMOST EVERY MEDIA OUTLET FOR COLLEGE SPORTS AND NOW PRIMARILY WRITES HERE FOR TOUCHDOWN ALABAMA. HE WRITES IN A COLLOQUIAL AND IRREVERENT STYLE FOR THIS SERIES OF ARTICLES. LARRY'S VIEWS AND SENSE OF HUMOR MAY OFFEND, BUT HE AIMS TO OFFEND EVERYONE EQUALLY. IF HE HASN'T INSULTED YOUR FAVORITE TEAM WITH LARRY'S LOSERS, JUST WAIT. FOLLOW LARRY ON TWITTER FOR INSIDE THOUGHTS AND GAME TIME COMMENTS AT HTTPS://TWITTER.COM/LBSPORTSWRITER
DON'T FORGET TO SHARE THE ADDRESS OF THIS STORY ON YOUR FACEBOOK, TWITTER AND SNAPCHAT PAGES SO YOUR FRIENDS WILL KNOW YOU'RE COOL!