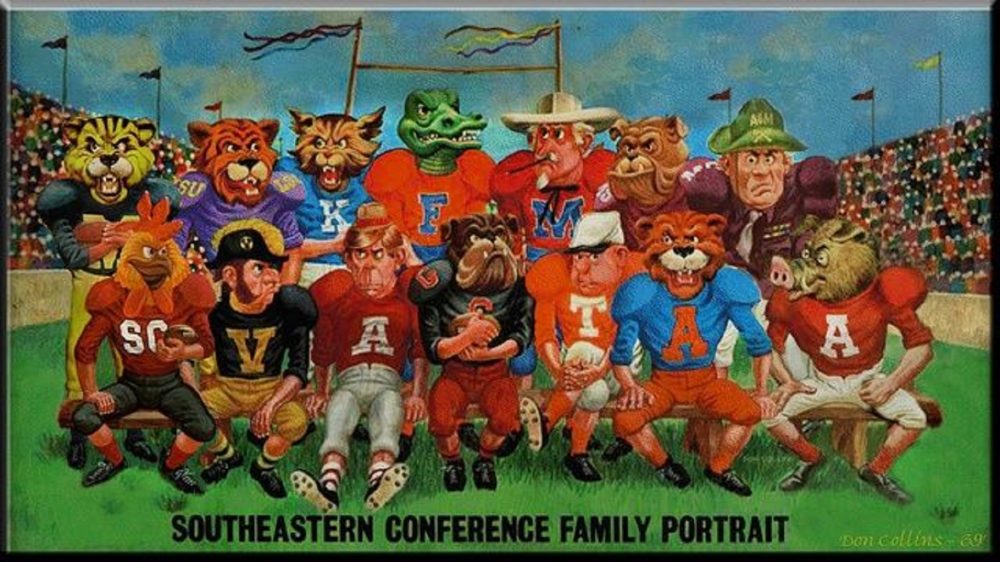 Well except for a makeup game, it's all down to the Championship game. Do you think you have these two figured out? See if agree with us.
Larry's Losers in the SEC – SEC Championship Week – 2018
By: Larry Burton
Well darn it all folks! Last week I had it all figured out and picked them all perfectly except for the game that I'll always feel I was robbed on… The eight overtime LSU game cost me. I had the Aggies to lose and they should have, but LSU got some shaky calls that cost them and me a perfect end to a perfect week.
But enough of spilled milk, this week is a sure week in the perfect column with the Col. Sanders Squad taking on a dessert menu team and Alabama taking on the Brotherhood of Bulldogs once again and this year they'll have less luck than the past performances, or so say the boys from Lost Wages, Nevada.
But what they say and who they pick don't tally up as well as the loser's list that lay out every week. So for the real 911 on what to expect and how it might play out, read on and see if you agree.
Akron at South Carolina – The crazy Kangaroos from Tire Country come a calling to the Carolina Clucker's cozy coop in a make up game and they're happy to play for a good sized TV audience, a big crowd in the stands and a big check in the bank. They don't care if they're bounced off the field, just as long as that big check don't bounce back.
And the feller that's a big yeller, Coach Muschamp, ain't about to not use this opportunity to try and impress a bigger bowl to come a calling, so he's going to have these boys sharpen their peckers, shine up their spurs and flog the heck out of these jumping jokes.
Now there's a reason they call Akron the Zips, because that's close to the exact chance they have of winning this game, so if no other early game catches your fancy, then by all mean, stay tuned for this slaughter. Larry's loser – Akron
Alabama vs Georgia – In Atlanta for the SEC Championship – When all of us sportswriters got together and pooled our picks this spring on what would happen in the SEC, this is the matchup we  all saw coming. But all these months later, even though it's the contest we all thought would happen is happening, the way Alabama has performed this season now makes us all see a blowout instead of a battle.
But Coach Kirby and his Canine Corp know that these boys from Bama put on their pants one leg at a time just like them and they have the memory of playing these pachyderms down to the wire on more than a time or two. So they're going to try and build on the past and take it one step further and shock the world by belittling Bama with a beat down.
They say that every dog has his day, but it ain't this day and Nick Saban and his Crimson commandos aim to conquer these flea bitten footballers and prove why they're considered the best in the land, this land, that land, any land. So even worse that the casino cool cats think they will, the boys from Bama beat down the Bulldogs like they just pooped on the dining room floor at Thanksgiving. Larry's loser – Georgia
So now after so many weeks of wonderful football, it's all over but the bowl season and what a woeful list of losers that will bring and I can't wait to list them all for you. Thank you all for the wonderful emails I've received over the years. None means more than this one…
Dear Larry,
I'm not an Alabama or that matter even an SEC fan, but my father was and he read you for years. In his last weeks of life he was bed ridden with cancer. I would go to see him to see what I could do and he'd always ask me for the same thing, to get his laptop for him and read him your articles and especially Larry's Losers.
He would laugh at your puns, tell about how many years you'd been doing that series of articles with your dog and how much he'd want to be a fly on the wall and watch you and your dog discuss the picks for the week. I would show him the funny pictures you came up with and we'd both laugh at those too.
On a crisp fall day, just three hours after loving seeing my father laugh at your article, he quietly slipped away. 
About a year or so later, I was missing my father and talking football with him when just for old times sake I looked you up and read your column for the week. It brought back dear memories of me sharing that with him and the joy it brought him. I suddenly realized that it had also brought me a lot of joy too both in reading it and making my dad so happy.
I don't know if you'll ever see this email or if you even get these emails past your spam filter, but if you do, I wanted you to know that to my dad, then to me, you brought joy to a bitterly terrible time in both in our lives and I want to thank you for that. I still read Larry's loser every week and when I do, it brings joy to me as I read it out loud to my dad. I'm sure he's still listening. His name was John XXXXXXXXX and I don't know if he ever wrote you or commented on your articles, but he never missed one. I just though you should know.
Sincerely my deepest thanks,
George XXXXXXXXX
George, thank YOU from the bottom of my heart. My dad always read it every week and then call me for either picking Auburn to lose or making fun of them. He's gone too and I miss talking football with him too. Letters like that mean more than all the money, all the recognition or anything else to an old guy like me.
And thank you good folks too for finding us, supporting me and this wonderful Touchdown Alabama family and just good fun times for so many years.
*Get the BEST Alabama football insider information, message board access, and recruiting coverage today! SIGN UP HERE to unlock our subscriber only content!*
LARRY HAS BEEN PUBLISHED IN ALMOST EVERY MEDIA OUTLET FOR COLLEGE SPORTS AND NOW PRIMARILY WRITES HERE FOR TOUCHDOWN ALABAMA. HE WRITES IN A COLLOQUIAL AND IRREVERENT STYLE FOR THIS SERIES OF ARTICLES. LARRY'S VIEWS AND SENSE OF HUMOR MAY OFFEND, BUT HE AIMS TO OFFEND EVERYONE EQUALLY. IF HE HASN'T INSULTED YOUR FAVORITE TEAM WITH LARRY'S LOSERS, JUST WAIT. FOLLOW LARRY ON TWITTER FOR INSIDE THOUGHTS AND GAME TIME COMMENTS AT HTTPS://TWITTER.COM/LBSPORTSWRITER
DON'T FORGET TO SHARE THE ADDRESS OF THIS STORY ON YOUR FACEBOOK, TWITTER AND SNAPCHAT PAGES SO YOUR FRIENDS WILL KNOW YOU'RE COOL!