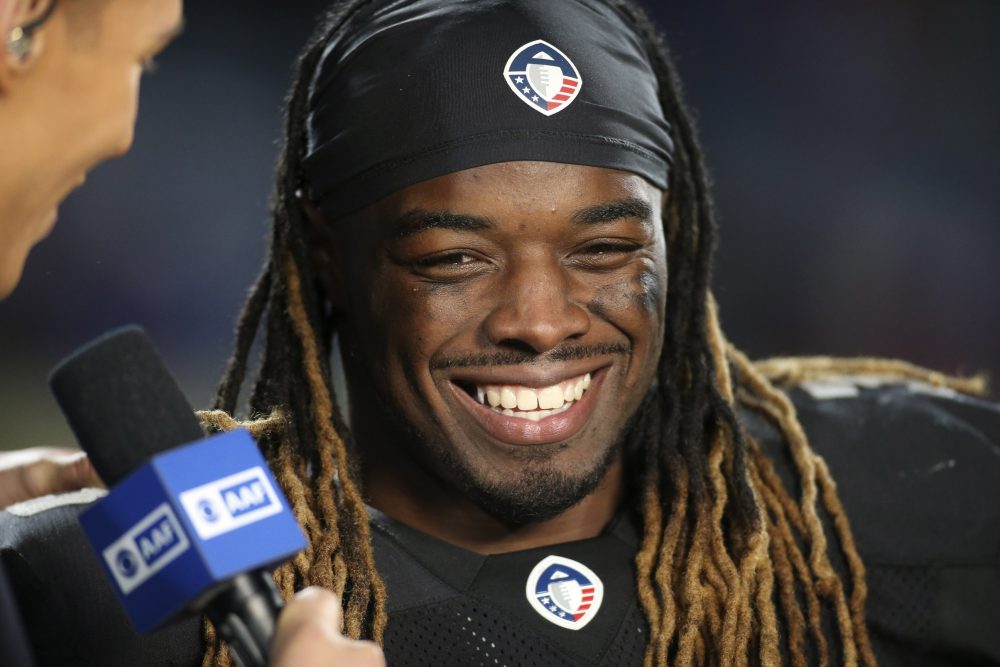 The newly formed American Alliance Football league saw yet another undefeated team be taken down in Week 4. After the Birmingham Iron (3-1) suffered an unfortunate 12-11 loss against the San Antonio Commanders, the Orlando Apollos (4-0) were able to take the top ranking away as the only undefeated team left.
That development doesn't mean that Birmingham won't get its shot to even things back up, however.
In fact, if Birmingham beats the Apollos on Saturday, it'll put the Iron in the driver's seat due to the the head-to-head victory. With that said, getting those records back to even will be much easier said than done for the Iron.
The Steve Spurrier-led Apollos have consistently been the new league's most impressive team, after all.
Kickoff: Saturday, Mar. 9 at 1:00 p.m. CT
Location: Legion Field, Birmingham (Ala.)
TV: TNT
Spread: Apollos -4.5
Over/Under: 39.5
Injury Report (Birmingham): DB Trovon Reed (ankle – DNP); WR Amba Etta-Tawo (knee  -DNP); OL J.C. Hassenauer (knee – DNP); OL Brandon Greene (knee – DNP); WR L'Damian Washington (groin – limited); TE Wes Saxton Jr. (ankle – limited); WR Quinton Patton (ankle – limited); OL Korren Kirven (knee – limited)
Injury Report (Orlando): ILB Terence Garvin (knee – limited); DB Deji Olatoye (knee – limited); TE Matt Weiser (knee – limited); DT Jerel Worthy (pectoral – limited); DS Jerome Couplin III (ribs – limited); DS Will Hill III (head – limited); ILB Reggie Northup II (ribs/thumb – limited); RB Akeem Hunt (foot – limited)
3 Players to Watch for the Iron:
1) Trent Richardson, Running Back
Analysis: Trent Richardson's attempt at a career resurgence is well underway. So far this season, the former Alabama star has been the Iron's workhorse running back, averaging 16.8 carries over the first four games. Granted, those carries haven't yielded a lot of yardage (160 yards). But on the goal line, the 5-foot-10, 229-pound ball of muscle has been extremely effective.
As it sits, Richardson leads the AAF in rushing touchdowns with seven. The most impressive part of his play has been his physicality, but he's also showing some improved vision compared to his time in the NFL.
3 touchdowns today for Trent Richardson. 3!! pic.twitter.com/q58B2YXHsi

— 12up (@12upSport) February 24, 2019
While he's been an effective player in goal line situations and as a receiver out of the backfield (his 15 receptions leads the team), Richardson hasn't been able to find much success between the 20s. That's especially alarming when his running mate, Brandon Ross, has. Ross finished last week's game against the Commanders with 64 yards on nine carries (a 7.1-yard average) while Richardson has only gained 2.4 yards per carry so far this season.
Ross does bring a different running style, which may actually be more effective for the Iron's offense. Before last week, Richardson was being given 19.7 carries per game, but we saw a shift as he finished second behind Ross with eight. That development is something that needs to be monitored this weekend.
2) Luis Perez, Quarterback
Analysis: It's surprising that we're four games into the season and Luis Perez still doesn't have a touchdown pass. That's despite him having 141 attempts through four games, which leads the league.
The number of interceptions isn't lacking, however, as Perez has thrown three through the team's first four games. In addition, he's also completing only 56-percent of his passes (79 of those 141 attempts).
Don't think that Perez has been terrible, though. Yes, he has struggled without a consistent run game, but he's also shown glimpses of how good he can be in this league. His best performance actually came back in Week 1 against the Memphis Express, which you can check out his highlights from below:
Remember the name: Luis Perez.

You'll be hearing it a lot this season‼️#WeAreBirmingham #ForgeOn⚒️🔥@PerezLuisQB pic.twitter.com/S26da7YGoZ

— Birmingham Iron (@aafiron) February 12, 2019
With Orlando coming into town this weekend, the Iron needs Perez to start throwing touchdowns. As it sits, Apollos quarterback Garrett Gilbert leads the AAF in passing yards (1,071) and completion percentage (61.9 percent) among quarterbacks with at least 80 attempts. He's also second in touchdown passes (6) behind Arizona Hotshots' quarterback John Wolford (8).
That could be why the Apollos are scoring 8.5 points per game more than the second leading scorer in the AAF.
3) J.C. Hassenauer, Center
Analysis: At this point, we aren't even sure if  J.C. Hassenauer is going to suit up for Saturday's matchup. The former Alabama offensive lineman missed the Week 4 game against the Commanders due to a left knee injury, and he still hasn't been cleared to practice this week.
The Iron offense could really use his help, though.
According to Pro Football Focus, Hassenauer has graded out as Birmingham's best offensive lineman with an overall grade of 77.0. Missing his 83.7 pass block grade in the lineup could be a major reason why Perez was under so much pressure last Sunday, which resulted in two fumbles and a sack.
Either way, be sure to check back in regarding Hassenauer's health as Saturday approaches. Getting the 6-3, 305-pound center back into his starting role would be a major boost against a formidable Apollos pass rush.
Scouting Report on the Apollos:
We've already touched on Apollos' quarterback Garrett Gilbert, but there is a piece of information that may have escaped Alabama fans. Gilbert is actually the same quarterback who took over for Texas in the 2009 National Championship Game after starter Colt McCoy was forced to leave due to injury.
Needless to say, the 6-4, 229-pound gun-slinger — who ended up transferring to SMU — has come a long way since that rough outing against the Tide.
Gilbert was originally drafted by the St. Louis Rams (now in Los Angeles) in the sixth round of the 2014 NFL Draft. In addition to his time in St. Louis, Gilbert also had stints with the New England Patriots, Detroit Lions, Oakland Raiders and most recently, the Carolina Panthers in 2018.
Obviously, teaming up Gilbert with Spurrier was a fantastic idea. He's a perfect fit for the Ol' Ball Coach's offense, which is a big reason why the Apollos have outscored every other team in the AAF by a wide margin.
But it hasn't just been Gilbert.
Another former Carolina Panther, wide receiver Charles Johnson, leads the league in receptions (23) and receiving yards (410). At 6-2, 216 pounds, the Grand Valley State product brings size and physicality to the position. The team also has a complementary deep threat in former Ohio State receiver Jalin Marshall, who is second in the AAF in touchdown receptions (2).
Unlike the Iron, the Apollos have been able to find some success on the ground to complement their high-powered passing game. D'Ernest Johnson currently has 202 yards and one touchdown on only 34 carries (a 5.9-yard average). It's been a committee approach with guys like De'Veon Smith (29 carries, 120 yards, two touchdowns) and Akeem Hunt (22 carries, 113 yards, one touchdown) also contributing in the backfield.
Defensively, Orlando has two players who are tied for second in the AAF in sacks. Edge rusher Andrew Ankrah (6-4, 254) and defensive end Earl Okine (6-7, 264) have both registered three sacks apiece, but they aren't even the biggest names on that side of the football.
That label belonged to former NFL defensive end Ryan Davis Sr. before he suffered a spinal injury and had to be carted off the field during a Week 2 matchup against the Commanders. With his health in question, other major defensive players for Orlando includes cornerback Keith Reaser (former fifth-round pick by the San Francisco 49ers), linebacker Terence Garvin out of Florida State and safety Will Hill II out of Florida.
Orlando hasn't fielded the same caliber of defense as the Iron, but they've done enough (allowing 15.6 points per game) to help the team earn a perfect record thus far.
Clint Lamb is a college football analyst for Touchdown Alabama Magazine. You can "follow" him  on Twitter @ClintRLamb.