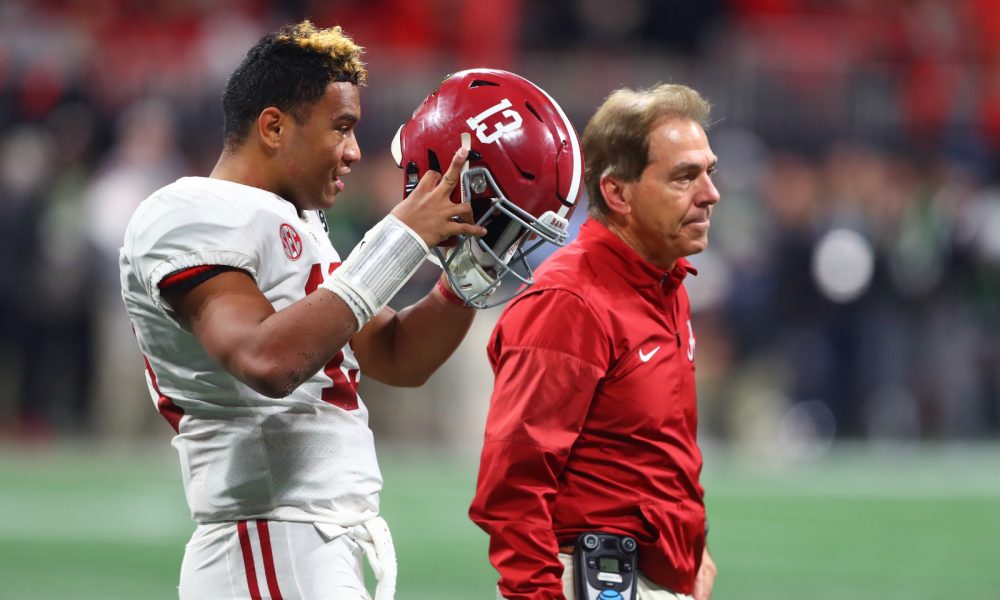 On the surface a ukalee playing surfer and a coal region kid won't seem to have much in common, but read this and see if agree they have many similarities.
Tuanigamanuolepola Tagovailoa and Nicholas Lou Saban Jr. Have More in Common Than Most Think
By: Larry Burton
In some ways, these two men seem very different, but if you know both men well, there are striking similarities that show both men have far more in common than most people might know. The story of both these men are fascinating and show why they understand one another and why the relationship works so well. Here's that story and the next time you look at the two of them together, you'll see the facts of this story in a way you never have before in watching them interact with one another.
By now, most know the story of Nick Saban. A regular boy from a not too prosperous family where hard work, religion, education and personal character was not only part of his life, but was rigorously beat into him by a father he loved, respected and idolized. Nick was a full of energy kid that some folks today might categorize as hyperactive. He was always busy from waking time to bedtime with something.
His father was not only his role model, but his coach in sports as well as how to become a man that others would look favorably upon. He watched his father work hard long hours, yet still have time for helping others. So working hard at schoolwork, sports, chores around the house and helping at the family businesses just came natural to him. It also made him become a natural leader that other youth gravitated to and came to respect him. Nick was raised Christian and still today attends mass regularly and can still recite the Bible at will. Those kids who spent time around Nick had some of those religious beliefs rub off on them. He was a good influence on those around him.
Nick Sr. implored his son to do his best, to seek perfection in all that he did and wasn't shy about dishing out punishment when he saw his son slacking off, showing disrespect to an adult or clearly not doing his best.
This resulted in Nick growing into a young man that was used to working long hours, demanding the same work ethic from everyone associated with him and taking charge of his players the way he saw his father take charge of his. His father wanted to not just make the boys he was in charge of better athletes and champions, but better men, better students and men that sought perfection even though it was usually impossible.
There were times when an outsider looking in might have thought that Nick Sr. was too hard on the young Nick, too tough, too physically demanding. But it was different times then and in Appalachia Country, the coddling of young men was not the norm and the rod was not sparred.
Now on to Tuanigamanuelepola, or Tua as we all know him. Tua's grandfather came to Hawaii to give his children a chance for a better life and better prospects. As immigrants they didn't have a lot financial backing. Tua was born into a less than privileged lifestyle like Saban's. His grandmother has described Tua as a very hyper type kid, much like others have said about Saban. His grandmother said he was always the first one out of bed and the last one into it, always throwing a ball in the house despite instructions not to and inevitably damaging things as you would imagine would happen. For such misdeeds, he was dealt with accordingly harsh as is the custom of the Polynesian people of the generation that Tua's dad Galu game from.
Also like Saban, Tua was raised in a Christian home, in Tua's case, his uncle was also his minister and the Tagovailoa family raised all their children like Saban, to respect adults and everyone else. In the case of respecting adults, Tua's grandfather was a huge mental influence over him and just like Nick regrets his father didn't live long enough to see his success, Tua feels that same way about his grandfather. Also like Nick, Tua wants very badly to live up to his father's image of what a truly great man should be, not just in sports, but in school and life.
Like Nick, Tua grew up playing all kinds of sports, but like young Saban, football was primary. Young Tua always had a football with him and his grandmother says he even slept with one. They both gravitated to quarterback, both because they were like little miniature coaches themselves. They could see what others couldn't and make decisions in an instant. Their minds were made for the job, but Tua had a natural talent that young Nick didn't possess. Saban did it mostly with just his sharp eye, great instincts and mind.
There are just so many similarities as to how they were raised, how they succeeded early on in football and how they both wanted to please their fathers and so very much more. But there are differences.
Nick takes everything so seriously, Tua rolls with the flow and has faith it will all work out.
When Tua came in and relieved Jalen Hurts in his first championship game and made a terrible mistake with a pick off, Saban was fuming. Usually he'll get in the face of the person making a mistake and give them a stern "coaching lesson" on what they did wrong and how they could have done something different. Players try and avoid Saban when that happens, usually to little avail.
But Tua trotted to the sideline and before Saban could go off, Tua just hugged him and said, "Don't worry, it's going to be OK." And Saban is red faced, fuming, as Tua left him muttering something to the effect of "In my 40 years of coaching…."
They do have a unique bond. Years ago I interviewed AJ McCarron who gave me insight as to his and Saban's relationship. To hear the love and respect AJ had for him and all the personal time they spent together that no other player every got before, you could almost see a father / son relationship between them. Not long after that, AJ threw a dumb pick and there's a famous moment recorded on tape of Saban rushing out on the field to "spank" AJ on the rump with a clip board as he was walking off the field. That was a true father / son moment to be sure.
At first when Tua came to Tuscaloosa, Saban didn't know quite what to think about him. He had such uncanny ability and a coaches mind, but Saban thought he lacked something he just couldn't put his finger on, intensity, seriousness, whatever. But now Saban has come to learn that Tua maybe lives closer to what Saban wants all his players to do, understand their mistakes, but don't dwell on them. Do better the next play, and the play after that and the one after that.
That's why Tua could come to the sideline, hug his coach and instead of apologizing, just tell him it will be OK. He won't dwell on it as he knows Saban will and just win the next play. When Saban played football, his eyes were always on the field, always learning with an intensity that may have been unmatched for anyone else on the field.
When Tua's on the sideline and the Bama defense is out there, he may be praying alone or with anyone on the team, (he'll do that dozens of times each game), motivating others, singing hymns, or coaching. What's happening on the field isn't as important as when he's on it or when his offense has the ball. It's different from Nick's playing days, but both are sure their's is best and what makes them the best player, so stubbornness is also a defining similarity.
Next year is sure to be Tua's last, the NFL won't wait to make him a sure first round pick and this will be the last season to watch what I've often referred to as "The Odd Couple" together. I want to see how close they continue to grow.
In many ways Nick Saban is like a father to the players on this team. it's sad to see some go, but Saban doesn't mind losing them if they've learned something from him in and beyond football and they leave better men than when they arrived. Saban has affected many men, but in his later years, after retirement, looking back, I think Saban will come to realize that Tua may have affected him just as much as he has affected certain players. They may go their different ways, but the bond will remain and so will all the similarities.
*Get the BEST Alabama football insider information, message board access, and recruiting coverage today! SIGN UP HERE to unlock our subscriber only content!*
Larry has been published in almost every media outlet for college sports and now primarily writes here for Touchdown Alabama. Follow Larry on Twitter for inside thoughts and game time comments at https://twitter.com/LBSportswriter
THANKS FOR SHARING THE LINK TO THIS STORY ON YOUR FACEBOOK, TWITTER, SNAPCHAT, INSTAGRAM OR OTHER PAGES OR A FACEBOOK GROUP YOU BELONG TO. PLEASE SHARE!