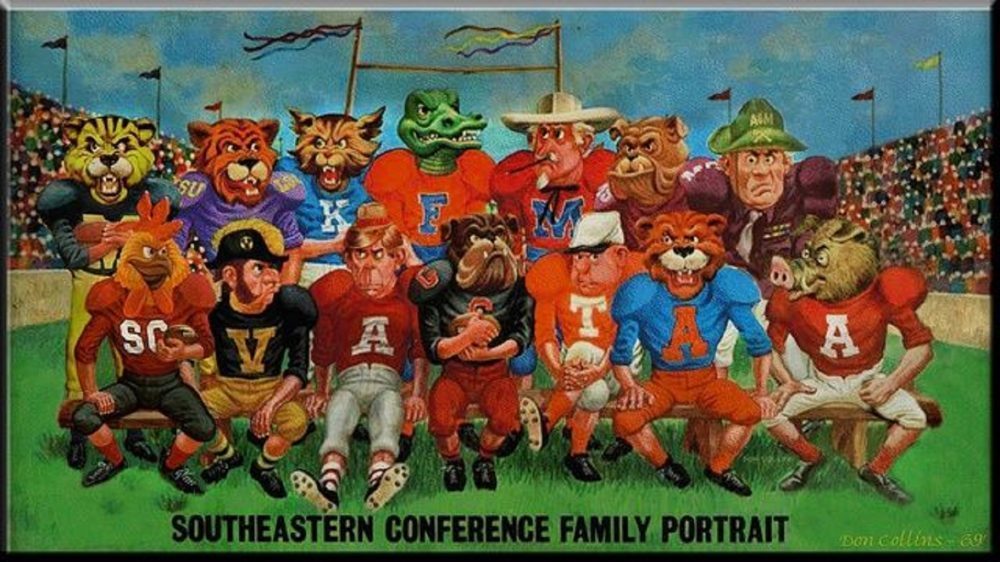 Tennessee played like Turdessee again last week and cost a perfect plate of picks. So we're still hoping for perfection in 2019 and this might be the week.
Dang you Tennessee… You have me in VolunTEARS crying my eyes out. I had a perfect week going with one minute to go in your lousy game and you blow the lead and my perfect prognostication process.
That means I went 12-1 last week and while getting 92 of the games right, it's of little compensation when you get so close to perfection.
Well this week we still have a lot of cupcake contests and only a couple of watchable warfares to see, so if you have to go visit the inlaws, get caught up on your yard work or go on vacation, this is the week to do it.
These should be easy pickings, but when you have teams that stink up the SEC like Turdessee, you just can't be too sure of anything anymore, now can you.
So let's get started and see what cupcakes are on the baker's shelves for this weekend.
Arkansas State at Georgia – Boy, that didn't take long to get to a blowout ballgame did it? The Red Wolves sound like they could be vicious, but these mangy cousins to the Bulldogs are just here for the big check.
Kirby's Canines haven't failed to live up to the preseason projections and plan on pounding these puppies into pancakes so pollsters won't ponder if they're getting soft after so many cupcakes.
How this made ESPN 2's broadcast schedule is beyond me. Larry's loser – Do I have to say it? Arkansas State
After last week, Kirby Smart broke down into his best Jan Brady impression….
Kansas State at Mississippi State – After two cupcake clashes, these two finally play a decent team. Now these Kansas Kitties aren't the same cat show quality as previous pussycats have been from that school, but they could just surprise these Mississippi Mutts if they ain't playing their A game.
Now Moorehead's Mongrels are supposed to win this, but I'm really scared that if they don't put 'em away early, this could be the place where the upset bug bites me in the butt.
This is gonna be the ESPN noontime game of the day and I think it'll be the one to watch in that timeframe. In a close one – Larry's loser – Kansas State
Chattanooga at Tennessee – Now these Indian Shoes sashay over to Tennessee's crying ground and were only supposed to come by for a butt whipping and a check, but since they're losing to everyone else, these Mocs now figure they may have a chance too!
And if that happens, look for Jeremy Pruitt to be gone quickly and Phillip Fulmer shuffling around the sidelines pretty darn quick.
I'm going to go with my head and not my heart in this one and if they let me down again, I'm going to take my dog and let him squat in Pruitt's office on Monday. Larry's loser – Chattanooga
Jeremy Pruitt's tried everything else, now he's turning to God.
Alabama at South Carolina – The last time the Tide went traipsing into the Carolina Coop, they got their trucks stepped on and the Packyderms were shown who had the big peckers.
But this time Nick ain't planning to leave all pecked up and pitiful and he plans on some payback that the Pullets won't soon forget.
Forget the friendship between Saban and the head Rooster in this barnyard, Bama's going to pour it on in this one on CBS. Larry's loser – South Carolina
Southeast Louisiana at Ole Miss – These loser Lions from a directional school in Louisiana lollygag over to Oxford in yet another cupcake for cash contest.
Now given that Tennessee can lose a cupcake clash, I guess anything's possible, but last week these  Rebels got a taste of winning and they like what they found.
So this week they'll find out if Lions taste like chicken when they roast up these fur ball footballers and add a little Mississippi hot sauce. Larry's loser – Southeast Louisiana
Colorado State at Arkansas – The Bighorn Sheep boys from Colorado country come a calling at the big Hog pen in Arkansas and they're hoping to keep the pain pumping in the Piggies and keep them out of the win column for one more week.
Now I've said for two weeks that I can see these little Piggies finally getting to yell Wee Wee Wee! all the home and this might just be the week that this finally happens.
Now the Rams may try to knock down the house of the Hogs, but this ain't the big bad wolf and they don't huff and puff enough to break the walls of this Piggy palace. Larry's loser – Colorado State
Kent State at Auburn – When Kent State carries the crew down to Auburn, it'll be a bird fight when the Golden Flashes and War Eagles start the football feather fight in the Wiregrass war ground.
But when the plucking commences, there won't be a lot of Eagle feathers and the ones being flushed won't flash either and the Flashes won't be able to fly home afterward.
So good news for Gus as yet another trip to Waffle Shop and those scattered, smothered and covered hash browns seem to be in his future after he makes Larry's loser – Kent State
Florida at Kentucky – Now folks, this was supposed to be the year that Florida took the next step forward and Kentucky takes the next step down, but somebody forgot to tell these Tabbies from up Kentucky Derby way.
So when the Gators gather in the Wildcat's part of the jungle, this one could be a real contest and might not be settled until late in the game. Yes the Gators looked great beating Miami, until everybody else beat them too, so….
Now I don't mind telling you that this one makes me mucho nervous, but I think despite what the Vegas boys say, I see the upset bug biting big time in this ball game and the home team pulls off the big one and Mark Stoops looks like the coach of the year. I want to pick the Kentucky Kitties so bad it's killing me, but I just can't pull the trigger after re-writing this games pick three times now. Looks like I'm going with Larry's loser to be Kentucky.
Are we right to be nervous and the Upset Bug bite the Gator's gang? Wait and see. And yes we know Kentucky's playing a backup quarterback.
Lamar at Texas A&M – The Cardinals are hoping the Aggies are still in a funk over the football flop last week when they had their butts buried by the Bengals from Clemson.
But Jimbo's boys from down the dusty trail didn't need to see a shrink to get the stink out of their minds and they plan on showing the world that they've rebounded and put that game in the past.
So this won't be an entertaining watch as the Aggies plant these Red Birds back in the South 40 in this contest pretty quickly. Larry's loser – Lamar
Northwestern State at LSU – When a directional school of Blue balling Devils take on the hottest team coming off last week's contests, the results have to be known in advance and this week it surely is.
Now Coach O has his bouncing Bayou Bengals jumping through hoops and he's not going to let these directional Devils divert his post season plans, so the Bengals exorcise these Devils but not in the same way a priest would do it.
So once again, this won't be one worth watching with better football on and of course Larry's loser will be – Northwestern State
Southeast Missouri State at Missouri – The little brother Beaked Ones bus on down to the ballpark in Columbia to take on their cross state big brother ballers from the real deal university and they're hoping for a little love from their fellow Missourians when they come to get that big SEC size check in the last of the days cupcake clashes.
But after dropping one game already to a less than deserving foe, Barry Odum isn't about to let another wanna be like these Redhawks wreck his plans for putting these pussycats back on the path to perfection.
So find another game to gander if you want to see some serious football because in a very big way, Larry's loser is Southeat Missouri
Maybe Missouri isn't a very nice big brother…
So that's it for this week folks. But don't fret, soon the cupcakes clashes will be over and we'll all be fantasizing over fantastic football once again. So see you back next week when we list the losers. And oh yes folks, people ask me where I get these pictures and I get a lot of them from you! So if you see something amusing, send it to me at [email protected] and you may just see it here.
And oh yes folks, Sir Rumsley, new new pigskin pickin' pooch is really into football now watching every game with me soaking up the stats, so maybe when he's left his puppy years he'll be of a little more help to me. He did tell me last week that Texas just didn't pass the sniff test against LSU when I was wondering who to go with, so maybe his instincts are already kicking in.
*Get the BEST Alabama football insider information, message board access, and recruiting coverage today! SIGN UP HERE to unlock our subscriber only content!*
LARRY BURTON HAS BEEN PUBLISHED IN ALMOST EVERY MEDIA OUTLET FOR COLLEGE SPORTS AND NOW PRIMARILY WRITES HERE FOR TOUCHDOWN ALABAMA. HE WRITES IN A COLLOQUIAL AND IRREVERENT STYLE FOR THIS SERIES OF ARTICLES. LARRY'S VIEWS AND SENSE OF HUMOR MAY OFFEND, BUT HE AIMS TO OFFEND EVERYONE EQUALLY. IF HE HASN'T INSULTED YOUR FAVORITE TEAM WITH LARRY'S LOSERS, JUST WAIT. FOLLOW LARRY ON TWITTER FOR INSIDE THOUGHTS AND GAME TIME COMMENTS AT HTTPS://TWITTER.COM/LBSPORTSWRITER