Headline
2019 Alabama football by the numbers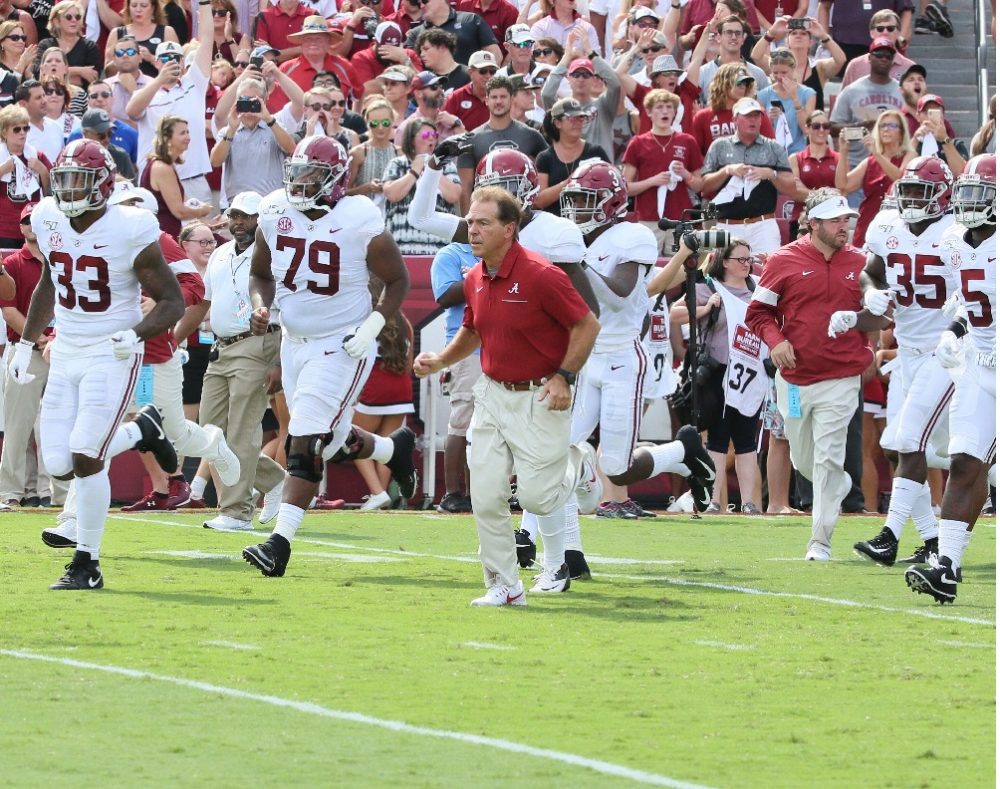 With three games into the season, you can extrapolate some stats to compare your team to others. I guarantee you some of numbers will shock you. See for yourself.
With three games in the books and 25% of the regular season gone, it's time to look at Alabama by the numbers. The Crimson Tide has had its share of good and not so good to start the season, but end result does not always tell the complete story. Let's take a look at how the numbers in its totality and what it means for Alabama.
SCORING
50.3 – That's the number of points per game they're scoring per game on average
12- The number of points per game they're allowing
7 – The number of teams who score more points per game. That would be Baylor, Oklahoma, LSU, Maryland, UCF and Notre Dame in that order.
13- The number of teams allowing fewer point per game. That would be Wisconsin, who by the way nobody has scored on yet, Arizona, Georgia, San Diego State, Navy, Utah, TCU, Penn State, Clemson, Ohio State, Iowa, Michigan State, Texas A&M and by the way we are tied with Oregon.
TOTAL OFFENSE
1686 – That's the total number of yards they've accumulated so far in the season. If you're curious, out of 207 offensive plays, that averages a nice 8.14 yards per play and 567 yards per game.
7- The number of teams who have accumulated more yardage per game so far this season. The leaders are Oklahoma, with 2030 total yards, 10.4 yards per play and 676.7 yards per game, Utah State, UCF, Louisiana – Lafayette, Arizona, Washington and Georgia. But most of those teams played the first teams much longer into the games than did Alabama.
TOTAL DEFENSE
308.3 – The number of yards per game they're giving up. 343 – the number of yards rushing given up so far, that's over 114 yards per game. 582 – the number of passing yards given up so far this season, that's 194 yards per game.
38- The number of teams that are ahead of us in total defense. We won't list them all, but even miserable Tennessee is ahead of Alabama in total defense, so if you're wondering how good the Bama defense is overall, the answer in not that good. In fact five SEC teams are ahead of them and Alabama has hardly played a formidable schedule to this point.
3rd DOWN EFFICIENCY
50% – That's how many 3rd downs Bama converts on average. If you've read my articles over the years, you know this is a pet peeve of mine. When it's really high, they win championships, when it's in this range, they don't.
23 – The number of teams that are doing a better job with Wisconsin leading the way with a 65.38% conversion rate. By the way, Texas Tech, Louisiana Lafayette and Kentucky are tied with Alabama.
44 – Alabama's rank in allowing opposing teams to convert their own third downs. They are allowing teams to convert just over 33% of their own third downs. 44 teams are doing a better job getting opposing teams off the field on third down. By contrast, Wisconsin is leading this stat allowing only 14.29% of opposing teams to convert a third down.
SPECIAL TEAMS
93 – That's where Alabama places against the 130 teams division one in placekicking. Here, Alabama just flat out sucks. They're averaging making just 57.1 of their attempts.
125 – That's where Alabama places against the 130 teams in division one football. Just when you thought nothing could be worse than their field goal percentage, their punting says, "Hold my beer and watch this!". That's an average of just 36.57 yards a punt and only five teams in all of division one are worse. To put this in perspective, I used to coach Pee Wee football and our 10 year old punter had about the same average.
Since nobody else on record has said this, here's my now famous quote on special teams. "You can't be a special team without good special team play." With that said, few, very few are worse than Alabama's kicking specialists.
OTHER NUMBERS THAT JUST JUMPED OUT
50 – Alabama's ranking in sacks. With the group they were supposed to field they were supposed to be a leader in this stat, but injuries has them just in the mid pack of all teams.
2 – Alabama's rank in turnover margin. They are tied with Colorado, Washington State and Boston College with a 2.33 turnover margin a game. The leader is Notre Dame with three. This stat makes Nick Saban very happy as he is always harping on protecting the ball.
107 – Where Alabama ranks out the 130 teams in division one in penalties. There are only 23 teams worse than Alabama and this has to drive Nick Saban nuts. His early championship teams led the nation in this stat, now they simply suck. They average almost 72 yards a game in giveaway yardage. Did you realize they had committed so many penalties?
3 – That's the number of sacks allowed by Alabama so far this season. I would have sworn from watching the games that number was higher, but I guess Tua's scrambling away for zero to a yard or two just seemed like a sack in my mind. Only 24 teams have done better.
4- Number of interceptions so far this season. 17 other teams have 4. Only seven teams have more, so the Tide is doing good here.
1- Number of fumbles so far this season. 13 teams have yet to drop the rock this season, so that's going well.
7 – Long successful plays on offense. Yes only six teams did better. They are Oklahoma, Washington State, Louisiana Lafayette, Georgia, UCF and Boise State. Alabama has 60 plays over 10 yards, 23 plays of 20 yards, 10 plays over 30 yards, 5 plays over 40, 3 over 50, 3 over 60, 3 over 70 and 1 over 80. Now that a good explosive offense.
WHAT THESE NUMBERS MEAN
Alabama is not among the first five teams overall in combined averages at this point in the season, but they are a solid team to contend for a playoff spot.
They are in danger of losing a close game to one being one of the worst teams in the entire nation with special team punting and place kicking. They aren't just bad there, they're absolutely embarrassingly awful. They are are in danger of losing a close game by being one of the worst teams in the nation with penalties. Penalties extend drives, extended drives lead to extended points scored. They also need to up their 3rd down efficiency. Championship teams don't have a percentage as low as Alabama's current 50% in this area.
Presumed playoff contenders Georgia and Oklahoma beat out Alabama in most statistics at this point in the season and so do many other teams. Read into that what you will.
*Get the BEST Alabama football insider information, message board access, and recruiting coverage today! SIGN UP HERE to unlock our subscriber only content!*
Larry Burton has been published in almost every media outlet for college sports and now primarily writes here for Touchdown Alabama. Follow Larry on Twitter for inside thoughts and game time comments at https://twitter.com/LBSportswriter