Headline
Do you know the 12 analysts that Alabama has on staff for football?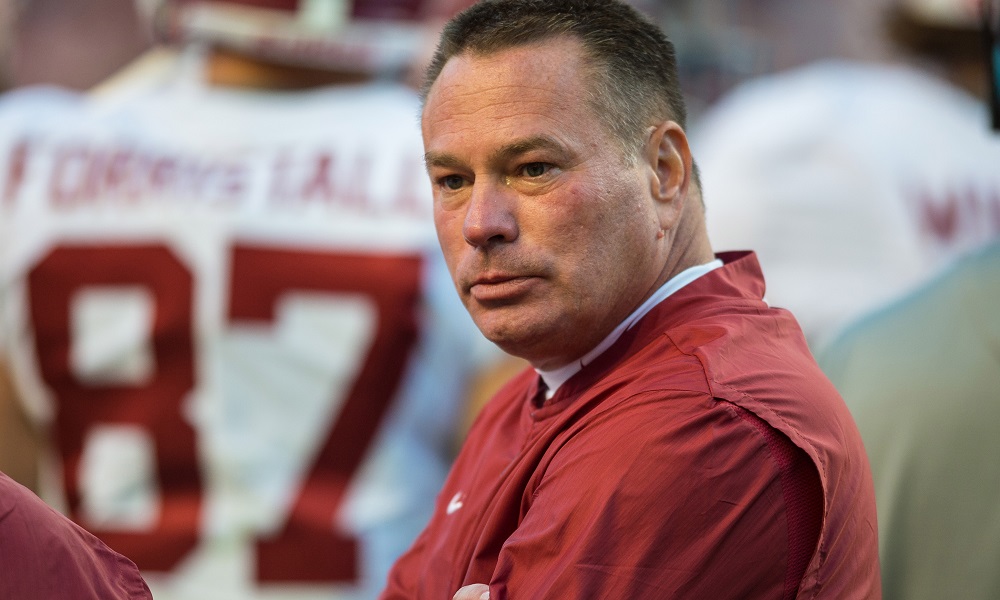 Alabama has some new analysts this year, do you know who they are are what role they are filling? Read this and get up to speed and see why Saban is happy.
They don't make a great deal of pay and most of their work is done in the background. But Nick Saban has said that their work is invaluable in everything from assisting in game planning and advice to the on field coaches. Many of these men consider it a graduate course for themselves in coaching. They learn the Nick Saban system for themselves as they help the Crimson Tide get better each week.
Under NCAA rules, there's much they can't do. The rules say teams can only have 10 "official" football coaches, but then as you can see, a lot if not most of the analysts that have gone through Alabama were coaches, so why don't they count?
Well, the 10 coaches are men who actually have the "coach" title and actively engage with the boys in practice and physically are there to interact with the players on a daily basis and do gametime sideline coaching. Analysts can not coach in practices and games.
So what do they do?
Think of them as assistant to the assistant coaches. There is much drudgery work in being a coach. Watching game film and breaking down opposing team's tendencies and looking for things to exploit. They may even watch practices live and practice film to help a coach find and correct problems for players that he is responsible for just in case he missed it. They can suggest training techniques, both mental and physical and much more.
They usually work the same long hours as the regular coaches even though the pay is not very good. Butch Jones for example came to Alabama and accepted just $35,000 a year for his efforts, but he was also still raking in 8 million dollars from his buyout in Tennessee. Saban knows that Jones can bring much insight to Alabama and other coaches in the Alabama staff were glad to get that insight. Jones was glad to get some knowledge of the Saban system because he knows it will make him a more attractive hire down the road to another team. Clearly, it's a win / win for both.
But not all analysts are former head coaches as you might have heard. Not all are part of the "coaches witness protection program" as has been joked about, coaches who were fired and simply need to reform their reputations after terrible coaching jobs or being fired for more personal than professional reasons. Alabama's own present offensive coordinator, Steve Sarkisian was fired from USC for alcohol related problems and a poor record. He went through Nick Saban's "Rehab" program, left Alabama for a major job in the NFL and then returned to Alabama as offensive coordinator to make 1.55 million a year and become "redeemed".
But that's certainly not the only kind of folks that do this job. Some are just young men with football knowledge from either being football geeks or former players who want to get into coaching. If Saban sees they have something to offer, he'll give them a chance to both learn more, and more importantly, give the team the knowledge and insight that they have. They'll do the "grunt work" kind of stuff that would take a regular position coach away from more positive coaching moments with his players. But the analysts do get to attend practices and see what a position coach does daily, learns what Saban expects from them and gets all kinds of on the job training. Saban likes the mix of seriously experienced and seriously motivated people in this analyst role. Each bring something different to the table.
They are not all "coaches in waiting", at least not in waiting for jobs at Alabama, but many do go on to be picked up by other teams for spots ranging from analysts to actual coaches. William Vlachos was one of those men. When his short time as an NFL player ended, he was an analyst for Saban with a keen eye in spotting tendencies in offensive and defenses line play. Brian Daboll who was Alabama's offensive coordinator was impressed with the knowledge and insight that Vlachos had and what he brought to the table for coaches to use at Alabama. So when Daboll left to go the NFL and Buffalo Bills, he told them he'd also like to add Vlachos to the staff to help shore up his offensive staff and they did. Now with NFL experience under his belt, Vlachos' career in coaching has certainly taken off and with the experience of being both a Saban coached player and Saban assistant, albeit as an analyst and now this NFL experience, Vlachos has nothing but good things to look forward to in the future. He'll end up making more as a coach over a long period of years than he would have made in a short time in NFL.
That's sort of how it's been working at Alabama with the young guys with no real coaching resume. They impress people at Alabama who either tell others about their work, or they are hired by people who have moved on to other jobs.
Another former Alabama player is also hoping to follow that example and move up into coaching is Javier Arenas, a name from another championship team at Alabama, and he has garnered much praise for helping the Tide's defensive backs and punt returners. He is surely going to land his first real coaching position from this in the not too distant future.
To better acquaint you with the analysts on staff at Alabama, here is a short bio of the men currently listed on the team's official web site in that position.
Dean Altobelli – He is perhaps one of the more interesting ones in this group. He started out at Michigan State playing running back in his freshman season before becoming a little used defensive back for the rest of playing career. Yes, he was a player for Saban while Saban was coaching there, so there's that tie.
But Altobelli went from player to lawyer in one of Michigan's oldest and most prestigious law firms, even owning a piece of it before dabbling in politics and then asking his firm for leave to pursue his coaching dreams. That has been an ugly legal battle ever since over his partnership, but that's another story. He left a great six figure job for 45 thousand a year to pursue his dream. He's also one of the longer serving analysts.
Gordon Steele – Is another interesting story. He is the son of Auburn's defensive coordinator, Kevin Steele. You may also remember Steele from his time as defensive coordinator at Alabama. Gordon, his son joined the Bama staff last year after working for a year as a graduate assistant at South Alabama and prior to that he was an offensive line coach and run game coordinator at Murray State. He was also at LSU for three seasons as a defensive graduate assistant.
His college playing days were at Valdosta State as an offensive lineman and a member of their 2007 championship team. Steele is hoping to follow in his father's footsteps and become a valued coach in the future.
Butch Jones – Everyone already knows Butch and his story and Jones is certainly one of the men on the analyst staff who could step into an active coaching role at Alabama or elsewhere in the near future.
Nick Perry – The former Alabama safety who had a few years in the NFL as an undrafted player returned to the Tide in 2017 to become an analyst. He is hoping to use this position as a jump start for his coaching career. He of course is working with the defense.
Javier Arenas – As previously written, former defensive back and special teams returner, Arenas comes to the Tide after five years in the NFL. His work has been recognized as very good and he is sure to be snapped up before much longer. He might even be good enough to be snapped up as a special team coach fairly quickly.
Michael Stoops – Michael has a famous brother, Bob, who won a national championship at Oklahoma. Michael was his brother's defensive coordinator from 1999 to 2003 and during that championship run. He left afterward and went to Arizona to become head coach from 2004 to 2011. He returned to Oklahoma in 2012. He was fired in Oct. of 2018 by new coach Mike Riley after a dismal defeat to Texas and poor defensive performance. He joined Alabama in 2019.
Major Applewhite – Is back for his second tour of duty at Alabama where he was for one season, offensive coordinator, but this time as an analyst. He was a former Texas quarterback, He started his coaching career as a quarterback coach at Syracuse in 2005 before moving to Rice University as offensive coordinator and then to Alabama in 2007 in the same job.
In 2008 he moved back to Texas to rejoin his former coach, Mack Brown and moved up the ranks from running backs coach to quarterback coach and co-offensive coordinator until the end of 2013 when new coach Charley Strong put in his own staff and Applewhite took the 2014 off with a nice severance package. In 2014 he was named the Houston quarterback coach and offensive coordinator and head coach the following year. He was fired in 2018 and returned to Alabama to an analyst job. Applewhite brings a lot of experience and knowledge to the table and could be considered a coach in waiting that Saban could plug in if someone was hired away from him.
Joe Houston – When Alabama lost two special team analysts last season, Saban wasted no time replacing both. Houston is a former USC kicker who then started his coaching career at El Camino Community College where he worked with special teams from 2012-14. He then started being an analyst in quality control for Toledo before moving to Iowa State in the same job for two years.
Saban was excited to get Houston, who has a reputation of being a "Kicker Whisperer", or someone who really turns around a kicker. With a new kicker coming onto the Tide's team this season, that was a real plus.
Johnathan Galante – Like Houston, Galante comes in to help with special teams. He comes with a little less experience. He played linebacker and special teams on a unit known for excellent special team play, Frank Beamer's Virginia Tech team and became a graduate assistant working with special teams following his playing time for two years until being tapped by Saban for this analyst job.
AJ Milwee – A former quarterback from North Alabama who shattered records there, stayed on after graduation to start his coaching career as a graduate assistant for two years. He then left to become the quarterbacks coach at East Mississippi Community College before joining Terry Bowden's Akron staff as quarterbacks coach in 2012 and went up through the ranks to become the offensive coordinator. He did some impressive coaching at Akron, helping to get the team to only their second and third and bowl game appearances.
In 2016, Milwee was honored as a member of the American Football Coach's Association (AFCA) 30 Under 30 Coaches' Leadership Institute. He is considered a hot young prospect and could actually be a coach in waiting at Alabama if he isn't snapped up before that.
Alex Mortensen – A former quarterback at Arkansas and Samford, Mortensen got a quick look by the NFL, but was cut. He got into coaching in 2012 with New Mexico Highlands as a quarterback and passing game coach, followed by a quick year with the St. Louis Rams of the NFL. He came to Alabama in 2014 and stayed for four years as a graduate assistant really learning the ropes and last year coached the Birmingham Iron's wide receivers. Now he is back at Tuscaloosa in an analyst role. His title is offensive analyst. As an interesting side note, he is the son of ESPN personality Chris Mortensen.
Isaac Shewmaker – Graduated high school at Lexington Christian High School in Kentucky, playing both baseball and football. Following his college time, he is pursuing his career in coaching. He is one of the football geeks we talked about earlier. He works on the defensive side of the ball. If you think that football geeks can't make it to the big time, look at Butch Jones, who was in the band in high school not a football star, yet he made it to head coach job in the SEC with millions in pay. Shewmaker has the drive and energy to make his own dreams come true.
So now you know the "Men behind the scenes" and see who are in the "Nick Saban Coaching Academy", the "Witness Relocation and Rehabilitation  Center for Disgraced Coaches", "Coaches in Waiting", or whatever category you want to put them in. But you have to admit their certainly a diverse group of individuals that Saban feels can help not only the Tide and himself, but help themselves in return. 
*Get the BEST Alabama football insider information, message board access, and recruiting coverage today! SIGN UP HERE to unlock our subscriber only content!*
Larry Burton has been published in almost every media outlet for college sports and now primarily writes here for Touchdown Alabama. Follow Larry on Twitter for inside thoughts and game time comments at https://twitter.com/LBSportswriter