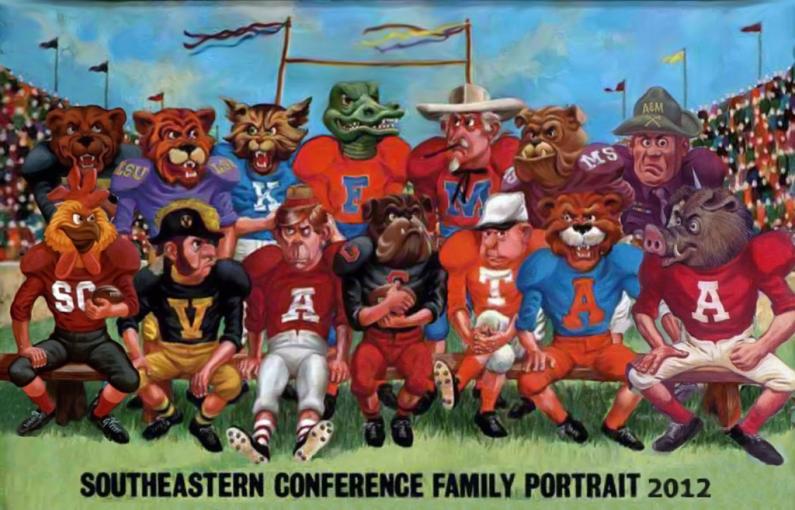 Riding high with last week's perfect pack of picks, we come back to see if we can continue to ride the wave and be perfect once more. See if your picks match.
Well folks, we've flirted with perfection almost every week this season but last week we finally nailed all naysayers and positively predicted all the poor losers precisely. Oh Lord it feels great to be back in the land of perfection! But as nice as it was you can't sit on your laurels long and now we have to try and prove that it wasn't just a mistake and do it all over again.
Now this is the shortest week in the whole SEC schedule with just five games to sweat over. It seems this is the week that most of the programs take off. They call it a bye week but it should really be called a stay week because they don't say bye, they stay at home!
But the heck with semantics, let's just jump into listing the likely losers for this week and let the crying and caterwauling commence….
Utah State at LSU – LSU plays the Aggies every year, but this is the Farm Boys from up Utah way and if they come looking for Southern charm and graciousness, they've come to the wrong part of the South.
Now old coach O is on a mission this year to prove that his pussycats have the preponderance of professionalism to play all the way to championship day and he ain't about to these spud Farmers plow his dreams under just yet, so he's taking no prisoners and letting his Bayou Bengals eat their fill of farmers this weekend.
Now this game could be interesting for a little while and we wonder how much of dent these Aggies can plow out of these pussycats because they aren't that bad a team and this ain't no cupcake contest, but in the end, it could look like one. Larry's loser – Utah State
Auburn at Florida – When Gus drives the bus down to Gainesville this week, he'll be gandering to see just where the Waffle Shops are along the way, because he's planning on parking in one of them after the game as he's hungering for some hash browns and accompaniments.
But Mullen's got his Mud Puppies mad as the mean mouth media ain't giving his men the mojo to mash the men from Auburn and he's hoping to put that chip on their shoulder and have them play their game of the year and topple those Tigers from the tribe of the unbeaten.
Now if Florida plays over their head and Bo Nix plays like he did earlier in the year missing wide open guys like a woodsman hunting duck with a bent rifle, then it could go either way, especially if the Tigers are looking ahead just a little bit. But we think that won't happen and the Tigers remain triumphant making Larry's loser – Florida
History repeats itself in this game….
Troy at Missouri – The Spartans from down Dixie way come a calling to the big Cathouse on the plains to take on the might Meeyowers of Missouri and they hope they have their swords sharp enough to take these Tabbies to task.
But this ain't the same squad of Sparties that used to make the big boys shake with fear, so we don't think that once this contest gets going that there's going to be anything but Trojan's screaming once the scratching begins.
So once these Midwest Meeyowers finish using these boys like a scratching post, you'll see that Larry's loser is Troy.
Georgia at Tennessee – The Red Clay Hounds haul up to the big stadium by the river in Hardknocksville to take on the troubled Tennesseans and vanquish the Vols dreams of making the bowl season and notch themselves another big SEC win.
I'd like for this to be entertaining, but I'm afraid it's going to be duller than bush hog blade that's been cutting fence posts all day, so maybe you can find a game a bit more entertaining.
Now Tennessee has hope that they can pull off this upset now that they've finally discovered where the endzone is, but hope is one thing and reality is another, so let's just go ahead and list Larry's loser as Tennessee
Can you say lowered expectations?
Vanderbilt at Ole Miss – Two troubled programs meet when the boys from Song City meander down to Mississippi to tailgate in the grove and  we'll all watch the Commodores go down in the drink one more time this season.
Now Commodore Mason knows his men are sailing in harm's way, but he's hoping that the least of the East still might can whip the other cellar dweller in the West in SEC Country.
And while Ole Miss really ain't that good, unfortunately for the Swabbies, they're still better than they need to be to sink not only the Commodore's victory hopes, but also drown their bowl dreams too. And with that, you can list Larry's Loser as Vanderbilt
How this game looks to folks outside the SEC…
Well that's it for this week folks. I know there's just one game that matters this week and maybe one more than has an outside shot at being interesting, but trust me folks, better days are coming and they're coming soon.
So keep the faith and keep praying for your favorite team, anything could still happen, well almost anything, well a few things could still happen for teams, well, not all teams, but some teams. Oh heck, OK, some teams just suck the big one, if you like them, you have no hope of happiness this season.
But wait, if your team losing helps make another team's dreams come true and causes that team's fans to celebrate and you can take some joy from knowing your team at least helped another team's fans happy, then there's that.
So dwell on that and we'll see you back here next week for another list of likely losers.
*Get the BEST Alabama football insider information, message board access, and recruiting coverage today! SIGN UP HERE to unlock our subscriber only content!*
LARRY BURTON HAS BEEN PUBLISHED IN ALMOST EVERY MEDIA OUTLET FOR COLLEGE SPORTS AND NOW PRIMARILY WRITES HERE FOR TOUCHDOWN ALABAMA. HE WRITES IN A COLLOQUIAL AND IRREVERENT STYLE FOR THIS SERIES OF ARTICLES. LARRY'S VIEWS AND SENSE OF HUMOR MAY OFFEND, BUT HE AIMS TO OFFEND EVERYONE EQUALLY. IF HE HASN'T INSULTED YOUR FAVORITE TEAM WITH LARRY'S LOSERS, JUST WAIT. FOLLOW LARRY ON TWITTER FOR INSIDE THOUGHTS AND GAME TIME COMMENTS AT HTTPS://TWITTER.COM/LBSPORTSWRITER