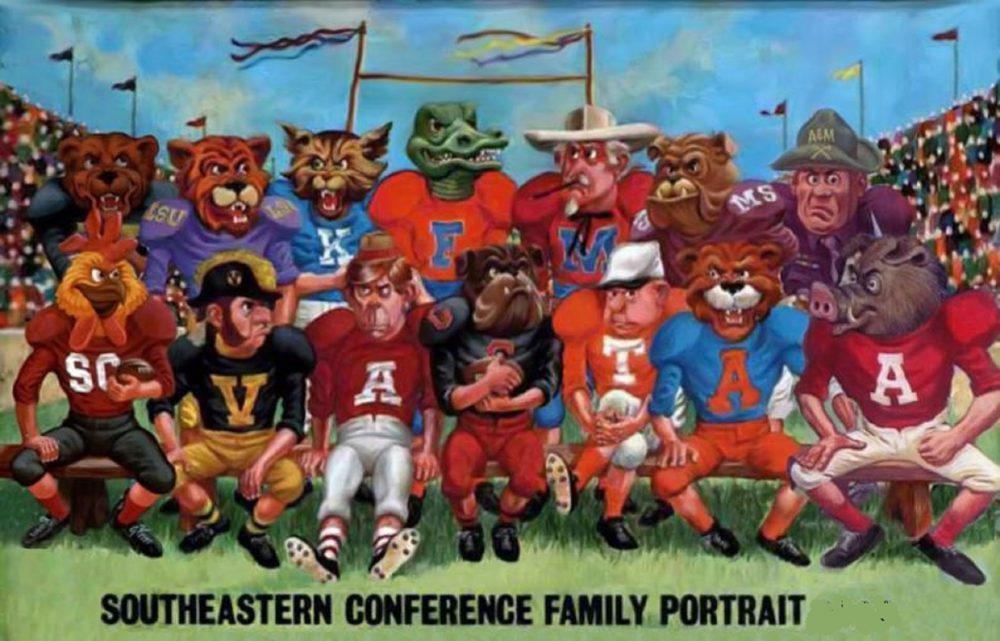 Folks last week there were upsets galore and it was a tough week in the prognostication profession, but we think we've got it all figured out now. See if do!
Boy folks, last week was just a….
There were so many upsets and sad surprises that we had our worst week of the year and tied our all time record for listing likely losers lamely. But hey, let's give credit where credit is due, South Carolina, you played a game I'll always remember. Tennessee, you finally climbed out of the gutter and Vanderbilt, you worthless squad of sailors, you let the SEC down against a one win nobody after being favored big. Well it happens, we'll take our three misses with dignity and vow to do better in the future and let this be our one bugaboo of the season. But on the other side of dignity, if we ever drive through Nashville, I'm walking Rumsley for a bathroom break in Dudley Field for that awful loss last week.
Now, with seven contests again this week, we intend to pick ourselves up, dust ourselves off and participate in the practice of perfectly predicting performances by players in the SEC. Now, with all that said, let's get to picking…
Florida at South Carolina – The gang of Gators gravitate to South Carolina this weekend and hope to get back to the land of the living again after being killed by the Bayou Bengals last weekend. Even though they made a better show of it than many thought, a loss is still a loss in the record books and they know they can't afford another one if they're wanting to play in Atlanta later this year.
Meanwhile, the Carolina Cluckers put a real plucking on the Puppies from red clay country last week, sending them home plucked and pecked and all but gone from any national title hopes and they're hoping that they can play spoiler once again this week. If they do that, they might just have an outside shot at a division title themselves.
But though they did a great job last week, the Dogs did inflict a few serious snaps and bites on some pretty important birds and the feathered footballers won't have the manpower to muscle out a mistake from these mutts this week, so that'll make Larry's loser – South Carolina
Auburn at Arkansas – Malzahn's Meeyowers mosey on up to Arkansas to take on the worst team in the SEC West and fill up the freezer with enough pork to pull them through the winter.
Now these little Piggies haven't been yelling WEE WEE WEE all the home after a lot of games this season, but they have be impressive losers in lots of their losses.
One day these little Piggies are gonna party like pros after a big SEC win, but it ain't gonna be today and you can bet your bottom dollar that in this contest Larry's loser is Arkansas
LSU at Mississippi State – The Bayou Bengals bus it on up to Starkvegas for Bulldog bashing this weekend and they don't intend to let the ASPCA step in and keep them from being cruel to this pack of pooches.
Now there have been times when old Bully could sneak up and surprise these boys from down in Baton Rouge, but we suspect those days are over for a while and that these Tigers will be savoring these Fidos as the new red meat on the menu for a few years to come.
If you're looking for an upset, look elsewhere because these Bulldogs are going to be next on this list and that puts Larry's loser as Mississippi State.
Missouri at Vanderbilt – The mighty men from Missouri meander down to the Country Crooner Capitol to wallop the worthless mess that is Vanderbilt football this season.
Short of a slew of semi automatics, I don't see any way these middling midshipmen can muster enough metal to mess up these Midwest Meeyowers.
The only chance I see for this sick squad of swabbies to secure a win in this one is that the Tiger bus driver gets lost and can't make it to the stadium by kickoff. Aside from a forfeit like that, you can count on Larry's loser being Vanderbilt.
Kentucky at Georgia – Last week Kirby's Canines couldn't catch a break and were beaten by barnyard beaked ones in their own backyard. So this week they bus up to Blue Grass Country, intending on showing everyone that last week was just a misstep and that these Mutts are real maulers like everyone thought they were.
Now if these Kitty Cats from Kentucky were up to full strength, they might have a puncher's prayer, but in the shape they're in right now they just better duck and cover because these Bulldogs are going to bite anything they see.
Knowing they need to make a statement in this one, look for score to be run up as much as possible and that'll make Larry's loser – Kentucky
I don't think he's taking us to the Kitty rescue house….
Texas A&M at Ole Miss – Fisher's Farm Boys fuel up the plane and part the clouds on the way Oxford to wrestle with the Rebels and the men from Mississippi ain't planning no welcome party for these plow hands.
This is a game that the Aggies shouldn't lose, but all my instincts are telling me that if there's an upset out there this weekend, that this could be the one. Ole Miss is losing but even in their losses they're showing they got some firepower, so I wouldn't be surprised if they got hot and the Aggies did not.
But in the end as they say, creme rises to the top and who better than a family of farm hands to churn this creme into butter, so look for Larry's loser to be Ole Miss.
Tennessee at Alabama – Tennessee finally had a taste of a terrific victory this past week and while they would love to extend this streak, this week's playmate is the pack of Pachyderms from Title Town who they haven't beaten since the freshmen were in the first grade.
I'm not going to tell you that this is game is a pointless play date, but they ordered this year's victory cigars after last year's game when they ran up 58 points on these troubled Tennesseans even though the took out Tua not long after halftime.
This might not be an interesting game to watch, but the Tide has been waiting for a chance to show off their new Crimson LED lighting, so that might be worth a look and for tonight's drinking game, take one shot every time they mention Tua and the Heisman race. Larry's loser – Tennessee
If you thought smoking wasn't good you, you should know that playing the Crimson Tide isn't good for you too!
Well that's it for this week folks. Did our picks and prognostications parallel with your own projections? Well we'll know soon enough who's noggin has the knowledge it takes to be #1.
There's really only one game that has us nervous, but as we saw last week, anything is possible in the SEC so I'm spraying on some extra upset bug repellent around the computer screen this week as I post the prognostications and hope that it helps.
See you back next week when my new pup, Sir Rumsely gives me his first insights into listing losers and shows me if he can be the next great pigskin pickin' pug in history. He's been watching games, studying film, scoping the stats and he claims he's ready for week nine, so we'll see. Be sure and be back for that.
Till then, enjoy life, have that extra cheeseburger, take a piece of pie! Somethings gonna kill us all so it might as well be something we enjoy!
*Get the BEST Alabama football insider information, message board access, and recruiting coverage today! SIGN UP HERE to unlock our subscriber only content!*
LARRY BURTON HAS BEEN PUBLISHED IN ALMOST EVERY MEDIA OUTLET FOR COLLEGE SPORTS AND NOW PRIMARILY WRITES HERE FOR TOUCHDOWN ALABAMA. HE WRITES IN A COLLOQUIAL AND IRREVERENT STYLE FOR THIS SERIES OF ARTICLES. LARRY'S VIEWS AND SENSE OF HUMOR MAY OFFEND, BUT HE AIMS TO OFFEND EVERYONE EQUALLY. IF HE HASN'T INSULTED YOUR FAVORITE TEAM WITH LARRY'S LOSERS, JUST WAIT. FOLLOW LARRY ON TWITTER FOR INSIDE THOUGHTS AND FUNNY GAME TIME COMMENTS AT HTTPS://TWITTER.COM/LBSPORTSWRITER