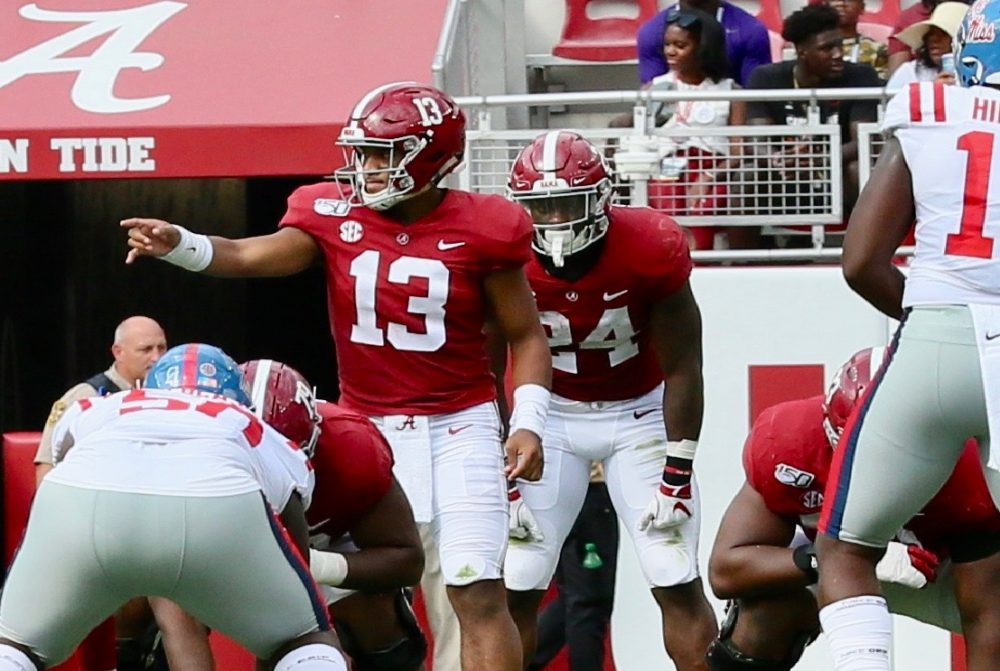 It's another tight year in the Heisman race as three contenders are at the top. Here are the reasons Tua wins or loses this prize this year. See if agree.
Just like last season, the Heisman could go either way, a Tua win or loss. Here we look at the main reasons Tua will either win or lose football's most valuable individual prize. In my humble opinion, it's now down to a three man race, Tua Tagovailoa, Jalen Hurts and Joe Burrows.
Why Tua Wins
Voters recognize that there's a reason he beat out Jalen Hurts for the starting job at Alabama. He's simply a better quarterback.
Voters see that even a second string SEC quarterback can be in contention for the Heisman in the Oklahoma run up the score, play your starters the whole game system against teams in a conference where defense is a joke.
People remember Joe Burrows from last year and the year before. They remember the game he couldn't even manage a drive for a field goal against Alabama and they decide not to give it to a one year wonder.
They see that Oklahoma's system and that terrible defensive conference they come from, produced the last two Heisman winners who have shown they're really not great quarterbacks at all. Kyler Murray is rated the 23rd rated quarterback in the NFL with just 32 teams and the previous winner, Baker Mayfield is rated 33rd. Yes, they look good in a defense lousy conference on a team that runs the scores and stats up, but in real life they're just ho hum quarterbacks on another team with another system.
Burrow can't pull out a win against Alabama later in the year and that sticks in voters minds.
None of the contenders has proven that each year he's played he's been one of the top in the nation. Tua simply has the best career resume as well as this season's best resume.
Tua has less turnovers that the others and a higher touchdown to interception ratio.
But most of all, Tua is simply the best quarterback or the other two.
Why Tua Loses
Jalen Hurts is the "feel good" story of 2019. The guy who did the right thing at Alabama, took his lumps like a man and all that. Plus it's a Hollywood type finish for a season and his career in college.
Voters are stupid. Last year voters talked about Murray's numbers vs Tua's numbers, yet they were too stupid to figure in that Tua played an average of one less quarter a game. By playing time, Tua's numbers killed Murray's, but voters were too stupid to do the math and they could do the same thing this year not taking into account the time Tua sat on the bench while the others ran their stats up against tired defenses. Saban is a coach that won't run it up for running it up's sake.
Voters say, well if Murray won it with these numbers and Mayfield won it with these numbers and Jalen's numbers are that good, then he should win it too. But they don't take into account the conference difference and system difference.
Tua loses the game against Joe Burrow later in the season and Burrow shines.
Tua gets injured again. Last season was all Tua until his injury. Then Murray pulled ahead.
Voters think Tua has an unfair advantage being surrounded by so much talent.
Alabama fatigue/jealousy/resentment… Alabama wins too much of everything, so let this go to someone else.
Are there other reasons for or against? Of course, but these are the main ones as things stand now. Could another contender jump into the top contenders enough win it all? It could happen but it's highly unlikely.
Being in the press and listening to all the buzz of everyone in it, it seems to be a three man race. May the best man win, not the best system, not the best team, not the best numbers, but the best man.
*Get the BEST Alabama football insider information, message board access, and recruiting coverage today! SIGN UP HERE to unlock our subscriber only content!*
Larry Burton has been published in almost every media outlet for college sports and now primarily writes here for Touchdown Alabama. Follow Larry on Twitter for inside thoughts and game time comments at https://twitter.com/LBSportswriter