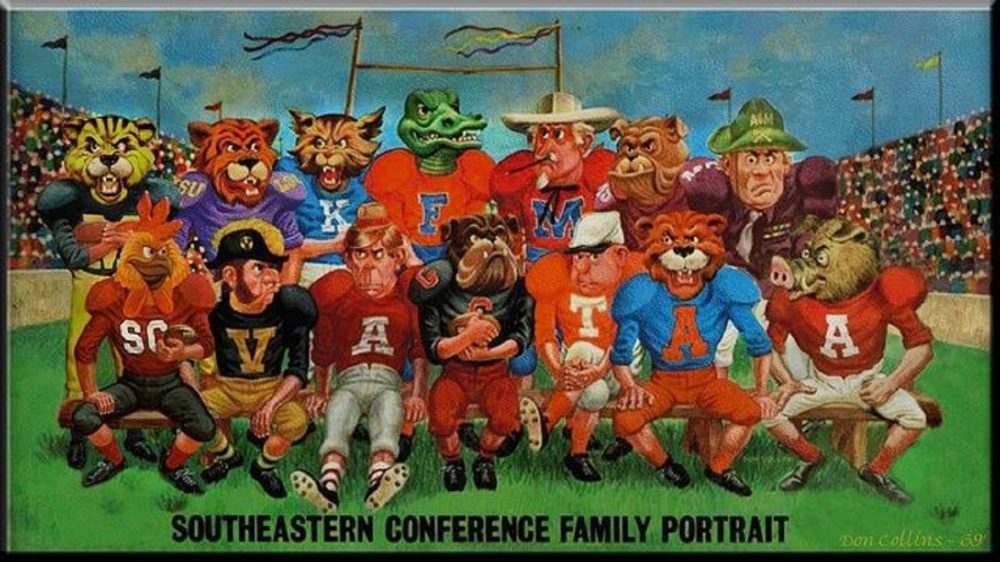 With war between the War Eagles and Red Clay Hounds and more, there's fistfull of football fights to keep you entertained. See who the losers in the SEC are this week.
Well folks, last week in picking losers, we should have put our name on the list. We missed a few as Alabama didn't come through as we were sure they would and Arkansas did so bad that they fired the coach when they lost to team they should have beaten.
But if we can pick a pack of perfect predictions, we can be proud once again for practicing professional picking.
Can you believe that we only have three weeks of regular season squabbles left? My oh my how time does fly. With just three games left, one team is still struggling to make the playoffs, one team looking for a coach and several teams looking for that all important sixth win to make the bowl season.
So let's get to listing those losers and see if we too can end the season with a bang.
Alabama at Mississippi State – The Tusked Ones from Title Town take the bus down to butt head with the Bulldogs down in Starkvegas, and the poor Puppies are hoping to win at least two of the next three games to make it to a bowl.
But this pack of Pachyderms is still smarting from the beating from the Bayou Bengals and they're dying to try and impress those folks who pick the playoff performers so we don't think it will bode well for the Bulldogs.
I think the main reason to watch this one is to see if and how much Tua plays with that ankle of his and just how deep they bury the Dogs. Larry's loser – Mississippi State
Florida at Missouri – The growling Gators gather up and go flying off to the Midwest to take on the Missouri Meeyowers and try and sew up a great New Year's bowl.
Missouri has been such an up and down team this season, they've been a tough one to pick, but this week when they literally try to scratch out another win to get to six for a bowl and all those extra practices.
But they picked the wrong team to try and make that happen this week as I expect them to topple the Tigers in terrible fashion and this Cat get skinned making Larry's loser – Missouri
Georgia at Auburn – In the must watch game of the day, Kirby brings his Canines West to play with the Pussycats on the plains and they're still hoping to pull an inside straight and wind up in the playoffs, so they sure don't want these SEC West also rans to ruin they're chances.
But if Gus can get his Jekyll / Hyde to be Dr. Jekyll just one more time in this game, he knows he'll have a fighting chance to pull of the biggest upset of the week.
Now I have been in the press box at Auburn in big games and I know first hand how that loud crowd can swing a ball game toward the Tigers, so I'm scared this will be the one that I could miss. But my brains tell me Larry's loser is Auburn.
Kentucky at Vanderbilt – The Kitty Cats from Kentucky come a calling on the vanquished Vanderbilt to add some pain and more humiliation to their already pitiful season. And the way they've been playing lately, that's the way we see it happening.
Now Kentucky needs this to have a shot going bowling later in the year and all this game means to the Song City Sailors is just a little less embarrassment.
But personally I'd only be embarrassed to say I watched this game, so I'll just check the score after this game. So let's just name Vandy as Larry's loser and simply move along, nothing to see here.
LSU at Ole Miss – After walking into Title Town and taking down the Tusked ones, these Tigers now feel they're on auto-pilot till playoff times, so messing with the Mississippians will seem like child's play after that.
I'd like to say that Ole Miss might catch the Bayou boys napping after such a big win and come away with the biggest upset in SEC play this year, but I'd also like to win the lottery.
So put this one in the win column for this list of losers because I can't see this one going any other way but having Larry's loser as Ole Miss.
South Carolina at Texas A&M –  The Carolina Cluckers have tasted the high and lows of the SEC this season. They pecked the Puppies from Georgia out of the playoffs for now and then turned around and lost to Appalachian State.
So these Chickens won't fly to a bowl this year and the Aggies are simply just trying to polish their resume to make it to a bigger bowl and end the day with some barbecue chicken.
This could be an interesting game though as A&M does have some issues and the Gamecocks do have game sometime, not to mention dumb luck, so it could be close for a long time. But in the end we expect to see Larry's loser will be South Carolina.
Well that's it for this week folks and we have a good feeling about the picks we so painstakingly predicted.. It's be nice to end the season with a lot more perfect weeks, but hey, we'll watch them just like you do and see how we did.
So enjoy this week, because next week there's a lot of cupcakes coming again and there's only a couple of contests that will be great match-ups. So gather your friends, snacks and cold adult refreshing beverages and enjoy this weekend's warfare, because too soon, it'll all be over.
*Get the BEST Alabama football insider information, message board access, and recruiting coverage today! SIGN UP HERE to unlock our subscriber only content!*
LARRY BURTON HAS BEEN PUBLISHED IN ALMOST EVERY MEDIA OUTLET FOR COLLEGE SPORTS AND NOW PRIMARILY WRITES HERE FOR TOUCHDOWN ALABAMA. HE WRITES IN A COLLOQUIAL AND IRREVERENT STYLE FOR THIS SERIES OF ARTICLES. LARRY'S VIEWS AND SENSE OF HUMOR MAY OFFEND, BUT HE AIMS TO OFFEND EVERYONE EQUALLY. IF HE HASN'T INSULTED YOUR FAVORITE TEAM WITH LARRY'S LOSERS, JUST WAIT. FOLLOW LARRY ON TWITTER FOR INSIDE THOUGHTS AND FUNNY GAME TIME COMMENTS AT HTTPS://TWITTER.COM/LBSPORTSWRITER