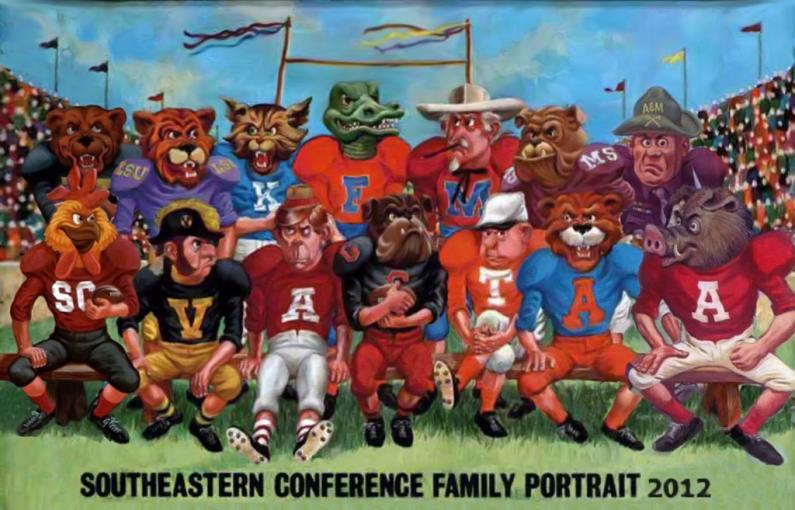 We've been predicting a pack of perfect picks over the last few weeks but this week is rivalry week and we know anything can happen. See if we got 'em right!
Well sports fans, we hate to pat ourselves on the back yet again, but we pulled off another pack of perfect prognostications this past week and we're planning on riding that wave right into "Rivalry Week" where the picking is more problematic. Anything can and usually does happen in "Rivalry Week" so after typing and tabulating our tributes to the losers, we'll be just like you and biting our nails watching the games grind out.
It's awful fulfilling to find five SEC teams still in the top 20 here at the end of the regular schedule and it's just a testament to talent in our tribe. Though this is such an exciting week with all the big games, some teams cemented bowl placements and the like, it's just downright sad to see a sensational season steaming toward it's sayonara song.
It's not often you end a season with a slew of perfect picks, but we're going out with a bang and giving it our best so here we go folks and thank you for another great regular season of coming by for our list of losers. Now here we go…
Ole Miss at Mississippi State – Fight for the Egg Bowl trophy – Johnny Reb loads up the bus and goes down to Starkvegas to try and end the season on a high note because for them, no matter what, this is their last game of the season.
But Moorehead's Mongrels with a win can bow wow all the way to a bowl with a win in this one, so they aim to bite as much butt as they can and send the the Rebels running back to Oxford with a mauling they won't soon forget.
Now a little birdie told us that the Bulldog's boss may be bowing out after this one to try and ride out a new job at Rutgers, so we don't know how that may affect the Mutt's mindset, but we think they want one more game together, so we're going with Larry's loser to be Ole Miss
Too bad their football hasn't improved….
Missouri at Arkansas – Fighting for the "Battle Line" trophy – The yoyo miserable Meeyowers from Missouri mosey over to Arkansas to try and finish making sausage out of the remaining Piggies left in the Hogpen.
Those poor Piggies remind me of that Hee Haw song, "If it weren't for bad luck, I'd have no luck at all! Doom, despair and misery on me." And they'll mercifully end their season of shame by spending the offseason trying to coral another coach to come and try and to resurrect the Razorbacks.
But even with this win, the Midwestern Meeyowers still won't go bowling as the NCAA says clearly, "No bowl for you!" But like every yoyo team what goes down does come up and this is their week, making Larry's loser for the tenth time this season – Arkansas
Clemson vs South Carolina – Fighting for the Palmetto Bowl – When Clemson's Kitties come a calling to the Hen House for a win, they don't want to be gully washed like Georgia in this fight, so they're not taking another non bowling SEC opponent too lightly.
Now Muschamp's Pecker Heads have had an up and down season that's been mostly down and they'd love to pull one more upset of the season and send the Tigers to the locker room crying like the Georgia Bulldogs,
But this time, they're not sneaking up on anybody and the Dabo Cat show ain't leaving here without another Blue Ribbon rivalry win, so that'll make Larry's loser – South Carolina.
Georgia at Georgia Tech – Playing the "Clean, Old Fashioned Hate" game, Kirby's canines carpool up to Hotlanta to take on Red Clay Country's little brother in a game that's more pageant this year that competitive.
This used to be a bruising bash up but this time it's just a glorified scrimmage and this year's bundle of bees don't have their stingers sharpened and the whole team is a ramblin' wreck, not just their fight song.
So with all the other fine games to gander, skip this one and just take our word for it that you won't miss much by not watching Larry's loser become Georgia Tech.
Louisville at Kentucky – Trying to grab the Govenor's Cup, this Cat fight features the Louisville Leos against the Lexington Leos and this is an interesting intersectional squabble that'll see if the ACC's second best in their division can down an SEC also ran team.
Now both these cool Cats have made it bowl season and both have had some ups and downs and this could be a great game once the scratching and biting begins.
In a game like this it's hard to pick a winner without a little nervousness because they're both talented teams, but when it's close, go with the home team, especially if they're putting SEC muscle to an ACC muscleless Meeyower. Larry's loser – Loserville, uh I mean Louisville.
Alabama at Auburn – for the "Iron Bowl" – With Bama hanging onto their playoff hopes, these Tigers would love nothing more than to spoil the season for the team the love to hate, plus there's grumbling about Gus once again and this win would go a long way to a little job security for the Waffle Shop wanker.
But with their eyes on such a good prize, this pack of Pachyderms aren't gonna forget the last time they visited this place on the plains and got pummeled. So they're going to stop up their ears and the Auburn rushing lanes and make Bo Nix try to play them like Bo Diddley on the guitar and only hit all the right notes.
This could be a dandy, but we see the Tusked ones from Tuscaloosa with just too much firepower not to skin a Cat in this one, so when it's all over and everyone surveys the scoreboard, it'll be Larry's loser on the short end and that'd be Auburn.
Vanderbilt at Tennessee – They don't play for a silly non counting trophy here, so we'll just call this the "Tennessee Waltz Winner" game as both teams aim to dance around the other and come out on top.
Now since they've won the last three in a row, these Song City Sailors aren't afraid of their big brother's bang from those old muskets. That's because they've got cannons and lately they've been able to blast the big brother to bits.
But this week they'll find their powder is just a little bit damp and the boom they were hoping for turns out to just be a final fizzle on this horrible season. Going down with the ship for the last time this season, Larry's loser is Vanderbilt
Texas A&M at LSU – Again, this is a rivalry without an official title so we'll call it the "Western War" and last year the game was one for the ages as they fought through seven overtimes to finally finish it with the Aggies finally putting the Bayou Boys out their misery in a game that changed the overtime rules for good.
Now the game is gonna have a lot of points scored again and both defenses are gonna have problems in stopping the other, so the question may come down once again to who can score the most.
And what we've seen so far through this long season is that nobody has found a way to baffle Burrows very much so we that playing out once again this game and that'll make Larry's loser – Texas A&M
Florida State at Florida – Playing in the "Sunshine Showdown" – The last shot of the SEC regular season will happen when the Seminoles take I-75 down the road a piece to play in the Swamp and try and salvage what has been a less than sensational season that cost them their pride, their home attendance and their coach.
Across the field the Gators will be looking back at what could have been this season with just one more score against Georgia, but won't be so overwhelmed by history as to not take care of business against these sad sack Seminoles who use their mother's old lipstick for warpaint.
When this one's over Coach Taggart won't be so sad he moved on down road because this L won't be hanging on his resume, but at least the Noles start a new bowl game streak this season. Maybe that will help a little with the pain of Larry's loser being Florida State.
Well that's it for this regular season folks. We'll still have the SEC Championship pick to go and of course the bowl picks once they are announced. But let's just jump in up to our necks in this week of warfare and enjoy rivalry week the way football was intended to be. It's always a great way to end a great season.
We want to thank you, the good fans that keep us writing, for tuning in to another regular season and sharing this experience with us. And it looks like we may have as many nine SEC teams going bowling and that will certainly be worth watching as we firmly believe nobody plays football like the SEC.
Lastly, we want to thank God for all his blessings, for every young man in every uniform of every color. They all make this great game what it is. And thank God for all the coaches of the world, not all of whom are millionaires, that take their lives to help young men. But lastly, thank God for all you fans, who bring the passion, who greases the wheels of the sports industry by your ticket purchases, your viewership and your participation. You make it special too. So this Thanksgiving, don't forget to thank all these folks too in your silent prayers.
*Get the BEST Alabama football insider information, message board access, and recruiting coverage today! SIGN UP HERE to unlock our subscriber only content!*
LARRY BURTON HAS BEEN PUBLISHED IN ALMOST EVERY MEDIA OUTLET FOR COLLEGE SPORTS AND NOW PRIMARILY WRITES HERE FOR TOUCHDOWN ALABAMA. HE WRITES IN A COLLOQUIAL AND IRREVERENT STYLE FOR THIS SERIES OF ARTICLES. LARRY'S VIEWS AND SENSE OF HUMOR MAY OFFEND, BUT HE AIMS TO OFFEND EVERYONE EQUALLY. IF HE HASN'T INSULTED YOUR FAVORITE TEAM WITH LARRY'S LOSERS, JUST WAIT. FOLLOW LARRY ON TWITTER FOR INSIDE THOUGHTS AND FUNNY GAME TIME COMMENTS AT HTTPS://TWITTER.COM/LBSPORTSWRITER