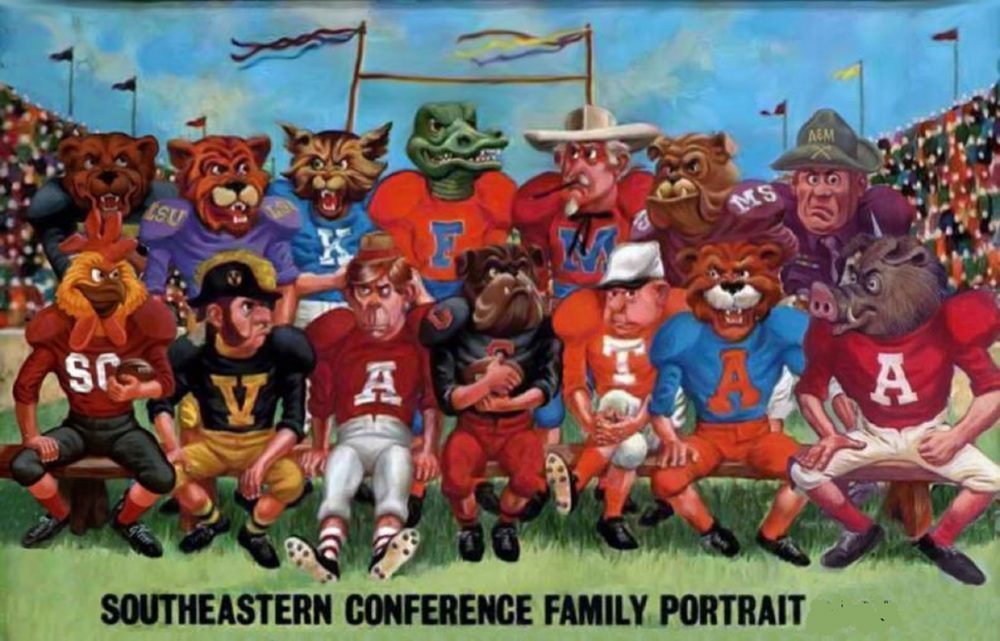 Do you think you know how the SEC Championship is going to go? You can't be sure until you see if your hunches match the genius that is Larry's Losers.
Well sports fans, we've had a great run lay outing the losers in laughable lists all season long. We've had a pile of perfect picks and one week where we missed three, but overall, nobody knows losers like Larry and we're proud of the work we've done.
This season has had it's fill of up and down teams, another coaching carousel and a lot of surprises. What a wonderful season it has been.
Before we pick this week's only game, lets recap the season and list the ultimate loser in the SEC or as they say in Vanderbilt, thank God for Arkansas…
Overall, the Piggies were the biggest losers in the SEC overall not to mention in the West, finishing dead as door nail in last place without even sniffing at an SEC win. Overall they were a miserable 2-10 and as it should be, that coach was kicked in the caboose and cut loose, banned from the Pig pen for life. Chad Morris, former Clemson offensive coordinator learned the grass is only greener on the other side of the fence because of all the Hog manure.
In the East Vanderbilt could never get going because they took the "Anchor Down" slogan too seriously and never got up to speed. Their one SEC win was over Jekyll and Hyde Missouri and that ended up costing Barry Odum, the head of the Midwest Meeyowers his job. Ironically, due to lowered expectations, Coach Mason will be back next year at Vandy.
Overall, 10 of the 14 teams made it to being bowl eligible, but Missouri's brush with the rules meant the NCAA said "What's new Pussycat?" And the answer was a bowl ban.
The biggest surprise was that Alabama didn't finish first or second in the SEC and for the first time is not in the game with high rollers this season. Oh it was close, with one loss by 3 and another by 5, but in football, a miss is as good as a mile, so that leaves us one new face in the SEC Championship Game and here we go picking that one.
Both teams print championship t shirts, but only one is right. The loser's shirts are sent to poverty countries in Africa. 
Georgia vs LSU – In Atlanta, Georgia – SEC Championship Game – The winner moves on to the high roller's round and the loser just goes home and sulks, dreaming of what could have been.
Now Kirby's Canines have been listening to the scuttlebutt that the Tigers are going to tear them a new one, but this is a Dog who's bite may be worse than his bark and compound that with the fact that he's almost in his own backyard.
But this has been a magical season for the Bayou Bengals and they think they've got a few more tricks up their sleeve and can surely take down the team that lost to South Carolina, a team that's not even going to a bowl.
Now this is gonna be a scrap alright, the Dogs have a sho'nuff defense and may cause the Tigers some trouble. And if Fromm can get freaky and keep up with the track meet, then it could be anybody's game.
In the end, they'll be pain and fur flying from both sides, but in a close one, maybe, we'll be listing Larry's loser as Georgia.
And they got of Richt because….????
Ok sports fans, with the regular season gone and the SEC game in the books, it's time to go off and take a well earned vacation with the Mrs. We won't be back until a new champ is crowned, but don't fret my pet! We're still gonna be listing those bowl game losers all the way from India, the Seychelles Islands and deep in the plains of Africa.
So until bowl season, we're bowing out, packing up and turning the loser's lair over to family who will love the Florida weather, watch young Sir Rumsely for us and make sure he studies the bowl games.
It has been my pleasure to pick these losers for you for oh so many years and if the good Lord is willing and the Cruise ships don't sink, we'll be doing for a few more. God bless you all and have a wonderful Christmas and we'll see you back before New Years.
*Get the BEST Alabama football insider information, message board access, and recruiting coverage today! SIGN UP HERE to unlock our subscriber only content!*
LARRY BURTON HAS BEEN PUBLISHED IN ALMOST EVERY MEDIA OUTLET FOR COLLEGE SPORTS AND NOW PRIMARILY WRITES HERE FOR TOUCHDOWN ALABAMA. HE WRITES IN A COLLOQUIAL AND IRREVERENT STYLE FOR THIS SERIES OF ARTICLES. LARRY'S VIEWS AND SENSE OF HUMOR MAY OFFEND, BUT HE AIMS TO OFFEND EVERYONE EQUALLY. IF HE HASN'T INSULTED YOUR FAVORITE TEAM WITH LARRY'S LOSERS, JUST WAIT. FOLLOW LARRY ON TWITTER FOR INSIDE THOUGHTS AND FUNNY GAME TIME COMMENTS AT HTTPS://TWITTER.COM/LBSPORTSWRITER