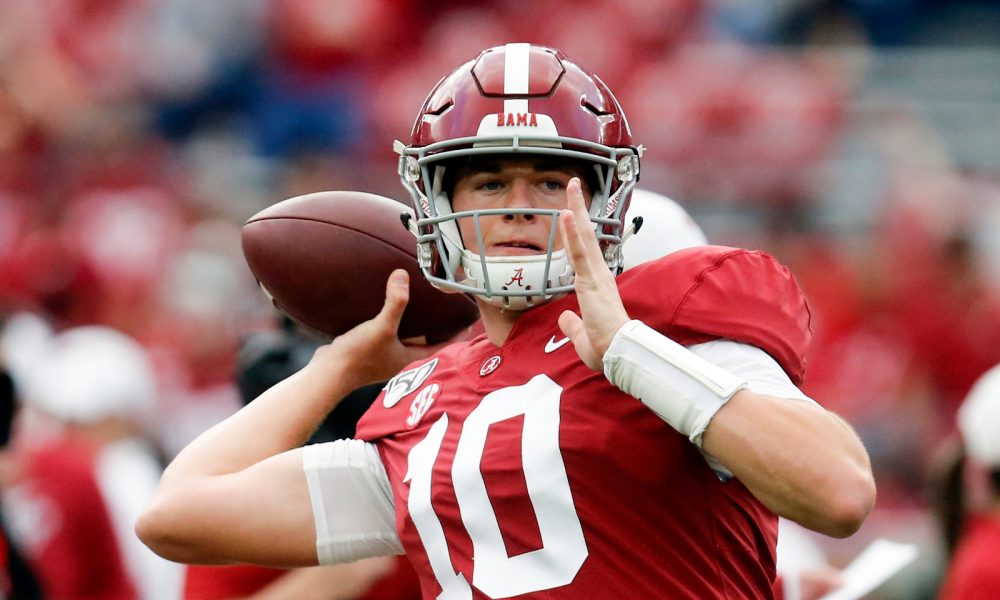 When it comes to predicting how Bama's quarterback battles have gone, nobody's ever been more perfect than "The Old Guy" here at Touchdown Alabama. See what he thinks about this year's battle.
The "Old Guy's" look at the QB battle at Alabama for 2020
There's something to be said for living a long time, you just haven't read history, you've lived and experienced it. Now when I make a projection like this, it's not just rooted in my gut feeling or riding the current wave of trending news, but by years of experience and in knowing the hearts and minds of the people involved. It also helps to understand not only the history of the program and people, but why the decisions were made at the time they were done.
Now in all my years of sports writing on Alabama, I can boast that I've never been wrong in predicting who the starting quarterback will be each fall and yes, I did say Blake Barnett would start over Jalen Hurts and why and everything played out exactly as I said it would, so with so many asking me to put my .02 cents worth in this upcoming quarterback battle, let me tell you how I see it playing out.
Without beating around the bush, Mac Jones will start the season and take the first snap. That is a given. Saban will reward Jones for being a stand up guy for so many years in the program and being there when we needed him last season after Jalen Hurts departure. He not only did a fabulous job for the Tide in a backup role, but put up numbers and quarterback rankings which shows he was good enough to start at dozens of other notable programs.
Most people aren't aware of the fact that Jones had a better passer rating against Auburn than LSU's Joe Burrow and a better rating against Michigan than Ohio State's Justin Fields and both these guys were considered "Elite" college quarterbacks. Folks, this guy is the real deal.
Also, Jones never bellyached that he didn't get much playing time during the Tua and Jalen era despite putting up better numbers in every A day game and looking ready to go. He was and is a team man and we'll talk about that more a little later.
It you thought Taulia was going to inherit the job just because his last name was Tagovailoa, think again. Taulia has a small pool of data and playing time to look at, maybe not enough to give him a full assessment of what he can do, but it has shown us what he did do. And though I love the guy, that look didn't come out as well as it could have and certainly not good enough to unseat a guy with the poise, experience and numbers that Jones put up.
As far as measurables by numbers, they don't look so far apart. In 2019 Jones completed 68.8% of is passes in mostly real game situations and as the starting quarterback against some pretty tough teams for the most part. Taulia completed 75% of his passes but then that's from a database of just 12 total throws than went for just a hundred yards against tired teams during mop up duty.
The quarterback rankings were also close, with Jones edging him out here. Jones' was 186.84 and Taulia's was 172.50. For the math impared that's 14.34 less.
But the real difference when you look at Taulia's play is that he just didn't have the poise of Jones, often looking like a deer in the headlights and just didn't seem as comfortable. Yes some of that comes from a lack of playing time and may not be a fair comparison, but as even coach Saban has been heard to say, "It is what it is".
Add to this Bryce Young coming in. Maybe Jones' poise and performance to date as the stand in starter and Young's pedigree and promise are partly to blame for speculation that Taulia may see the writing on the wall and seeing either or both of these players from keeping him from ever being a starter at Alabama.
Also fueling speculation is that while Taulia may not have the goods to roll either one of these two capable quarterbacks, he does possess a skill set which other schools would covet and where he may be handed the reigns to the starting job with little or no competition. Also add to the speculation that his older brother could be drafted by the Miami Dolphins. There's also a college football team across town in Miami that could really use a quarterback like Taulia. With the Tagovailoa family, who by all definitions is a close family unit, I could see them wanting to be together for at least another year or two. But again, all this is just speculation.
But in all honesty, I see Taulia as the odd man out at Bama and we all just have to wait and see how he takes that. I can't see him in this or any other universe sitting on the bench for his entire college career. He and his father are too driven to do that, so it's very easy for me to see Taulia taking his talents elsewhere.
But to be fair, there's a lot of folks who feel this way and have said similar things. And that's just extra rat poison for Taulia he doesn't deserve. He may stay, he may go, but either way he's a fine young man and a great player and everybody that roots for Alabama should be glad they had him here for as long as he wants to stay and I personally apologize for adding fuel to speculation, but this is an article that's about how I see it and there it is.
Now, getting back to Bryce Young. What we know about him is great, he looks great in his high school film highlights. That's fantastic, but so have hundreds of other high school quarterbacks that just washed out in the bright lights of major college football. I'm not saying that will happen to him, but it sure did to the aforementioned Blake Barnett, who just like Bryce Young, was one of the nation's most sought after talents and a can't miss quarterback. The problem was he couldn't keep the starting job at Alabama, couldn't make the starting squad at Arizona State, finally got a starting job at the University of South Florida, but then threw one less interception than touchdowns and was even benched for bad performances at times before finally losing his last season to an ankle injury.
So what we really know about Young is that we really know nothing. He could be the next Tua Tagovailoa and grab the starting job from a more seasoned quarterback or he could be another Blake Barnett who dazzled in high school and drizzled in college.
But I don't see that happening. I think he will live up to his billing and dazzle us all, but the question will be when? And that, nobody, not even I can begin to make an educated guess. We'll have to see him up close and personal in some meaningful playing time first.  The "A Day" spring scrimmage will be good, actual game time will be better. The problem is that first game could be tough. After all it is USC and even though they aren't the USC of old, blue blood teams have the capacity to be a real problem even when they're not a prime strength all season. They can always have the capacity to jump up and bite anyone.
So if the game is close and Jones is performing well, then playing time for both Tagovailoa, if he's still on the team by then and for Young could be limited if at all. But if it goes as expected, one or both should see at least some forth quarter playing time because I expect Jones to get the Tide an early and sustained lead and both should get some late play. I see more in the second game with the Georgia State Panthers, perhaps the entire second half.
Now it's entirely possible that Bryce Young could show early on that he has that "game winner" ability that Tua did when he relieved Jalen in the National Championship Game of 2018 and should Jones struggle against Georgia in the third game, I doubt Saban would hesitate to try Young and see if he could give the team a spark just as he did in that 2018 title game.
If he ever inserts Young into a game to do that, Georgia or any other and he pull it out, then like Tua, Bryce will probably never look back. In such an event, Jones is a team guy, always has been and will be once again a very able and capable backup. I don't think you'll see him running to the transfer portal for his day in the sun.
Which leads us to Paul Tyson, now a red shirt freshman, the great grandson of Paul "Bear" Bryant. Tyson signed into this class knowing he'd never be a starting quarterback here, but he could wind up being like Jones, a guy who sticks things out, improves his skill set watching and learning from others and is ready to be a capable backup should things go awry up the chain with injuries or so forth. He is a valuable commodity as Jones proved to be when he became "next man up" after Jalen's transfer and Tua's injury. He's a 100% Bama guy.
So to recap I see the quarterback battle of 2020 at the Capstone, Jones starts the season, Taulia gives the transfer portal a hard look, Bryce Young could be the starter at some point of 2020, Jones returns to being the capable backup and Tyson becomes the insurance policy.
Hey I could be wrong about this quarterback battle, there's always a first time for everything, but I wouldn't bet against it this time.
*Get the BEST Alabama football insider information, message board access, and recruiting coverage today! SIGN UP HERE to unlock our subscriber only content!*
Larry Burton has been published in almost every media outlet for college sports and now primarily writes here for Touchdown Alabama. Follow Larry on Twitter for inside thoughts and game time comments at https://twitter.com/LBSportswriter