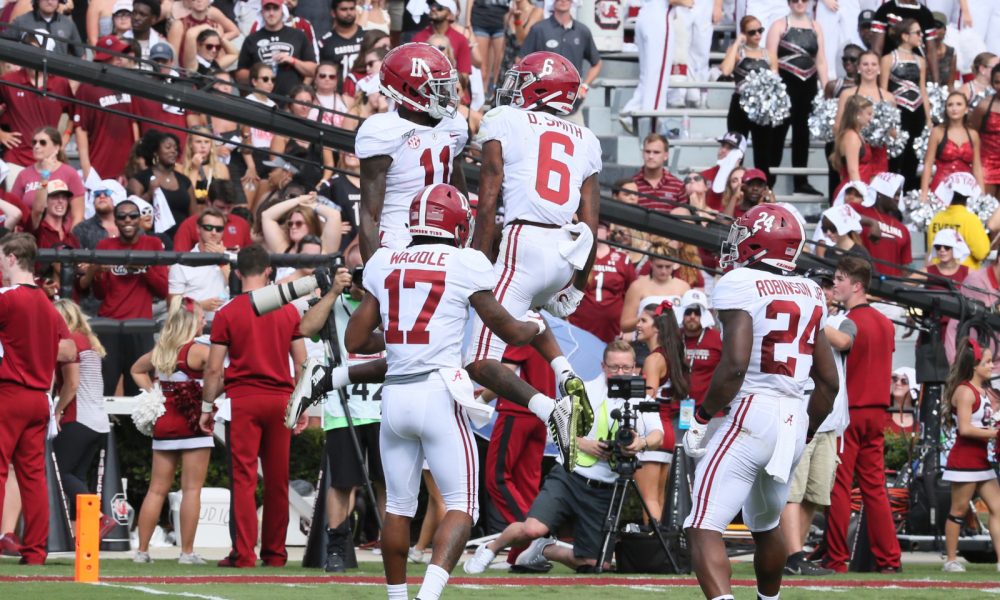 There are several scenarious floating around and none sound as good as getting to play the season as usual. We'd love your feedback on what should happen.
What a postponed college football could look like
Being in the business of sports writing as long as I have, you make a lot of friends in high and low places. I've dipped into both pools over the last few days to get an idea what the scuttlebutt is over a possible delaying of college football.
People who work for the NCAA, the SEC's office and in college told me strictly off the record that yes, there's talk about this almost every day and that right now everyone in power is taking a "wait and see" approach to see what happens and if the spread is not only going downward, but almost stopped. That in itself is not news. We all knew that. But what what are they talking about in means of a delayed start or some other measures that could be taken?
The real money in football is not attendance, it's television. Though the schools would indeed take a financial blow should fans not pack the stadium, eat hot dogs and buy souvenirs, it's not like they couldn't deal with that loss. But losing the TV money is something totally different. Some schools would go through severe economic hardships without that money as they've already allocated those funds into their yearly budgets.
So playing the games and only allowing certain family members and the press is one idea that has been kicked around for college football just as it was for pro basketball. This way, everyone would have a little social distancing and the game could still go on. There's even a push by schools to allow owners of stadium suites to be allowed to use them as long as they keep the number of guests per suite to 10 or less. That would preserve a chunk of change for the schools and this is something you can bet the colleges would push for. You have to keep those biggest donors happy now don't you?
What about the players you ask? It would be easy enough for the team to make sure that the athletes competing are free of the virus, those in question stay quarantined safely back in their homes. Team doctors would have to certify that each team member was adequately checked out before each game. Team members would have to then stay "sequestered" meaning no dating, no parties, even staying away from family members before gametime.
Also discussed is a delay. Football is about a four and a half month sport. So if it were delayed to start, say in December giving the country yet another 90 day break, then the season could still be completed by the end of the school year and fans would have something else to watch other than basketball and hockey.
Then there's the safety of the players to think about other than the virus. There has always been a schedule by which all colleges go through in the fall. So many days in just shorts and helmets, so many days in shorts and shoulderpads and then so many days until they are full pads. Then there's so many days of practice and conditioning before the first gameday. This is all done with the athlete's safety in mind. So they can't just say, "Ok we're ready to let you get your team back together and we'll play football next week!" No, there will be roughly the same time given for fall practice when they say OK as there would have been if it had all started on normal times.
There has even been talk of a reduced schedule for this one season. Of everything I heard, this is the most depressing. Instead of 13 games, maybe 7 and then the post season? Nothing has been ruled on or ruled out at this point but this is the one that may be the most hated.
The doomsday scenario is cancelling the season, but giving the player who may have lost their senior year another year of playing time to make their statements for the NFL or just to finish their football careers on the field and not in a chair.
Most everyone I talked to though said they are still optimistic about the season going on as scheduled. Now it's the near the first of April. Fall practice usually begins about this same time in August. That's five months from now. The country could very well go through a 90 day or 3 month period of isolation. Then they'll take a look around and see how low that line of new cases has sunk. Even if they gave it another month or so, fall practices could still begin on time or very close to it.
So while many things are being discussed, the biggest is that things will go on pretty close to usual for the fans, but teams may go through more rigorous medical evaluations. Do you have a proposal or possible solution for the powers to be to consider? If so, let us know in the comment section below.
*Get the BEST Alabama football insider information, message board access, and recruiting coverage today! SIGN UP HERE to unlock our subscriber only content!*
Larry Burton is the senior writer here at TDA and has been published in almost every media outlet for college sports, was Bleacher Report's #1 college football writer in reads and comments and now primarily writes here for Touchdown Alabama. Follow Larry on Twitter for inside thoughts and game time comments at https://twitter.com/LBSportswriter