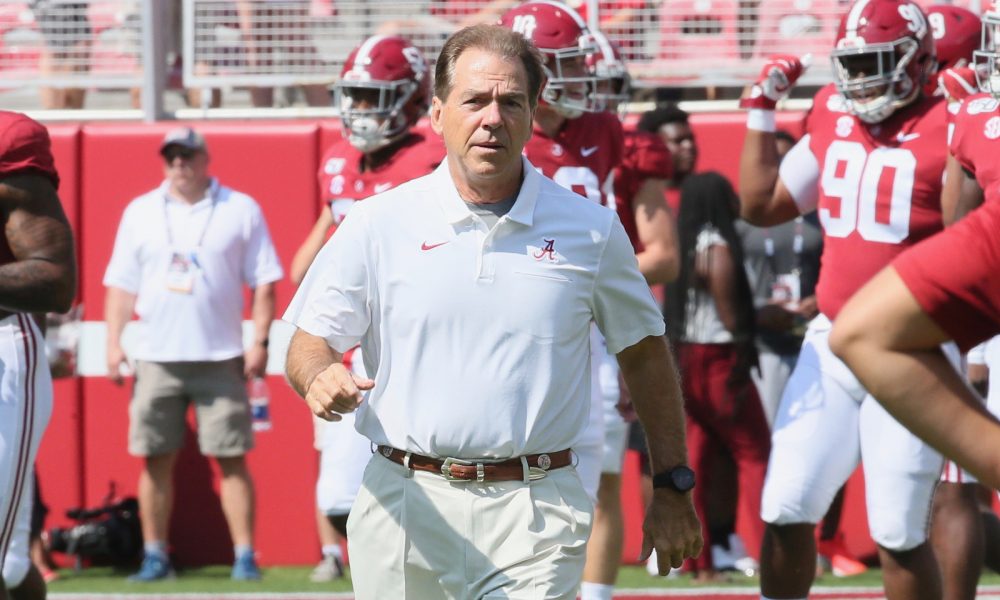 Long before Nick Saban stepped off the plane from Miami, Alabama had a history of being successful. It was the Alabama way. See how Saban embrassed it and built on it.
The Alabama way… And why Nick Saban embraces it
There were things that were just the Alabama way of doing things. Early Rose Bowl victors and national championship coaches Wallace Wade from the 20's and Frank Thomas from the 30's (who coached Bear Bryant), both believed in tough practices, playing as a unit and not relying on just the stars of the team and winning humbly and with class. That rubbed off on "Bear" Bryant and he continued to embrace the "Alabama Way" of doing things.
That included for many years, no names on the back of the jerseys, black shoes, simple uniforms, working hard and no grandstanding. I've seen him bench players for celebrating too much. He said once at a touchdown club meeting that players "should act like they've done that before and intend on doing it again" as far as grandstanding went.
He always emphasised "Class", in winning and losing, but wanted the players to feel the hurt after a loss, just not show it. He also said, "If you're a good loser, that's all you'll ever be." He wanted it to hurt the players as much as it hurt him. To take responsibility for it as much as he did. After one heartbreaking loss where penalties and turnovers cost the Tide a close game, instead of pointing to those problems, he simply told the press, "I did of bad job as a coach of preparing this team for this game and I'll take the blame for it, but I'm going to work harder and correct my mistakes."
In saying that, Bryant told his boys, who knew it wasn't his fault for the loss, what he expected them to do and how he expected them to fix it.
Bryant was once asked why he never had a Heisman Trophy winner and he said, "It was never important to me to see one player placed on a higher pedestal than his teammates. We win as one unit, we lose as one unit."
Team was everything to Bryant and he emphasized it again when he said, "We have a mandatory dress code when we work out, practice, play or do anything as a team. We all dress exactly alike. If you want to draw attention to yourself around here, then outwork your teammates."
And perhaps by favorite Bryant quote talking about how tricky it is to be a coach and to understand how to regulate emotions as well as skill.  This is when Bryant was talking about "getting up for a game" and trying to get everyone to be as one unit. This brought out this great quote from Bryant when he said, "You must learn how to hold a team together. You must lift some men up, calm others down, until finally they've got one heartbeat. Then you've got yourself a team."
When offered the chance to come to Alabama, the thought intrigued him, not just to get back into coaching at the college level, but to come to a place with so much tradition and so much possibility for the future. He didn't want to seem like he was "bailing out" on the Miami Dolphins and wanted to postpone any talk of another job until he worked things out with the owner of the team. Mal insisted that while his tenacity in trying to land Saban kept the fire hot, it was Mrs. Saban, Terry, who really sealed the deal and got him to finally say yes.
Coming to Alabama, Nick Saban knew all this tradition and even spoke of it to his team while at LSU. A former LSU player said when Saban was his coach at LSU he told the team before a game with Alabama, those players (Alabama) think they're better than you. Not because they're bigger, better or tougher, they think they're better because they're Alabama. They think they're supposed to win and they've won more than anyone else in this league because they have that mindset. That's the mindset we have to have. Are you a winner? Do you practice like a winner? Do you play every play like a winner? To be a winner, you have do everything you do, even the smallest things like a winner and soon you too can have that mindset that you are a winner too.
So when Saban became the head coach here, it was like being at a place where the mindset was the same as his.
I was told by Mal Moore that Saban once asked why Dennis Franchione left Alabama, seemingly the best job he'd ever have and was told that Franchione said the fanbase and school just put way too much pressure, scrutiny and demands on his time and that the coach there was placed under expectations were unrealistic.  Saban was said to have replied, "No one is going to have higher expectations than I do myself."
Mal said he told Saban that never had the Alabama fans rushed the field after a big win. Never had they torn down the goal posts. He said they expected to win and there was no need for a demonstration of joy. "We do expect to win here at Alabama." Mal told him.
Alabama and Saban became a perfect fit. Alabama and its fans were hungry for someone like Saban to come in and put them back on the top tier of college football teams and likewise, Saban was just as hungry for an opportunity at the right place to put himself back on top on the coaching elite.
When he came to Alabama, the process became famous, he told us in an introductory press conference back in 2006, "We're not going to talk about what we're going to accomplish. We're going to talk about how we're going to do it." He knew he would turn this team around and turn around they did.
In 2008 as Saban had the team turned around in just his second year, he said this to team before a big game with LSU. "So I want everybody to think here for a second. How much does this game mean to you? 'Cause it if means something to you, you can't stand still. You understand? You play fast. You play strong. You go out there and dominate the man you're playing against and you make his ass quit. That's our trademark. That's our M.O. as a team. That's what people know us as."
Maybe Saban even had "Bear" Bryant's famous "One Heartbeat" quote in mind where some players needing to be lifted up and others calmed down to get that one heartbeat when he pulled AJ McCarron to his face and loudly said, ""Settle the (bleep) down." during a big 2011 game with Florida.
Now like "Bear" Bryant, Saban has remained at Alabama longer than any other stop. It became his home and like Bryant, just the name Alabama will conjure up images and deeds that Saban did in his time here. It's now impossible to say either Alabama and Nick Saban without thinking of the other just as it was for Bryant and still is to this day. Both men tied to many of the same values, tied now to a legacy and forever tied to becoming great by doing things the Alabama way.
Yes you could say those were Bryant's ways, or Saban's ways, but both built those ways based on great men before them who achieved unbelievable success by doing things that became and still are, "The Alabama Way".
*Get the BEST Alabama football insider information, message board access, and recruiting coverage today! SIGN UP HERE to unlock our subscriber only content!*
Larry Burton is the senior writer here at TDA and has been published in almost every media outlet for college sports, was Bleacher Report's #1 college football writer in reads and comments and now primarily writes here for Touchdown Alabama. Follow Larry on Twitter for inside thoughts and game time comments at https://twitter.com/LBSportswriter